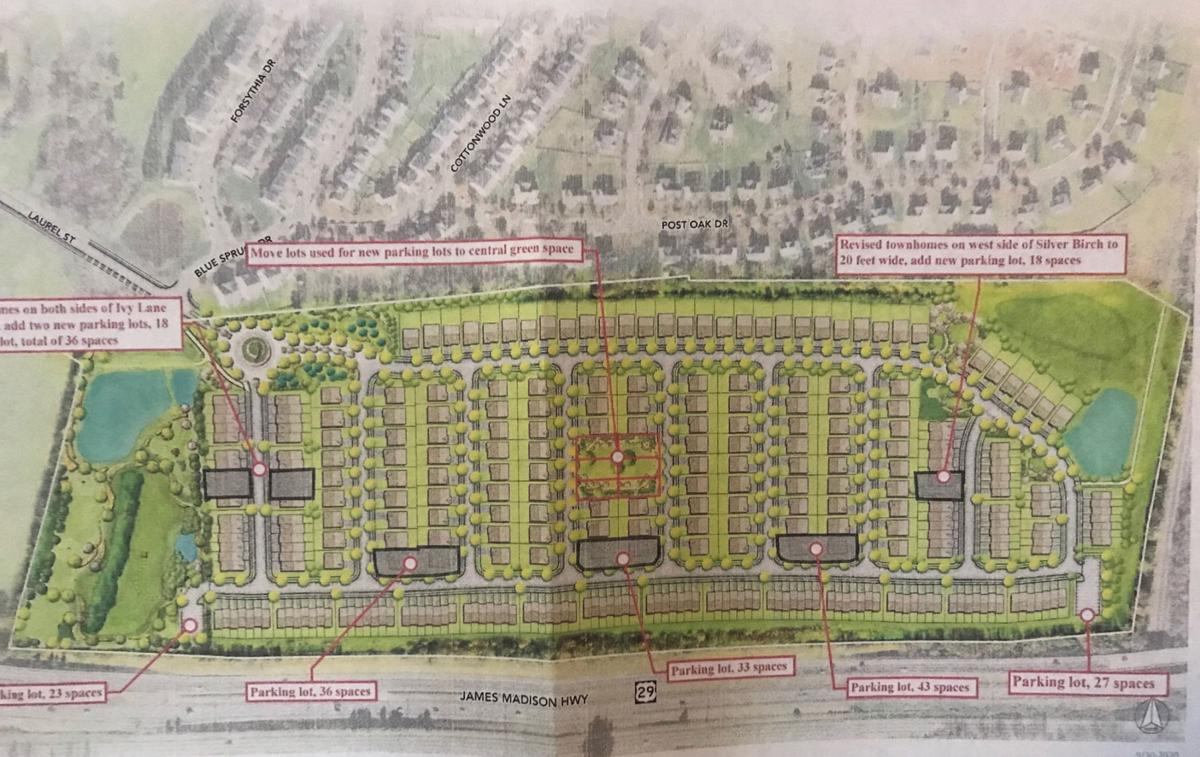 Two weeks after deferring action on a high-density rezoning request due to unresolved issues of traffic and public school impact, Culpeper Town Council took another look at Laurel Park, a proposed 310-unit housing development on 60 acres of undeveloped land next to Highpoint.
The mix of single family homes, starting at $350,000, and townhomes, starting at $250,000, would back up to U.S. Route 29 and, according to developers, generate 200 school children.
The same concerns emerged among town council during a second presentation last week by Middleburg developer James Treptow – this time at a meeting of the Public Works, Public Safety & Planning and Community Development Committee.
"It's a big project," he said, adding they were open to ideas and suggestions from the town.
Treptow, referring to questions raised at the full town council meeting earlier this month, said the project is appropriate for the area. The comprehensive plan designates it as a neo-traditional neighborhood, he said, with up to 24 units per acre, but on a smaller scale. The homes will be like Highpoint models, built by national builders.
"We want to do more of the same," Treptow said, emphasizing a prior point that the neighboring development is sold out and there is huge demand for new housing inventory in Culpeper.
Laurel Park will generate benefits to the town worth $2.3 million, he said, including major improvements to Laurel Street and Orange Road, which will get left turn lanes at the development's primary access point. Cash proffers, as each home is built, will also be paid to offset financial impacts of the development to public services such as schools, PD and fire and rescue.
Treptow told the committee that the 310 new homes and associated vehicles would not overwhelm Orange Road, located in proximity to the Route 29 interchange. Currently highly rated for level of service, with 7,400 vehicle trips per day, the major connector will remain highly rated once Laurel Park is built, he said.
Treptow said he was aware of apparent severe parking issues in Highpoint, specifically work trailers and other work vehicles occupying multiple spaces.
Councilman Keith Price asked where would the trailers would park in the new development. He said residents depend on such vehicles to make a living.
Treptow said parking in Laurel Park would be ample with its 1,466 spaces – three spots per townhome and more for single family houses, on-street marked parking and various parking lots located around the new neighborhood.
He even proposed paving over a considerable neighborhood green area in Laurel Park to make way for more parking. Other parks and considerable other open space would remain undeveloped, including an existing pond and wetlands.
"We're more concerned with parking," Treptow said, responding to a comment from Councilman Pranas Rimeikis in favor of more green space. "We spent the past week trying to come up with more ideas for parking."
Rimeikis responded, "The parking is a little over kill."
Treptow said the homeowner's association could address rules for trailer parking, again recognizing "some challenges" with the issue next door: "We're different than Highpoint," he said, noting parking would be limited to one side of the road in Laurel Park.
Regarding school impact, Treptow said, "We feel pretty comfortable," with the 200-student projection, based on children per-home estimates from Fauquier and Loudoun public schools. Culpeper County Public Schools did not have such figures, the developer said.
Treptow said trends for CCPS show there will be fewer students system-wide in 10 years than now.
Councilwoman Meaghan Taylor felt there would be more than 200 children in the development. She asked Treptow to refine the numbers with CCPS and report back on the issue to the planning commission.
Councilman Frank Reaves Jr. asked, "Have you ever thought about putting in a splash pad for the kids?"
Treptow said it's been a balancing act trying to keep the project affordable, noting amenities to include gazebos and a big park to the west.
Councilman Price thought it an unfair trade to give up the center green for more parking in Laurel Park. He asked how much the density could be reduced and still have a viable project? Treptow responded, a few units.
Councilwoman Jamie Clancey said Laurel Park would need basketball courts: "I live in Highpoint – that's a huge need," she said, mentioning kids playing in the streets as cars speed by. She said they used to have basketball courts in Highpoint until they built three houses on them. Reaves agreed the more recreational space the better.
Treptow said they would put the village green back on the plan. The committee agreed to continue discussion of the rezoning request at the committee level.