UPDATED, 5:15 p.m.: The damage done to VCU's Monroe Park campus during Saturday night's protest is expected to be assessed at more than $100,000, according to VCU president Michael Rao. He also asked for the Commonwealth's Attorney to press charges against anyone involved.
Calling it "heartbreaking to see," Rao said more than 80 windows were shattered and dozens of buildings were damaged and tagged with graffiti. He also said furniture had been dragged out into the street and damaged.
"Both Richmond and VCU Police tell us the demonstrators were different last night compared to those participating in other peaceful demonstrations that occurred in Richmond over the last several week," Rao said in a message to university and health system students, faculty and staff Sunday afternoon. "The protest was promoted in social media and flyers to be destructive, ostensibly to support protests in Portland. We are concerned about groups that promote destruction and violence co-opting important social justice reform movements."
Rao went on to say: "VCU supports free speech and stands in solidarity with those peacefully expressing messages of social justice and equity for all people. VCU does not condone - under any circumstance - acts of violence or vandalism, regardless of the purported cause. Violence against people and deliberate destruction of property are contrary to the values of our community and will not be tolerated. VCU has asked the Commonwealth's Attorney to press criminal charges against any individuals involved."
UPDATED, 1 p.m.: Six people were arrested Saturday night and into Sunday morning, Richmond police announced Sunday afternoon.
Five of the men are charged with unlawful assembly, a misdemeanor charge, while one, a 29-year-old from Richmond, is also charged with rioting with a firearm, which is a felony.
All six are males, ranging in ages from 26-36 years old. One is from Hampton, while four are from Richmond. One, 28, is from Hopewell and is charged with assaulting a law enforcement officer, a felony, and rioting, a misdemeanor.   
Police say all six were part of a group of several hundred protesters who marched through downtown Saturday night. Police said protesters set fires and broke windows, and also tagged buildings and sidewalks with graffiti.
Damage occurred in and around the VCU campus, Richmond police said, especially to buildings and businesses in the 800 block of West Grace Street.
UPDATED, 10:50 a.m.: Crews were out Sunday morning cleaning up at businesses along Grace Street after windows were shattered during Saturday night protests, as crowds of hundreds marched throughout downtown Richmond.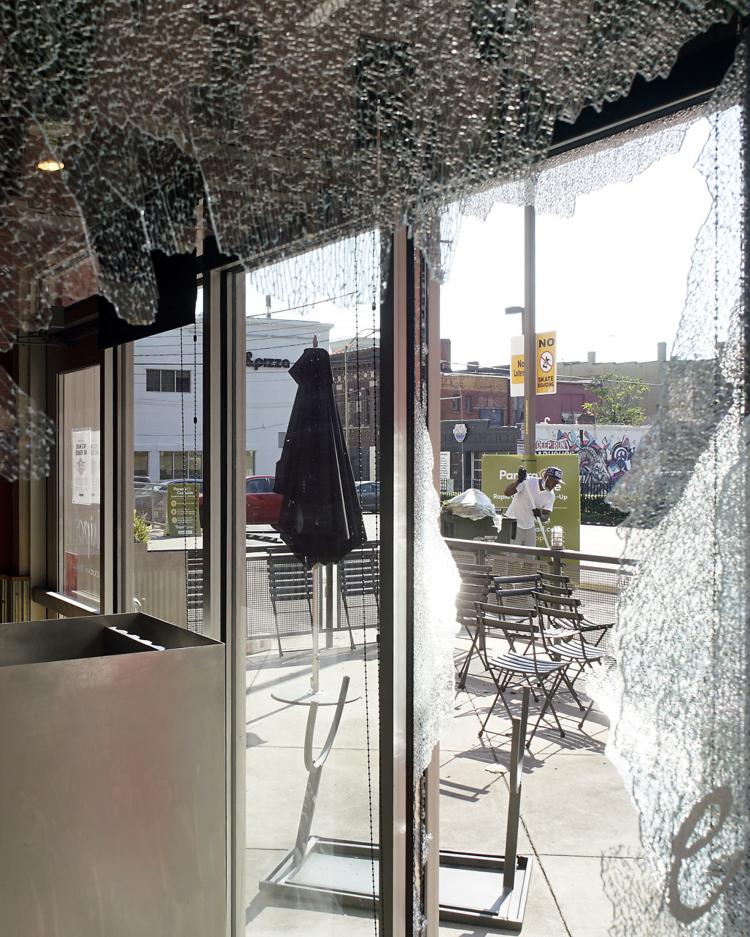 Richmond police on Sunday morning haven't yet responded to requests from the Richmond Times-Dispatch about the extent of damage and any arrests that might have happened during the protests.
UPDATED, 1:20 a.m.: The Richmond Fire Department responded to the Chipotle Mexican Grill on the 800 block of W. Grace St. early Sunday morning where flames could be seen coming from the front of the restaurant.
Its windows were completely shattered, as were the windows at almost every surrounding storefront and building on W. Grace Street, as protesters continued to march through downtown Richmond and The Fan.
Around 12:45 a.m. Sunday, Richmond police tweeted a video of an officer extinguishing a mattress that was set on fire in the middle of Cary Street in The Fan.
RPD also tweeted an image of batteries, rocks and other objects they say were thrown at police officers outside their headquarters "that prompted an Unlawful Assembly being declared."
The Richmond Police Department declared an unlawful assembly just after 11 p.m. Saturday night as hundreds of protesters gathered outside its downtown headquarters on West Grace Street.
Shortly after that declaration, and after some protesters shattered windows of city dump trucks used to block off the area around the RPD headquarters and set one of them on fire, police deployed chemical agents and flash bangs to disperse the crowd of more than 200.
After police secured the scene, fire crews put out the burning dump truck.
The scene outside of police headquarters was immediately tense as the crowd arrived, with some protesters taunting officers and seemingly trying to goad them into action.
A reporter from the Richmond Times-Dispatch and one from the Commonwealth Times were nearly detained in the aftermath at RPD headquarters. Both were running from the scene after being disoriented by the flash bangs and chemical agents that were used, when they stopped in a parking lot and were surrounded by more than five police officers. Officers forced them against a wall and bound their hands behind their back while they repeatedly identified themselves as working press and showed state-issued press badges. They were eventually released.
Richmond Police Chief Gerald Smith told The Times-Dispatch on Sunday afternoon that he will make a thorough inquiry into the incident and that it will be under review.
Hundreds of protesters left out of Monroe Park just after 9:30 p.m. and marched through downtown before heading to the RPD building.
The march continued around the Fan after the crowd was dispersed from RPD headquarters.
Word of Saturday night's protest had been widely circulated on social media in the days leading up to it, with some aggressive language against police and federal government in a flyer made by a group saying it stood in support of the people protesting in Portland, Ore. The flyer also insinuated doing damage during the protest.
The flyer and march was not organized by the Black youth who've been at the forefront of Richmond's protests, which have continued for nearly 60 straight days.