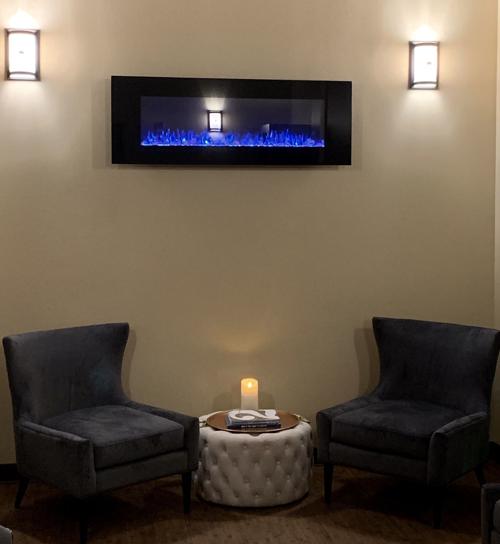 A Stafford County couple has spent the last three years preparing to opening a Spavia franchise in Fredericksburg.
The day spa will finally have its grand opening June 26 near Ulta and Chick-fil-A in the Central Park shopping center, but with changes that Nivin Elgohary and her husband, Mark Slupek, hadn't originally planned due to the state's regulations to slow the spread of COVID-19.
"It will be a tough time to open a spa business," said Elgohary. "We're going to do whatever we can to make sure it's a safe and healthy environment."
Spas, like hair salons and other personal care businesses, can stay open at 50 percent of their permitted occupancy, with six feet between work stations under the governor's Phase 2 guidelines. Service must be by appointment only, and employees and clients should both wear masks, among other restrictions. That rules out, for now, the various facials that a Spavia would normally provide.
Services that will be available under Phase 2 include hot stone, deep tissue and other forms of massage; some types of wax treatments and possibly spray tans. Elgohary said she's considering offering lash extensions and brow waxing as long as guests keep their masks on. Disposable masks will be available.
She discovered Spavia on a business trip to Denver. She was looking for a nice way to relax, and found a Spavia close to her hotel. She had such a great experience there that she went back twice, but didn't buy a membership because she lived in Virginia. After her third visit, she found out that it would have saved her $120.
"That stuck in my head and I did become a member. I was a member for several years at the location in Greenwood Village in Denver," Elgohary said. "I never would have thought I would own a spa."
By 2018, however, Elgohary was between jobs, her children were getting older and she thought becoming a Spavia franchisee would be something fun and exciting that she and her husband could do together as they move into their retirement years.
"It's a dream that's been three years in the making. We've put our heart and soul into this," she said. "It's a niche within the spa and health and wellness [industry] that doesn't really exist in the Stafford, Fredericksburg, Spotsylvania area."
Spavia's "spalosophy," according to the company's website, is to change the perception that spas are a costly luxury.
Elgohary said her shop is exceeding the state's reopening guidelines so customers will feel safe. A hospital-grade disinfectant will be used to clean treatment rooms before and after each session, massage tables will have protective coverings, and customers will be provided with hand scrubs in disposable containers.