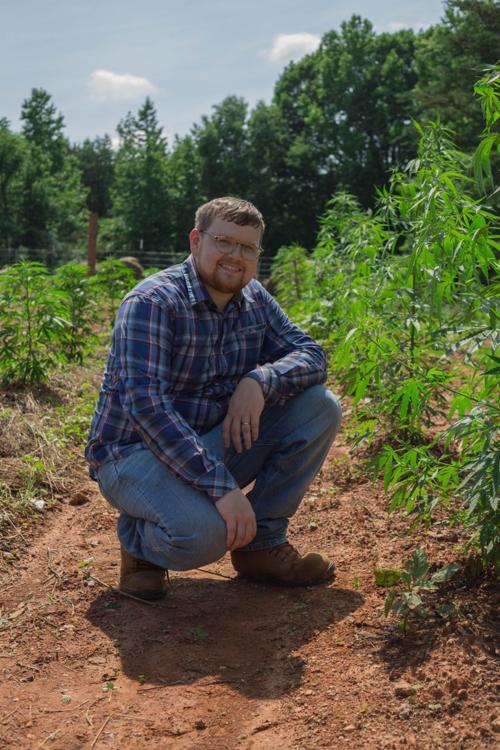 We should kick this column off by acknowledging the wholesale drubbing Glenn Youngkin and Virginia Republicans pulled off in Tuesday's election. It's hard to imagine how that could have gone any worse for Democrats, eh?
Time will tell, but the election could also deliver bad news for Virginia's nascent cannabis industry, as well as its many newfound fans spread throughout the commonwealth.
As you may know, the Virginia General Assembly decriminalized adult possession of small amounts of marijuana in 2020. This year they followed up by legalizing adult possession of up to an ounce, and home grows of up to four plants.
That may not change, because Gov.-elect Youngkin said during the campaign that he won't seek recriminalization.
The legislature this year also began a process of legalizing recreational weed sales to adults, beginning in 2024. (Currently, the only legal way to buy weed in Virginia is with a prescription for medical marijuana, at a medical marijuana dispensary, such as RISE Salem.)
But legislation establishing the regulatory components for retail marijuana sales has not been enacted. That was supposed to happen next year, with the 2024 target in mind. And with Republicans now appearing to be in control in the House of Delegates, it's not clear it will happen at all.
"The election results really leave us with a lot of unanswered questions," said Jenn Michelle Pedini, executive director of the Virginia chapter of the National Organization for the Reform of Marijuana Laws (NORML). "Based on the 2021 voting record, it remains unclear whether there's any path in the House and Senate for legalization to proceed."
Some folks aren't waiting to see how the dust settles on that question. They have higher aspirations, one might say. A good example is Jonathan Zinski of Campbell County, a character you may have read about before. He's developing a reputation as the Old Dominion's "Johnny Appleseed of weed."
Zinski's a hemp consultant, farmer and father of two who caused great excitement early in July by staging a wildly successful statewide cannabis seed giveaway, on the day Virginia formally legalized weed.
Since then, Zinski has been planning an even bigger seed giveaway. And earlier this week, he shared the details with yours truly.
It'll happen Nov. 13, a week from Saturday. Zinski said he's going to give away more than 100,000 cannabis seeds at 11 locations in 10 different Virginia localities. All the seeds have been donated, mostly by out-of-state pot seed distributors.
Just for context, that's at least 100,000 potential marijuana plants, enough for a veritable forest of pot. Grown outdoors and under ideal conditions, those could produce roughly a pound of marijuana each.
Zinski's created a website, virginiaseeds.com, to announce the giveaway and its locations. The Roanoke location is Wellnest Roanoke, at 16 Church Ave. downtown.
In Bedford County's Forest area that day, Zinski will distribute seeds through a craft beer store, Pints O Plenty. There will be other giveaways that day in: Charlottesville; Winchester; Warrenton; Fredericksburg; Petersburg; Chesapeake; Virginia Beach; and at two locations in Richmond. A list is below.
"All the events are being held on private property," Zinski said. "The main event is at Queen's Green Apothecary (in Virginia Beach) from 11 a.m. to 7 p.m. The other locations, all businesses, will distribute seeds during normal business hours that day.
Zinski plans to hide 10 "golden tickets" inside his thousands of seed packs. Lucky recipients can redeem the tickets for a prize.
"We're going to tailor the prize to the winners," he told me. They'll vary depending on the lucky ticketholder' knowledge and skill in growing and using marijuana.
"The seeds are a mix of genotypes and chemotypes," Zinski said. Some will produce high levels of THC, the psychoactive ingredient in weed. Plants from others will produce mostly CBD, a not intoxicating chemical. All the seeds will be labeled so recipients know what they're getting.
I don't know if you've priced cannabis seeds lately—they're sold online through many different distributors. But they can easily cost upward of $10 per seed for THC-producing plants, and $5 for plants that produce CBD. And that's when you're buying them in lots of 10 or more.
Zinski conservatively estimates the retail value of the giveaway at $500,000 in marijuana seeds, which is nothing to blow smoke at. And he says he's cleared the legality of the giveaways with an attorney.
"Cannabis seeds themselves do not contain THC," so giving them away is completely legal, he said. "The seeds I had to buy legally for my hemp field are identical," Zinski added.
And all that suggests that no matter what happens with marijuana laws under a new Republican governor (and an apparent new Republican majority in the House of Delegates), there's going to be plenty of weed around for Virginians who seek it.
Who knows? Your neighbors might be growing plants from Zinski's seed giveaway in their back yards next summer.