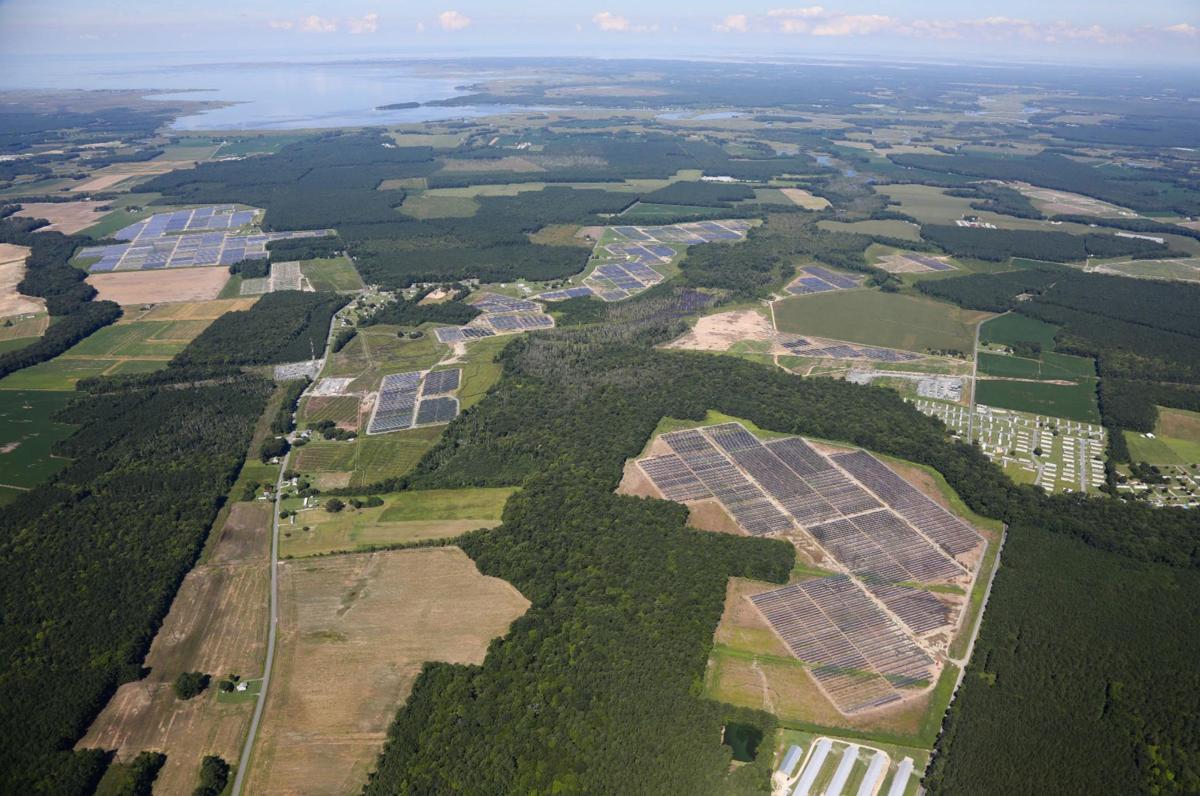 Attorneys for a Culpeper citizens group are asking the county Planning Commission to postpone its public hearing on a utility-scale solar powerplant proposed along the Rapidan River.
On behalf of Citizens for Responsible Solar, Flora Pettit PC of Charlottesville wrote commissioners on Thursday to "respectfully request" them to remove the proposal from their Aug. 14 agenda so the panel will have more time to properly evaluate it.
Flora Pettit wrote that the advisory panel should treat the latest proposal by Cricket Solar LLC as a new application because the developer has significantly expanded the size of its utility-scale solar-panel installation, adding 782 acres and subtracting 186 acres from its original plan.
The 80-megawatt powerplant's size would increase from 1,358 acres to 1,931 acres under the plan submitted by Cricket on July 1, Flora Pettit said. Cricket, a limited-liability corporation in Irvine, Calif., proposes to build tens of thousands of solar panels on farmland near Raccoon Ford along Algonquin Trail, which parallels the Rapidan River in southern Culpeper County.
To assess the project's impacts on neighboring landowners, the commission will need to evaluate Cricket's recent property valuation, preliminary landscape plan and cultural resources "desktop plan," the law firm said.
Flora Pettit said Cricket appears to be trying to mislead the commission to believe that land in the area of its project is not agriculturally productive and is without features of historic or cultural significance.
"These assertions are incorrect," the attorneys told commissioners. "A cursory review of those submissions ... suggests that they are at best unreliable and at worst intentionally misleading."
Kara Price, Cricket's director of project development, recently told the Star-Exponent that the project's permitting and studies "will ensure the protection of sensitive cultural and historical properties."
But the Albemarle County law firm for the opponents judged as "not believable" Cricket's claims that "the development ... should not create any negative visual impacts for the area" and "the solar facilities should not be readily visible to the public or surrounding residences."
For example, newly planted trees will not shield the solar arrays from sight for 10 years, Flora Pettit said. The arrays will be up to 12 feet tall, but will be surrounded by fencing that is only 6 feet high, topped by a foot of barbed wire, the lawyers said.
The proponent's cultural resources review states that the project area "was always mostly wooded." That isn't so, Flora Pettit said, according to Union Capt. W.H. Paine's 1863 "field-checked" map, which shows large swaths of open farmland.
The project area includes portions of the Morton's Ford Civil War battlefield.
Cricket's statement in their revised application that being a neighbor to an industrial-scale solar plan boosts a homeowner's property value by 2 percent "flies in the face of common sense," Flora Pettit said.
The citizens group said it is hiring an appraiser to thoroughly analyze such issues and report to the commission.
"In short," Flora Pettit said, "The Planning Commission cannot properly evaluate the impacts on affected landowners without looking behind these studies—which are facially unreliable—and the other assertions set forth in the Applicant's narrative."
To halt the solar complex, Citizens for Responsible Solar has in less than two weeks gathered more than 1,000 signatures on its online petition.
Earlier this month, a pollster for the group surveyed a sample of Culpeper voters and found that 54 percent of them oppose the project while 34 percent approve of it.