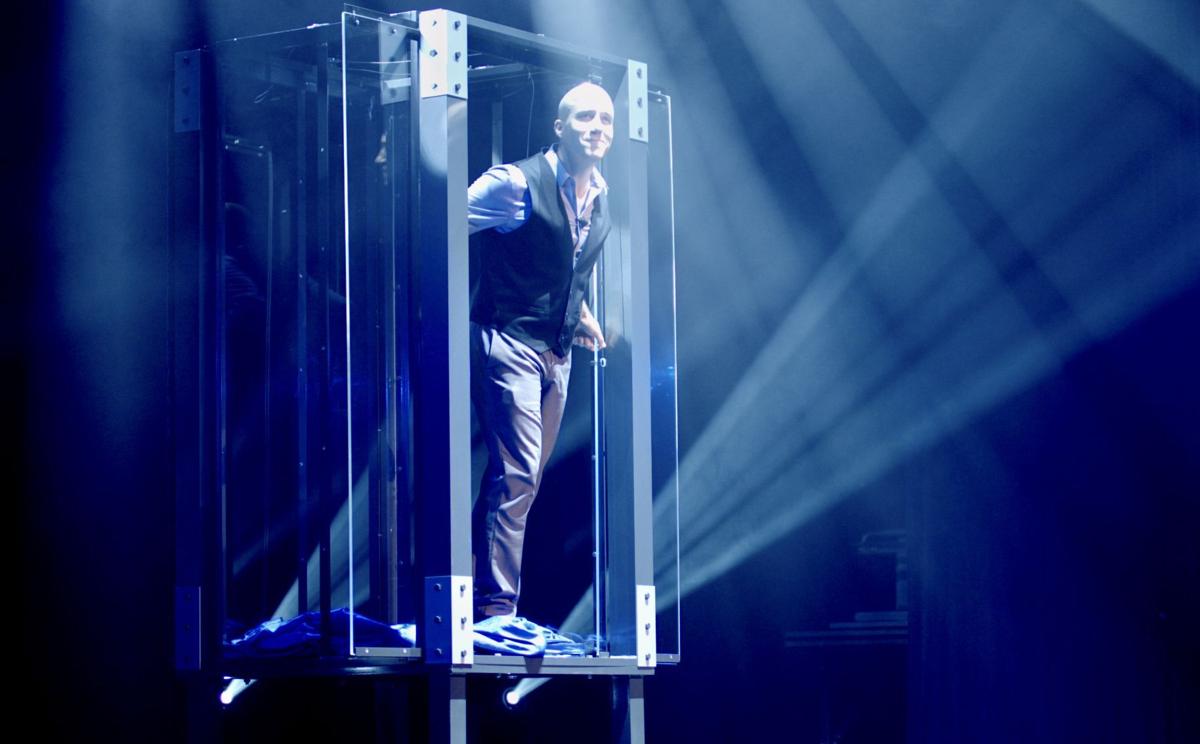 This Saturday, the folks at the George Mason University Center for the Arts will give families a rare opportunity to experience the mesmerizing magic of Bill Blagg, as this master of illusion performs in this season's Family Series offerings.
Blagg's jaw-dropping feats have included shrinking to a tenth of his size, teleporting across theaters, levitating in mid-air, making objects disappear, and passing through an industrial fan unscathed—all delivered with enthralling showmanship and plenty of audience interaction. He also often incorporates a touch of autobiography to his show, telling snippets of his journey through the realm of magic, which began with receiving his first magic book as a boy from his great-grandfather and building magic props with his dad.
"Bill Blagg has been acclaimed not only as a world-class magician and illusionist, but also as a top-notch entertainer, performer and storyteller. I feel that he'll take the audience on a fun-filled journey," said Adrienne Godwin, director of programming. "Especially for younger audience members, that personal touch and demystifying what it is to be a performer can really have an impact. They may think 'I can do that, too! This person onstage was once a scrappy kid like me just learning magic tricks in his bedroom.' "
In addition to Blagg's perfectly timed delivery and dramatic flair, his performance is augmented by special effects, entrancing lighting and colors, and an energetic soundtrack.
"The most challenging aspect of our performances for me is what I would call the 'mental gymnastics' that take place in my mind throughout the show. No two audiences are the same and, with over 12 tons of equipment, there are A LOT of moving parts to our show. Once the show starts it's a non-stop thrill ride for both the audience and myself!" said Blagg.
Yet, meeting those challenges also come with rewards.
As Blagg explains, "For me, the most rewarding aspect of a performance is seeing the reactions on the faces of the audience. Our show connects with each person on an individual level. It taps into each of our dreams, ambitions and desires. Watching what we do connect with and amaze people at the same time is an experience that will never get old to me."
Though the Center for the Arts has brought performances to the public for more than 30 years, the Family Series was launched just several years ago.
"People loved this series. Many of our patrons were grandparents who were thrilled to bring their entire family to experience the arts together," said Godwin. "People especially liked shows that appealed to all ages and Bill Blagg's magic certainly does that. Family members from 8 to 80 will be totally mesmerized."
For many children, the Family Series can serve as an introduction to live performances.
"There are so many benefits of that experience. A live performance encourages kids to think outside the box, to be creative, and to use their imagination," said Godwin. "The theater is a place where magic happens—and not only with an illusionist but other performances as well. I hope that for an evening families will be able to forget what's going on outside of the theater and just have a downright good time with their families as they share an experience that is going to amaze them and inspire them."
"What makes our production different is that it's a true theatrical show and not just a 'magic act.' When people leave our show, my goal is to obviously amaze them, but it's also to inspire them in some way, shape or form," said Blagg. "I constantly hear from people on social media about how our show has impacted them for the better, and that lets me know I've used my talent in the right way."