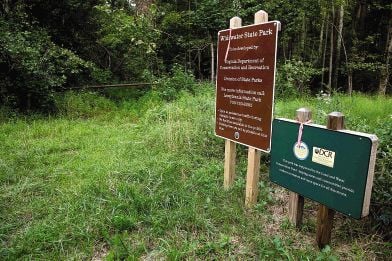 SOMETIMES, illnesses can be predictable.
Recoveries can also be swift.
When I was a boy, you could almost bet that some minor epidemic would hit our school on the second Monday in November, which just happened to be the first day of hunting season.
This illness was usually short-lived and by Tuesday most of the boys were back in school with no ill effects from their Monday ordeal.
There were, however, some whose illness lingered for two days, especially if you couldn't get your limit of rabbits on opening day.
The excuses were all the same. "Johnny was sick yesterday and could not make it to school." The school secretary may just as well have run off 100 of these excuses on her mimeograph machine and passed them out of Friday afternoon. All the notes were the same; only the names changed.
The principal, a surly old lady with a frown that could stare down Hitler, knew it was all a lie. We boys weren't sick. We were out hunting. But she couldn't prove it and she couldn't call 100 parents liars.
So this principal, who I'm sure had never had the pleasure of jumping a rabbit out of briar patch in her life, just bit the bullet (pardon the pun) and accepted the fact that there would be empty desks on the first day of hunting season.
Ordinarily, mothers wouldn't lie about a child's illness. Some might consider it bad luck because the boy might really get sick as punishment. No, Mother ordinarily wouldn't lie but telling a little fib on the first day of hunting season was usually acceptable.
Besides, if the mother didn't write the note, the father did. Men always backed their male children when it came to skipping school on the first day of hunting season.
And if Papa didn't write the note, then Grandma down the road surely would. Grandmas knew that a growing boy needed a day off once in a while and that jumping up a rabbit was far more important than learning about the Roman Empire, a civilization that likely fell because Caesar punished young boys for taking the first day of hunting season off from school.
Besides, grandmas usually had a taste for fried rabbit and how was she going to get a rabbit to fry if Johnny didn't go hunting? Grandmas were good people!
You had to be careful while recuperating from your Monday "illness." You didn't, for example, want to be within sight of the road when the school bus passed because there was always some scrawny little girl who had the eye of an eagle and the mouth of an auctioneer peering out the window. And she could see a boy with a shotgun standing on a stump a mile away.
"Mrs. Jones, Johnny wasn't sick yesterday. He's just saying that. I saw him out hunting down by Apperson's Creek yesterday morning when the bus passed. I saw him right there was a big old gun in his hand! I saw him!"
You wanted to grab those pigtails and give them a good yank. Little did this girl know that she might be ruining her future social life, that no matter how beautiful and voluptuous she became when she reached high school, no hunter in that class would take her to the prom.
At least that's what all the boys in that class felt at that moment. But voluptuousness has a way of fogging the male memory, so maybe she might one day get a date. But for the moment she was a miserable little tattletale and she would get some hard looks on the playground during recess.
Fortunately, Mrs. Jones already knew that Johnny had played hooky the day before so she didn't press the issue. "Just worry about yourself and let me worry about Johnny," she might say. Perhaps her own son, who was in another class, had also skipped school to go hunting.
The first day of hunting season "itis" finally got so bad that by the time we were in high school the Board of Education just gave up and declared the second Monday in November a teacher work day. That made it easier on teachers who then didn't have to give and grade make-up work for the boys who skipped school to hunt.
But that took some of the enjoyment out of the first day of hunting season. It was much more fun to skip school because you were getting away with something. You were standing out there on that stump waiting for your trusty Beagle to bring that rabbit around and smiling to yourself because all those other saps were stuck there in school and you were free and out in the fresh air.
You even smiled inwardly when that scrawny girl told on you because you knew you had beaten the system and there was nothing she could do about it.
Of course, if the teacher had pressed the issue you would have lied through your teeth and swore that you were one step away from being hospitalized the day before. Then you and the other hunters in your class would have discussed your previous day exploits during lunch.
Yep. That's the way it was on the first day of hunting season. A boy needed a day in the woods and fields at least one day a year to retain his sanity.
By the way, many fathers were sick on the first day of hunting season, too. Their grandmas probably also wrote them an excuse.
Nothing should stand in the way of a man with a gun and a dog on the first day of hunting season.