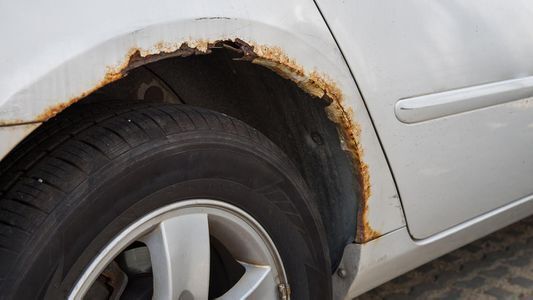 Today's vehicles are far more rust resistant than the vehicles of 30 years ago, and many manufacturers offer lengthy corrosion warranties. But while it's not as commonly needed as it once was, rust prevention is still a maintenance item every vehicle owner should keep tabs on. If even the smallest spec of surface rust is left unchecked, it could expand to ruin a vehicle's finish, or worse. Rust can eat away at body panels inside and out, weakening a vehicle's structural integrity and greatly compromising safety.
The longer you wait before addressing rust development, the quicker it will spread and the more difficult and expensive repairing it will become. People who live in colder climes where roads are seasonally salted, like Michigan, or who live near the ocean, as in Hawaii, should pay extra attention to problem areas that may pop up. 
Since rust can form anywhere, it is not always easy to detect, so preventative measures are your best bet for beating any chance of rot. If you've already spotted your first crack or bubble under the paint, noticed surface rust coating your vehicle's wheel wells or have holes forming in your floorboards, you'll find a solution to slow or stop the rust in this list of our top-rated rust converters, removers and preventative coatings. 
---
Best Brush-on Rust Converter: FDC Rust Converter Ultra
Why We Picked It: 
The FDC Ultra Rust Converter tackles all types of rust and corrosion that occurs on metal surfaces by turning rust into an inert coating and preventing moisture from seeping back in. The company boasts that no sand-blasting, sanding or scraping of the rusty surface is needed, but we still recommend to lightly scrub or descale larger problem areas to get the most bang for your buck.
One gallon covers 500 square feet, though once the first coat dries to a dark finish, usually within 20 minutes, a second coat is recommended for ultimate rust stopping power. Once the 48-hour cure time is up, skip the primer and apply a high-quality oil-based paint finish to wrap up your repair. Though it's not enough time to test the product to its full potential, PDC does offer a 30-day money back guarantee if their product doesn't cut it.
Pros: 
Converts tough rust into an inert coating
1 Gal. covers up to 500 square feet
No primer required before paint
Cons:
48 hours cure time required
Two coats may be required
More expensive upfront
---
Best Rust Remover: Evapo-Rust Super Safe Rust Remover
Why We Picked It:  
Evapo-rust Rust Remover is an environmentally safe water-based product that will not harm plastic or PVC and most paints. Because it is non-toxic, it's easy dispose of. It's even safe to use on household items such as cast-iron cookware, grill grates, tools and antiques. 
Some customers have complained that their rusted metal had to soak in the product for too long to be effective, but it's also important to note that all oils, grease or residue must be rigorously cleaned off for this product to work efficiently. Wire-brushing the area is also recommended. Let Evapo-rust sit on the problem area for 24 to 48 hours and re-apply as needed. The product also works well for soaking smaller items in a tub as it is reusable. Rinse and dry once removal is complete, then coat with primer to seal the metal from moisture.
Pros: 
Environmentally safe
Reuseable 
Multipurpose
Cons: 
Requires comprehensive removal of grease and oily residue
Needs 24 to 48 hours for removal
Primer required after treatment
---
Best Brush-On Rust Preventative: POR-15 45404 Rust Preventive Coating 
Why We Picked It: 
A longtime favorite among old car owners in wet and snowy climes, when it comes to stopping rust and preventing it from spreading long-term, POR-15 Rust Preventative Coating is hard to beat. Once dried, it leaves a hard, non-porous surface that protects metal from moisture and won't chip, crack or peel. The product has been tested at over 450°F and exceeded a 2,000-hour salt spray test. It is also acid and alkalis resistant and will repel fuels and oils.
Like most products, POR-15 is best used on pre-prepped and cleaned metal surfaces. Using a respirator and skin and clothing protection is highly recommended, as this product is not environmentally or human friendly. Additional primer or paint isn't necessary unless you desire a painted finish, or if the surface will be subjected to prolonged exposure to the sun. For permanent results, consider the POR-15 three-step system.
Pros: 
Repels fuels and oils
Resistant to most acids and alkalis
Durable
Cons: 
UV sensitive
Difficult to clean up
Toxicity: respirator and gloves highly recommended
---
Best Budget Rust Reformer/Converter: Rust-Oleum Rust Reformer Spray
Why We Picked It: 
A list of top-rated rust treatment products wouldn't be complete without mentioning the Rust-Oleum brand. Rust-Oleum's Rust Reformer Spray uses an oil-based formula that can be used on any metal surface to convert rust to a flat black, protective paintable surface. It dries in just 20 to 40 minutes depending on your environment and fully cures within 24 hours after being sprayed. Rust-Oleum Rust Reformer should not be applied to surfaces that will exceed 200 degrees Fahrenheit.
This reformer spray works best when sprayed in overlapping strokes for a thick coating. Keep the can moving while you spray or you may find pooling paint or runs. The "any angle" spray comfort tip allows you to apply the reformer from any direction to coat even the most hard-to-reach areas. Once cured, a primer coat to even out the finish before painting is recommended.  
Pros: 
Quick dry time
Easy to apply
Great value
Cons: 
Not heat resistant 
Additional primer recommended
Spray nozzle may clog after use
---
Best Undercarriage Coating: Fluid Film
Why We Picked It: 
Fluid Film is a tried a true rust preventative that has been used for ships and offshore drilling rigs in highly corrosive marine environments for over 50 years. It is a non-toxic thixotropic liquid that penetrates metal for complete corrosion control and water displacement. It can also free up siezed rusted parts, conditions leather, vinyl and wood, and works well to safely prevent battery terminal corrosion. 
Re-apply seasonally, especially for those living in colder winter climes. Fluid Film will not freeze and offers protection from salted roads. Heads up: Application can be messy. We recommend laying down a tarp and wearing protection for your hands, eyes and clothing. An under coating spray gun attachment for your air compressor will make the application much easier, or Fluid Film is also available in spray can form. 
Pros: 
Available by the gallon or in spray cans
Multipurpose
Will not freeze
Cons: 
Application can be messy
Needs to be reapplied seasonally
Not paintable 
---
METHODOLOGY 
We specifically chose the highest-rated most readily available rust converters, removers, and preventative coatings that will effectively stop or prevent rust from forming on any vehicle. We considered the products that are the most accessible to consumers residing throughout the U.S. Forbes Wheels selected five top-rated rust prevention and treatment products by considering a broad range of end-user ratings, professional evaluations and learnings from direct personal experience. Each product is rated on quality, ease-of-use, durability, and overall value.
---
FAQ
How does rust spread?
Rust is oxidized metal, a slow-moving chemical reaction that breaks down metal. It occurs when bare metal is exposed to the water, salts and oxygen present in the environment, which includes humidity in the air. If the factory paint is broken or bubbling or if bare metal is exposed, rust can develop and spread quickly if not treated. 
What is the difference between rust remover and rust converter? 
Rust converters consist of a phosphoric blend made to convert iron oxide into ferric phosphate by chemically penetrating the existing rust. Unlike paint which covers a surface, a phosphate coating is part of the surface itself and most rust converters also can work as a paint primer. Rust removers, on the other hand, are a concentrated acid which will eat away at the rust when left to sit for a certain period of time. This method of rust removal can be more time consuming and requires additional primer to seal the metal as soon as the removal is complete. Without that re-sealing, the chemical process causing the rust will continue.
How do I get surface rust off of my car?
Rust removal typically begins with cleaning the affected area by scrubbing larger scale particles with a wire brush or sand paper, removing as many loose particles as you can. Be careful to only remove rust: Do not dig into the metal as it could cause further damage. Once the rust is removed, wash and dry the area before applying a rust converter or primer.
How can I prevent my car from rusting? 
Keeping your car clean and maintaining the paint with regular wax or ceramic coating applications will prolong the life of your vehicle's finish and prevent rust. Avoid salt-covered roads when possible and periodically wash the vehicle's undercarriage followed by spraying or painting the frame with a rust preventative. Treat any surface rust immediately to stop it in its tracks before it spreads and becomes a serious problem.
What happens if you paint over rust? Will painting over rust stop it? 
No. If you paint directly over rust without removing or using a rust converter, the metal will continue to spread under the paint, eventually causing it to crack or bubble. Before painting over problem areas, use an acidic rust remover or coat it with a rust converter that chemically converts rust to a paintable surface. When in doubt, after treatment is complete paint over it with primer.