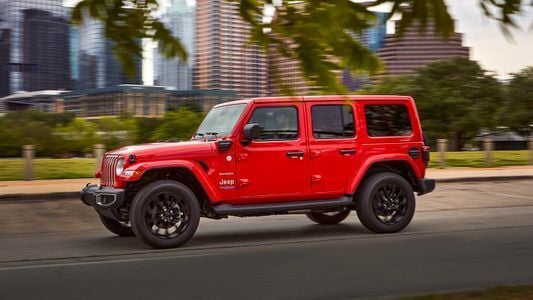 Only a few years ago, Fiat Chrysler Automobile's then-CEO Sergio Marchionne pleaded with motorists not to buy the FCA's first battery-electric vehicle because it would lose $14,000 on every Fiat 500e sold.
As FCA this year approached its merger with France's PSA Group, the Italian-American automaker remained an EV skeptic on the surface. Maybe it was the experience selling just 27,000 500e's over seven years in the US, the same as Ford builds every two to three weeks at the F-150 factory. But that was then.
Now, Forbes Wheels has learned, the old FCA was quietly working up an assortment of electrified models, a list that is set to include at least six all-electric models plus additional plug-in hybrids such the 2021 Jeep Wrangler 4xe that rolled into U.S. showrooms this spring.
Under Stellantis, Every Ex-FCA Brand Gets EV Models
As part of the newly formed Stellantis, every one of the old FCA brands will wind up with some form of battery technology. Initially, Stellantis confirmed a handful of electric vehicles coming to market: new models for Maserati and Alfa Romeo, plus a plug-in hybrid version of the redesigned Jeep Grand Cherokee. Insiders say at least a half-dozen battery electric vehicles (BEVs) are in the works. That includes an all-electric pickup and what one ranking official promised will be "the fastest ever" muscle car from Dodge, meaning less than the 2.3-second 0-60 time of the Dodge Demon.
The move reflects a number of changes since the days when the late CEO Marchionne openly dismissed battery technology and told potential customers, "I hope you don't buy it." Production costs have tumbled while EV range and performance have improved. Like its competitors, Stellantis faces increasingly stringent emissions and fuel efficiency regulations and some countries–plus a few states–plan to ban internal combustion vehicles entirely.
The old FCA also can now leverage the resources of its French partner. Prior to the merger, PSA ranked number two on European EV sales charts.
Playing Catch-Up to GM, Ford, VW, Nissan, BMW
When it comes to electric propulsion, the FCA side of Stellantis clearly lags behind competitors such as General Motors, Ford, Volkswagen, Nissan and even BMW. Each of these has multiple EVs on sale in various markets.
For its part, FCA has pulled its only battery-electric vehicle, the Fiat 500e, out of the U.S. market. Until the launch of the Jeep 4xe it offered only one plug-based model, the Chrysler Pacifica Hybrid.
Jeep Grand Cherokee Gets Plug-In Hybrid Model
But that will begin to change as the new mix of BEVs and PHEVs roll out, the automaker planning to offer the automotive media a closer look during an event scheduled for July 8.
The Jeep Grand Cherokee Hybrid – which will actually be a PHEV model – will come first, brand boss Jim Morrison told Forbes Wheels last week.
"We're going to be the greenest SUV brand on the planet," Morrison boasted during a preview of the gas-powered 2022 Grand Cherokee L.
The executive has some reason for being confident. The Wrangler, overall, had its best sales ever in May, with over 25,000 of the SUV delivered, and the 4xe accounted for 20.1% of that total. The 4xe is now the best-selling plug-in model in the U.S., outselling the Prius Prime.
Jeep will be getting additional electrified models, a portfolio that eventually will include a first-ever BEV.
Electric Ram Pickup Will Battle F-150 Lightning, Silverado EV
So will two other brands that normally don't win kudos from environmentalists. Among the products now being worked on in the automaker's suburban Detroit tech center is an all-electric Ram pickup. It's designed to go up against the likes of the new Ford F-150 Lightning, the battery-powered Silverado Chevrolet is working on and the Hummer EV.
"They have to have one," considering all the other battery entries coming to the pickup market, said Sam Abuelsamid, the principal auto analyst with Guidehouse Insight. There are currently seven electric pickups announced.
There's also a new, battery-powered Dodge muscle car which one ranking official flatly declared "will be the fastest (Dodge) ever." It's expected to give a good run to the new Tesla Model S Plaid launched earlier this month — which would put its launch times down in the 2-second range, and quarter-mile runs in the low-9 second range.
Legacy Gas-Engine Dodge Hellcat: "Not Sustainable"
"The days of the (conventional, gas-powered) Hellcat are numbered," said Abuelsamid. "It's not a product that's sustainable."
The Dodge and Ram entries will take advantage of the extreme torque that electric motors can develop; so will the electrified Alfa and Maserati models that had previously been confirmed. Newer battery technology will allow them also to deliver the sort of range buyers today expect – an area where the original Fiat 500e fell far short.
How much more of their line-up brands such as Dodge, Jeep and Ram will electrify could be detailed during the media event scheduled for next month. But Abuelsamid and other industry analysts believe it has no choice to shift directions – and leverage the resources of its French side of Stellantis.