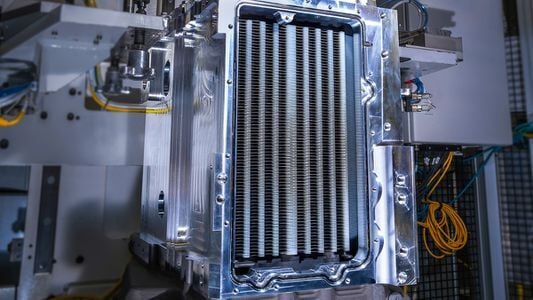 General Motors has built prototype hydrogen fuel-cell automobile prototypes and it plans to do the same for trains and now airplanes. Thursday's airplane-power announcement is the most recent of this week's GM news about plans for an electrified, self-driving, low-emissions future.
The airplane fuel cell deal is with Europe's Liebherr-Aerospace and there's a big asterisk: The fuel cell technology wouldn't propel the plane. Instead, it would be a replacement for the auxiliary power unit (APU) that sits in the tail of the aircraft and generates electrical and air power when the plane is on the ground or during an in-flight emergency.
Could more powerful fuel cell systems one day drive electric motors that turn airplane propellers? "That's been talked about. Anything's possible," says Charlie Freese, GM's global executive for Hydrotec, adding, "Over time, I can see how propulsion can become one of the applications" of an aircraft fuel cell. Just not right now, he cautions.
The GM-Liebherr Deal
GM is turning to Liebherr-Aerospace to use GM's core fuel-cell technology and integrate it into a demonstrator system for aircraft manufacturers and government aviation regulators.
Liebherr-Aerospace already builds aircraft landing gear systems, flight controls and actuators, electronics and thermal management systems. Parent company Liebherr of Switzerland and Germany is known for giant mining trucks and a crane with a lifting height of 800 feet.
GM will supply hydrogen fuel cell stacks based on GM's Hydrotec technology. A fuel cell combines hydrogen and air (oxygen). The reaction gives off water, heat and electrons (electricity). Liebherr will build demonstrator units at its Toulouse, France, facility. According to a joint release, "The demonstrator will incorporate GM's precisely crafted fuel cells, Hydrotec power cube and fuel cell system, along with the GM's controls and models."
Why Replace APUs That Already Work?
Turbine auxiliary power units for aircraft have been used since the 1960s. Apart from aircraft, combustion-engine APUs are used to cool refrigerated trucks and start some diesel engines on big construction equipment. On a jet aircraft, the APU on the ground runs instead of the less-efficient under-wing engines. The APU is connected to a separate generator to provide electrical power.
Concerns about the APU are that it burns hydrocarbon fuel, adding to pollution. Also, says GM's Freese, "If the plane loses engine power, and one of the ways you lose engine power is a bad load of JP-8 [jet fuel], the APU may not start" because it uses the same fuel source. There are two additional backups, a ram air turbine (RAT), a windmill that pops out of the fuselage and uses the airstream to produce electrical or hydraulic power, plus a battery pack that provides power when the plane switches among power sources. But the RAT only gets tested a couple times a year; if a fuel cell APU proves reliable enough, it might make the ram air turbine unnecessary.
The APU is designed to provide power but not thrust, and even if it could, the plane's jet engines are roughly 100 times more powerful than the APU turbine.
GM and Liebherr see a fuel cell power unit on planes as more efficient and more reliable. Getting one certified and then sold to aircraft makers is a process of many years. "That's the story for aerospace," Freese says. "You first have to get the technology ready for airframe flight, evaluate it in the air, then release it as a qualified product. Then you can start extending it to other uses."
GM's Big Week for Electrification and Hydrogen
Earlier in the week of June 14, GM said it will spend an additional $35 billion through 2025 developing electrified vehicles, autonomous vehicles, U.S. battery plants, and fuel cells for railroad locomotives and stationary power supplies. GM has worked on fuel cell vehicles going back more than 15 years but it's not a current priority. Now comes the first step in creating fuel cells for aircraft applications.
Battery technology is more developed than fuel cell technology. But batteries weigh much more than a fuel cell plus a tank of hydrogen. It's usually compressed hydrogen but possibly liquified for more storage in the same space. Hydrogen refueling stations are costly to build.
Freese also sees hydrogen fuel-cell power being especially useful for ground vehicles that travel the same routes or start and end at the same places: trans-shipment points, rail yards and airports. For example, there are about 30 container ship ports and 5,000 U.S. public airports, compared to more than 150,000 gas stations for cars and trucks that travel the nation's 4 million miles of paved road. There are just 160,000 miles of railroad track.
A hydrogen-fueled 18-wheeler starting at the Port of Long Beach, Calif., could make it across Interstate Route 80 to the Port of Newark, N.J., with just three or four stops to load up on hydrogen, a bit more frequently than a diesel 18-wheeler carrying 100 to 300 gallons of diesel fuel. Refueling takes about as long as pumping an equivalent amount of gas or diesel. A battery-powered 18-wheeler would need 10,000 to 15,000 pounds of battery, by some calculations, to travel 300 to 500 miles. That cuts into the maximum weight allowed for an 18-wheeler: 80,000 pounds for truck, trailer, powerplant, energy supply and cargo. (300 gallons of diesel fuel, good for as much as 2,000 miles, weighs 2,100 pounds.)
But Will It Fly?
There are companies working on short-haul air taxis powered by battery packs, some of them proposed as autonomous to keep down costs. Thus the question of whether a future step for commercial airlines, all of which say they want to be green, would be fuel-cell propulsion.
Freese cautions again that planes with fuel-cell APUs won't take to the skies anytime soon. Looking forward, he says, "A fuel cell is not the immediate solution that is going to take you from New York to London. That's a different set of challenges. There may be some regional [shorter distance] applications."