Slash the calories and carbs of traditional stuffed peppers by swapping white rice for cauliflower "rice." The riced cauliflower is hearty and won't turn to mush during baking. Use an assortment of red, yellow, orange and green peppers to make an appealing presentation.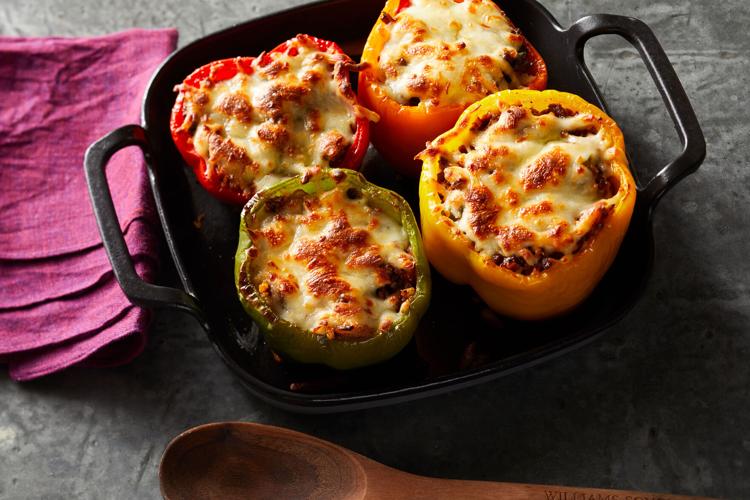 Cauliflower Rice-Stuffed Peppers
4 large bell peppers (about 2 pounds)
2 cups small cauliflower florets
2 tablespoons extra-virgin olive oil, divided
Pinch of salt plus 1/2 teaspoon, divided
Pinch of ground pepper plus 1/4 teaspoon, divided
1/2 cup chopped onion
1 pound lean ground beef
2 cloves garlic, minced
1/2 teaspoon dried oregano
1 8-ounce can no-salt-added tomato sauce
1/2 cup shredded part-skim mozzarella
1. Preheat oven to 350 F.
2. Slice off stem ends of bell peppers. Cut the flesh from the stem and chop. You should have about 1 cup. Scoop out seeds from the pepper cavities. Bring about an inch of water to a boil in a large pot fitted with a steamer basket. Steam the peppers until starting to soften, about 3 minutes. Remove the peppers from the pot and set aside.
3. Pulse cauliflower in a food processor until broken down into rice-size pieces. Heat 1 tablespoon oil in a large skillet over medium heat. Add the cauliflower rice and a pinch each of salt and pepper. Cook, stirring, until softened and starting to brown, about 3 minutes. Transfer to a small bowl.
4. Wipe out the pan. Add the remaining 1 tablespoon oil, the chopped bell pepper and onion. Cook, stirring, until starting to soften, about 3 minutes. Add beef, garlic, oregano and the remaining 1/2 teaspoon salt and 1/4 teaspoon pepper. Cook, stirring and breaking up the beef with a wooden spoon just until no longer pink, about 5 minutes. Add tomato sauce and the cauliflower rice; stir to coat.
5. Place the peppers upright in an 8-inch square baking dish. Fill each pepper with a generous 1 cup of the cauliflower rice mixture. Top each pepper with 2 tablespoons cheese.
6. Bake until the filling is heated through and the cheese is melted, 20 to 25 minutes.
Recipe notes: To make ahead, prepare stuffed peppers through Step 5 and refrigerate for up to one day.
Recipe nutrition per serving: 374 Calories, Total Fat: 21 g, Saturated Fat: 7 g, Cholesterol: 82 mg, Carbohydrates: 16 g, Fiber: 3 g, Total Sugars: 7 g, Protein: 29 g, Sodium: 521 mg, Potassium: 1010 mg, Iron: 4 mg, Folate: 81 mcg, Calcium: 155 mg, Vitamin A: 621 IU, Vitamin C: 250 mg.
(EatingWell is a magazine and website devoted to healthy eating as a way of life. Online at www.eatingwell.com.)
©2020 Eating Well, Inc. Distributed by Tribune Content Agency, LLC.