"Who knew grilling salmon could be so easy?" says Alaskan chef and blogger Mary Goddard, who developed this recipe with her husband, Lucas. This is a staple classic dish for any fisher — or fish lover alike.
"It is simply delicious, no frills!" she says. Because of king salmon's exceptionally rich flavor, this recipe requires little to no seasoning — good salt and pepper do a lot of the work.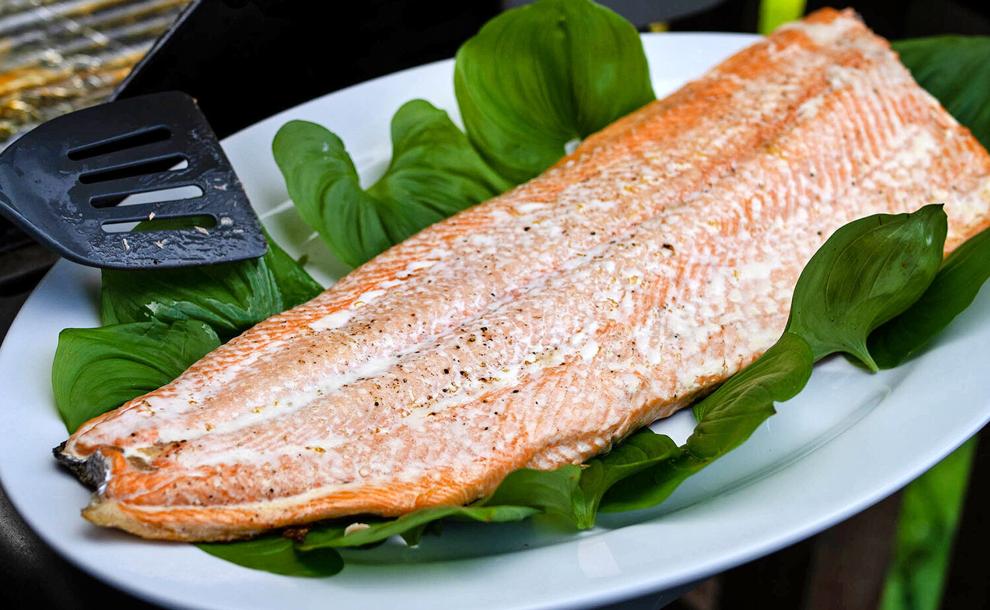 ---
Simply Delicious Grilled Salmon
1 to 2 Tbsp olive oil or olive oil cooking spray
1 side king (chinook) salmon, bones removed and patted dry
freshly ground black pepper
salt
fresh salad greens such as spinach or mesclun (optional) 
Place large pieces of aluminum foil a few inches larger than length of salmon on grill racks; brush with oil or spray with cooking spray. Prepare outdoor grill for direct grilling over medium heat. Place salmon on center of foil, then brush with oil or spray with cooking spray; sprinkle with pepper and salt. 
Cook, covered, 20 to 30 minutes, depending on size of fillet, until center is still slightly pink and translucent, checking frequently towards end of cooking to ensure salmon doesn't overcook. If desired, line large platter with greens; place salmon over greens to serve.