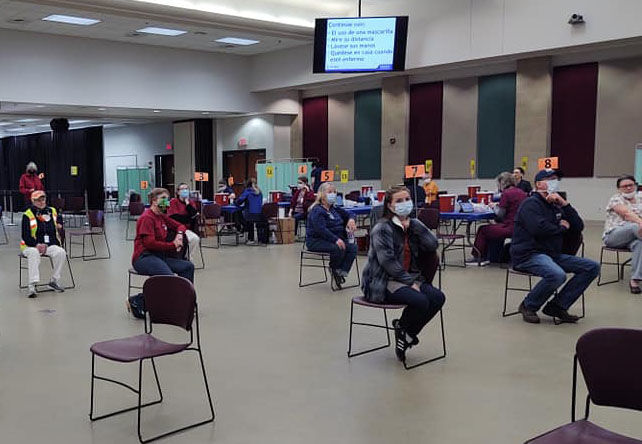 For the first time, walk-in COVID-19 vaccinations are now available through the Rappahannock-Rapidan Health District.
Clinics for the Moderna vaccine were held Tuesday from 8:30 to 11:45 a.m. and from 1 to 3 p.m. at Germanna Community College, 18121 Technology Dr. in Culpeper. The Health District will offer other walk-in clinics during the same times on Wednesday, April 28 at GCC.
"The RRHD is now offering walk-in availability at our clinics for those 18 years of age and older," said Acting Health Director Dr. Colin Greene in a statement late Monday. "We hope this added flexibility allows more of our residents the chance to get vaccinated."
Those seeking a vaccination should simply drive in to the front of the college and let the volunteer know they are there to get a COVID-19 shot.
More than half of American adults have received at least one vaccine dose, and President Joe Biden last week celebrated eclipsing 200 million doses administered in his first 100 days in office, according to the Associated Press.
He also acknowledged entering a new phase to bolster outreach and overcome hesitancy. Across the country, pharmacists and public health officials are seeing the demand wane and supplies build up, the AP reported.
RRHD Population Health Coordinator April Achter said the health department has seen a decline in demand for vaccinations, and therefore will work to offer additional options that can meet residents' needs, such as additional walk-in clinics.
"Most of our patients are keeping their second dose appointments, although as availability in the community has increased, some have received their second dose at a different site," she said on Tuesday.
Before getting the vaccine, if an individual has had an allergic reaction to any injectable medication or injectable vaccine in the past requiring either epinephrine or an emergency room visit, they will need to bring a hard copy of the Physician, Physician's Assistant or Nurse Practitioner's note advising it is OK to receive the shot, according to the RR Health District
Only those who require assistance may have someone accompany them into the building for the vaccination. Those receiving the shot will be asked to wait inside the clinic site for 15 minutes after their dose.Any individual who has recently received any vaccine must wait 14 days before receiving the COVID 19 vaccine, according to RRHD. Any individual under isolation or quarantine must wait until after the isolation or quarantine period to receive the vaccine.
"Please remember to continue masking and social distancing outside your household. We will reach a point later this year when enough people are vaccinated where these actions are no longer necessary, but we're not there yet. We ask all residents to continue to watch your 4Ws: Wear your mask, Watch your distance, Wash your hands, and Wait to return to work or school if you're sick," the Health District advised.