Q: I want to get the COVID vaccine, but I panic thinking about the needle. What can I do to get over this fear?
A: The medical term for your fear of needles is trypanophobia, an irrational or extreme fear or aversion to blood or needles, and if affects up to a quarter of adults.
The cause is often unknown, but a particularly traumatic experience during childhood medical illness may set the stage for it. There may be a genetic component. Researchers have found genes linked to fainting after needle sticks, and trypanophobia sometimes runs in families.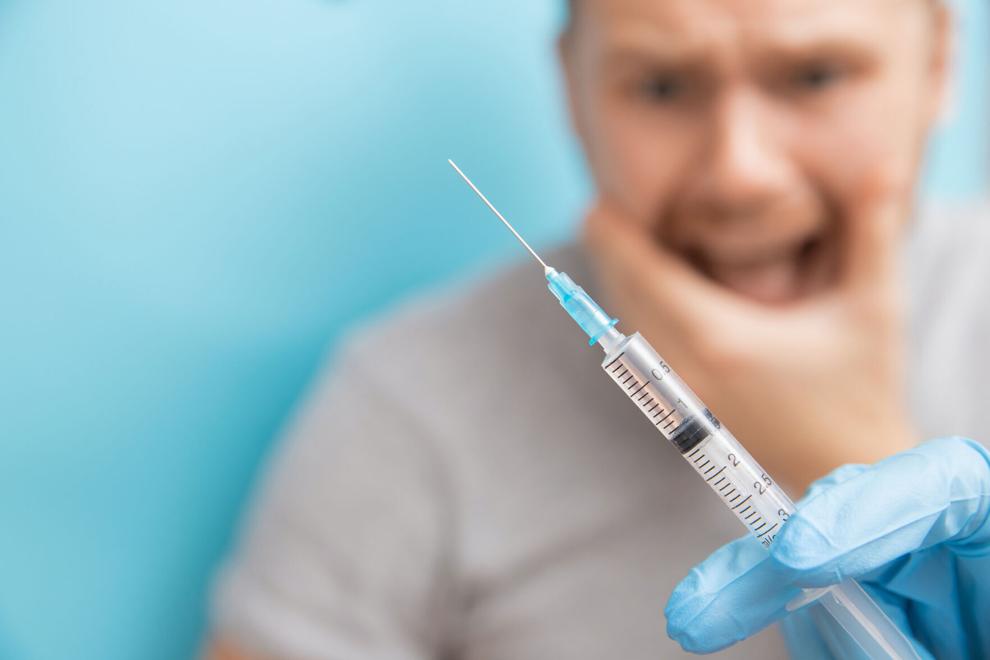 Though there's not much high-quality research regarding how best to treat trypanophobia, there are several ways to cope with it, including:
Bring support, if allowed. Holding the hand or hearing the voice of a spouse, trusted friend or family member can help reduce your anxiety.
Distraction. Focus on anything other than the needle stick: a spot on the floor, the positive effects of getting vaccinated, or your upcoming vacation.
Tell the person giving you the vaccination that you struggle with this and let them know what works best for you. Ask if the vaccinator has tricks of the trade to help you get through it.
Ask if you can have a numbing agent similar to novocaine, or a freezing spray to numb skin before vaccination.
Don't watch! It's not helpful to watch the actual vaccination, and watching may make things worse.
Learn ways to relax. Try deep breathing or other relaxation techniques that you can practice before having the vaccination.
Relax the muscle receiving the injection. Some vaccines, including the one for COVID-19, are given into a muscle. Relaxing the muscle can lessen the discomfort.
Lie down before the vaccination if you've fainted or felt woozy in the past with needle sticks.
Another option is to see a mental health specialist. He or she may recommend:
Cognitive behavioral therapy, which teaches people ways to reframe unhelpful ways of thinking and build coping strategies.
Exposure therapy, a gradual and supervised increase in your exposure to needles, which can lessen the panic they cause.
Medications that may be prescribed if other measures aren't effective, especially if the anxiety is preventing you from getting vaccinated (or just making you miserable).
If you're one of the millions fretting about getting a COVID-19 vaccine, know that you're not alone and that there are things you can do to improve the situation. Talk to your doctor about your fear and get help if you need it. Your quality of life, health and longevity could depend on it.
(Robert H. Shmerling, M.D., is a senior faculty editor at Harvard Health Publishing and corresponding member of the Faculty of Medicine, Harvard Medical School. For additional consumer health information, please visit www.health.harvard.edu.)