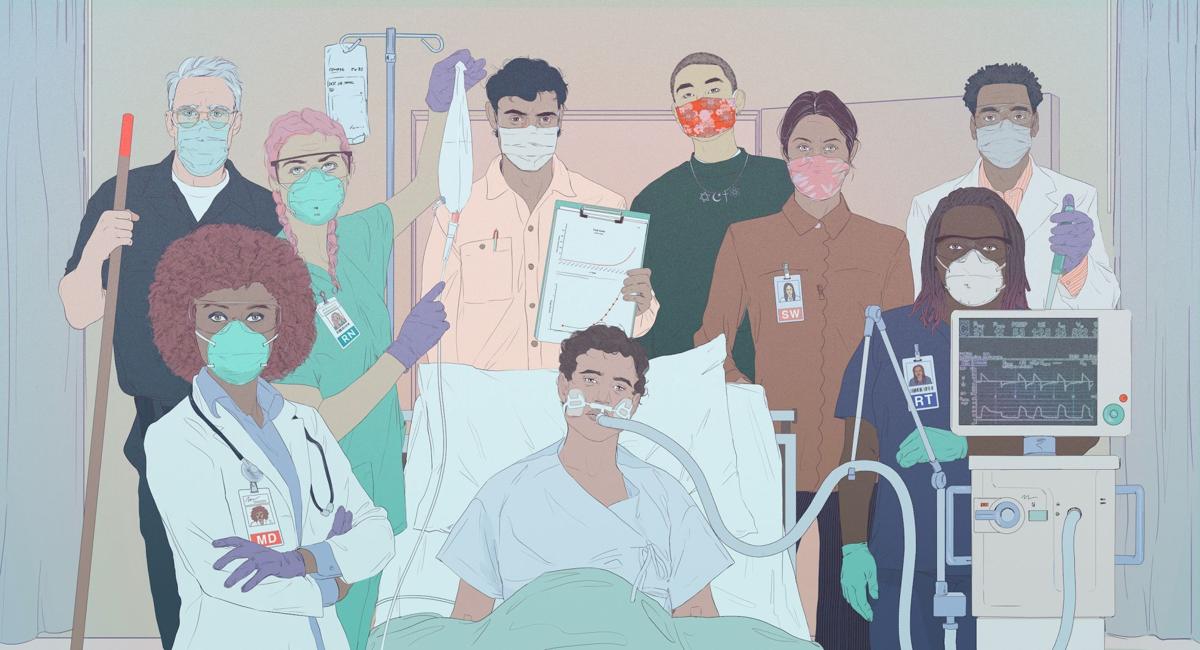 The "Stories from a Pandemic" podcast recently became part of the Library Congress collection through the donation of compelling audio diaries from more than 200 frontline healthcare workers fighting COVID-19.
The Nocturnists, a San Francisco-based independent medical storytelling community, donated the spring 2020 recordings that provide first-hand testimonies from hospitals and communities across the country as the public health crisis unfolded, according to a release from María Peña in the LOC Office of Communications.
Nearby in a major teaching and research hospital in Maryland, neuro-immunology fellow, Emily, recorded about getting sick in April of 2020 and testing positive for the virus.
"I don't know how I feel about it yet. I am a little scared, but I am more tired and exhausted," she said for 'Stories from the Pandemic.'
Emily had been going in to work in the hospital lab, and was the only one there when she felt a scratchy throat. Her health got progressively worse. She was tested in a drive-thru outside the hospital, and noticed the guy testing her was not properly wearing his N-95 mask.
"I was thinking, oh man I better not infect him because he was getting kind of close to my window," Emily said for the podcast, now part of the LOC collection.
Getting more and more sick, the hospital lab worker tuned in for a Zoom meeting at which fellow employees were talking about how hard it was to manage COVID patients in the ICU due to hyper ventilation syndrome and how difficult it was to initiate breath, Emily said.
"That was a little bit hard to listen to. Last night I did feel like I was having a hard time breathing, but it's almost like a weird sensation of you don't really care. You are too tired to care," Emily said.
The Nocturnists also donated the "Black Voices in Healthcare" series, recently selected as a podcast honoree in the 2021 Webby Awards. The group plans to donate recordings from "Stories from a Pandemic: Part 2," which launched this week.
More than 700 audio clips comprise the recent "born digital" donation featuring voices of medical first responders, some working night shift, as they faced the virus that was the third leading cause of death in the U.S. last year, Peña stated.
"As the nation begins to crawl back to normalcy amid a massive vaccination effort, the collection of audio diaries serves as a reminder of the impact COVID-19 has had on the healthcare system, the economy, education, world commerce and daily life in America," the release stated. "But the collection also offers testimonies about what normalcy may look like at home and in the workplace, going from fear and anxiety to hope and optimism."
LOC American Folklife Center Director Elizabeth Peterson said the collection is full of intimate, real-time stories as medical workers confronted the human toll on patients, themselves and their communities.
"You hear the sounds of the workplace, the exhaustion in their voices, and the big and small ways they try to cope and contribute; it's really a remarkable gift," she said.
American Folklife Center will house and preserve this digital archive, and has been collecting oral histories since 1976, including with civil rights leaders, 9/11 first responders, survivors from hurricanes Katrina and Rita in 2005, and war veterans since World War I.
Emily Silverman, founder of The Nocturnists and a medical professional, said they are thrilled to partnering with the Library of Congress to conserve the collection.
"We couldn't imagine a better home for our audio library, which captures the raw emotions of numerous healthcare workers in the first few months of the COVID-19 pandemic and will serve as a historical document for future generations," she said.
Many contributors from rural and urban hospitals across the country withheld their full names and other identifiers to provide a candid assessment of their working conditions. The accounts describe personal risks, struggles, overwhelmed ERs and morgues and initial shortage of PPE all while tending to the sick and dying, the release stated.
Lakshmi, a historian/hospitalist, also in Maryland, described for the podcast how she missed physical interaction with those she cared for, "this irresistible urge to touch a patient." The feeling came over her after walking into the hospital room of an 80-year-old woman who had just learned she would never walk again.
"She was just weeping … She was sobbing. I was there with my face shield and my mask and all my PPE. I overcame all of these months of COVID programming and just felt like this woman needed a human being to touch her more than she needed a doctor at that moment," Lakshmi said.
She reflected on history and, "how we are all making meaning together, making history together, historians of this moment together, all of us who are living through this."
History helps orient humans if only to acknowledge their uncertainty and it brings a certain comfort, Lakshmi said.
"Physicians and patients are all in community together as historians of this moment … amidst this crisis and how we are all historians of this and narrators of this moment. And I was thinking about this because that moment between me and my patient … this moment of not being able to see her husband … that too is a morbidity of COVID."
Silverman, an internist at the Zuckerberg San Francisco General Hospital and assistant professor of medicine at the University of California in San Francisco, founded The Nocturnists to support the well-being of medical professionals through the healing power of storytelling and "to unearth complex truths about doctoring, build community and facilitate an environment of acceptance and healing," according to the group's website.
Prior to receiving the gift from The Nocturnists, LOC started building new collections within the last year to document the global COVID-19 pandemic through photographs, posters, public health data, and artists' responses to the health crisis, according to the release.