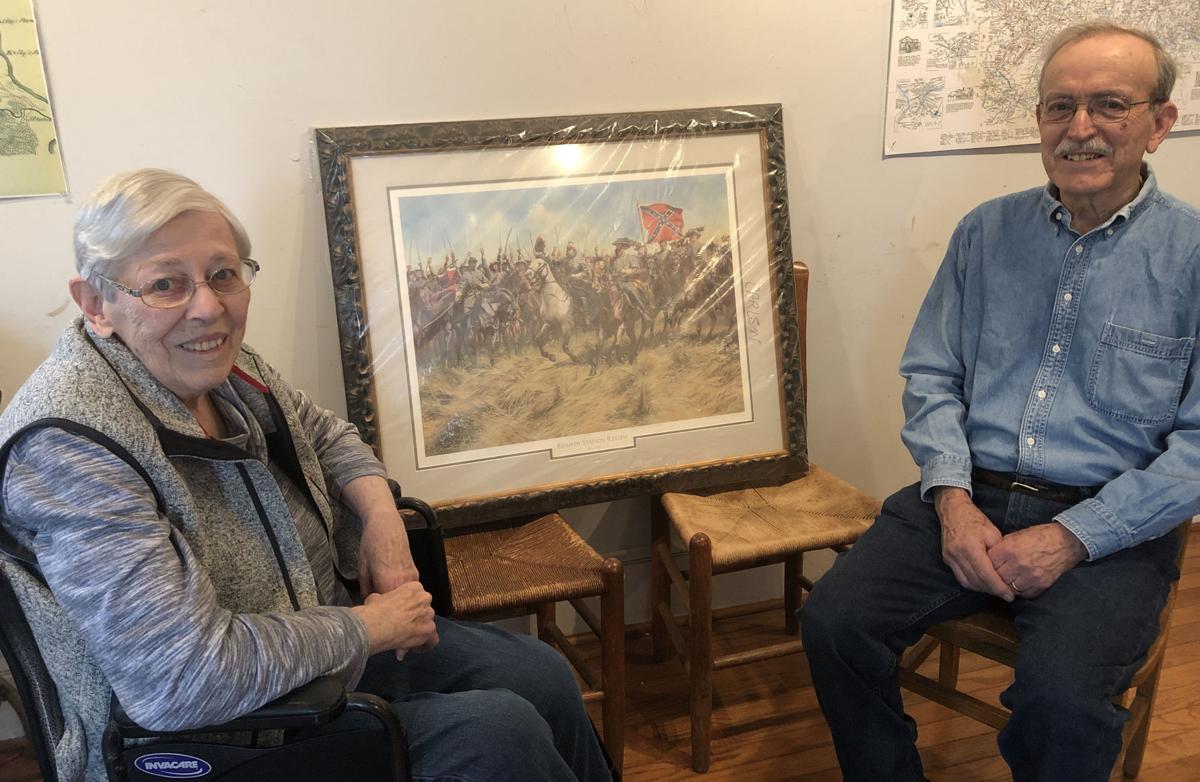 Troiani print, Brandy Station Review, raffled off in Foundation benefitThe Brandy Station Foundation held its raffle drawing April 16 for a framed Don Troiani print, Brandy Station Review, at the Graffiti House.
Bill and Sue Mitchell held the winning ticket. Patrick L. Lydon of Culpeper donated the artwork with framing thanks to Village Frameworks and Gallery on Main Street.
The Foundation has been instrumental in the preservation of significant tracts of land related to the Battle of Brandy Station (June 9, 1863) and Kelly's Ford (March 17, 1863). The BSF owns and operates the Graffiti House in Brandy Station. See brandystationfoundation.com.
National Day of Prayer Observance locallyThe Little Fork Circuit of the United Methodist Church will be observing the National Day of Prayer 2 to 5 p.m. this Thursday May 6 at Jeffersonton UMC, 5085 Jeffersonton Rd.
The Day will be as follows: 2 p.m. Opening Prayers—Pastors Art and Norma Fellows, 2:30 p.m. Prayers for Families, Marriage and Churches, 3 p.m. Prayers for Health and First Responders, 3:30 p.m. Prayers for Children and Education, 4 p.m. Prayers for Government, 4:30 p.m. Prayers for Media, Arts and Entertainment, 5 p.m. Closing Prayers. Anyone is welcome to come pray, mask required.
Give Local Piedmont is todayVarious local organizations and nonprofits doing good for the community are vying for your donations today through the annual Give Local Piedmont fund drive of Northern Piedmont Community Foundation.
The one-day online giving event at givelocalpiedmont.org runs all day, Tuesday, May 4, highlighting the great work of more than 190 local nonprofit organizations, including in Culpeper. It's also an opportunity to support the groups working right in the community.
Each donation is increased by a cash bonus from the PATH Foundation, and generous prizes from sponsors and NPCF.
For as little as $10, everyone can be a philanthropist and help improve our communities.
Culpeper groups participating in Give Local Piedmont include Windmore Foundation for the Arts, Culpeper Renaissance, Inc. (in support of the veterans downtown banner program), Aging Together, CARS—Christ-Centered Addiction Restoration Services, The Carver 4-County Museum, Culpeper Winter Heat Shelter, Friends of the Culpeper County Library, Friends of the Rappahannock, Living the Dream Foundation, Piedmont Regional Dental Clinic and many more.