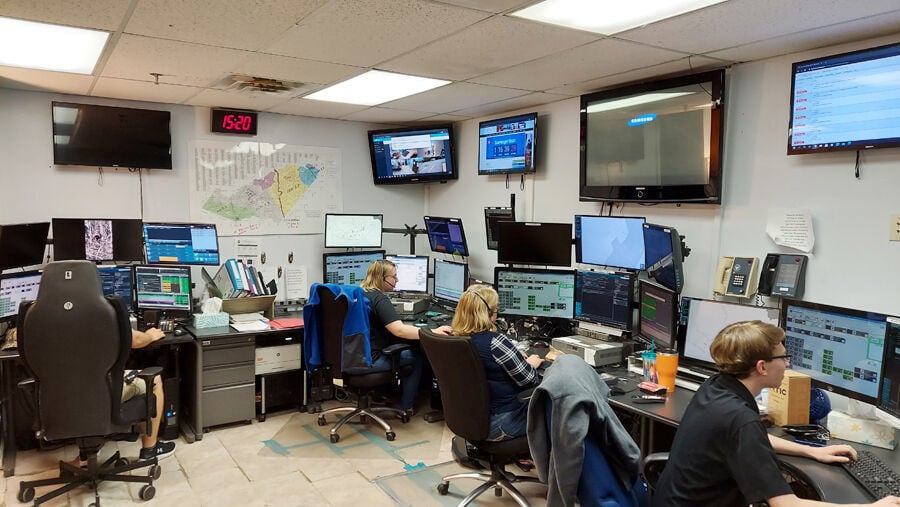 Orange County's Emergency Communications Center is preparing to add powerful new features to its 911 services in the form of NextGen 911. The system allows dispatchers to receive texts, images, videos and other vital information from callers during an emergency situation.
According to center director Chris Cord, NextGen 911 will enhance the current Smart911 program.
"There's a big difference between the two," he said. "Smart911 is a service that the county pays for. Basically, it's a voluntary database that you can log into and put in your address, spouse's name, kids' names and build a profile. You can also say whether you have any medical conditions or pets inside the house. In the event that you were to call 911, we will already have some vital information that they can use. That's a free service to any person in Orange County."
Because not everyone participates in Smart911 and the data it provides is limited, Cord said that NextGen 911 can fill in the gaps and cut down on emergency services' response times.
"Virginia state government has mandated that the entire state needs to sign on to NextGen 911," Cord said. "The way NextGen 911 works is that you have something called 'emergency services information' network or ESInet. That makes up the core of the system that every 911 center in the state is connected to. With the state handling that project, that takes a lot of the burden off individual call centers from having to come up with the funds to build the network out. In the case of Virginia, they've awarded the contract for the ESInet to AT&T."
As of right now, Cord isn't 100% sure when NextGen 911 will be fully installed but expects that it could come online by the end of this year.
The service will be free for all county residents and there will be virtually no changes on their end when it comes to making a 911 call. The technology isn't set in stone, Cord said, but people will be able to text their images and videos to 911 like they would with a regular phone number. If all lines connected to the emergency communications center are tied up, then callers in Orange may be transferred to a neighboring county's dispatch.
Cord explained that the most noticeable benefit of NextGen 911 is an improved ability for dispatchers to locate callers, even ones who are in remote or unfamiliar places.
"If you are unable to communicate, but we have your location, we can send first-responders out to investigate if you have an emergency or not," he said. "That's how I try to describe it. There's so much information that apps like Uber or even Pizza Hut have so they can find you. Yet, 911 can't access that same level of information because our current system is more voice-centric and not as data-centric."
"We are basing your location on cell phone towers that help us triangulate," he continued. "At times when you are in an area that doesn't have cell service, we might get an area of 1,000 yards and that can be a decent chunk of property to have to search."
The emergency communication center has received a number of grants to help pay for the NextGen 911 infrastructure and service, Cord said.
"Recently, we received a grant to pay for upgrading our call handling equipment," he said. "That's the phone system that we use for 911. That upgrade was completed in February. The next step will be the ESInet connection. We are just waiting for the fiber connection to be installed."
Orange Police Chief Jim Fenwick is welcoming the enhancements with open arms. He believes better 911 technology and accessibility can enable his officers to do their jobs easier.
"In a small town, officers should know every square inch of their patrol area," he said. "Same thing out in the county, the deputies or whoever should have a general awareness of where things are. But sometimes, particularly if it's a house you've never been to, having a technological advantage is essential. Anything that can help speed up that response time can make the difference between life and death in an emergency. Or it can be the difference between catching an offender on the scene versus them potentially getting away with a crime. The main thing we are interested in is saving lives."
Whit Jacobs, chief at Orange Volunteer Fire Company (OVFC), laid out some specific examples where he sees NextGen 911 making an impact.
"With a motor vehicle accident, if there's a way we can get images or a picture of what we're getting into, we can start to prepare our personnel or get other resources on the way if need additional hands," he said. "We don't have everything available in Orange County. That's true for any county, to be honest. We rely on mutual aid and regional resources and those don't always respond quickly."
"If you have someone trapped in a vehicle, you want to know if the vehicle is on its top, its side or all four wheels," he continued. "So, if I have an image of the scene to pass along to my unit when I'm going in, then I already know what we need to do to stabilize that vehicle to cut the person out and get them to a hospital."
Fenwick pointed out that NextGen 911 could be instrumental in helping someone who doesn't speak English fluently call in an emergency, since communicating with pictures is far easier than having to use words. The same would be true for someone with a disability.
"Having the pictures is huge," Jacobs said. "Especially being able to receive text messages. I don't think there is a single person out there that owns a cell phone that doesn't know how to text. If I can't get a phone call out, but I can get a text message out, that's better than nothing."