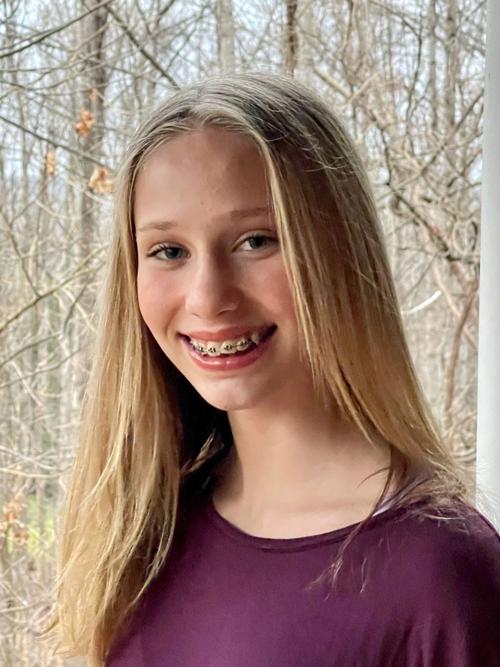 Gabrielle Marshall, who goes by Gabby, a 7th-grader in Midlothian, was among the top three winners in a national contest, organized by the Academy of American Poets for which students wrote their own inaugural poems. The 1st- and 2nd-place winners are both high school seniors. Gabby's poem, "The Power of Hope Today," was awarded third-place, and favorably compared by the contest judge to Emily Dickinson. There were more than 800 entries.
Gabby received an email last week from the organization, asking for her to call. She did and heard the good news.
"They told me, and we were all kind of freaking out," Gabby said. "It was pretty surreal."
Gabby has always loved to read and be read to: Aesop's Fables, Shel Silverstein, the usual kid-pleasers.
"If you read her a book, she was able to memorize and recite it back to you," said her mother, Jan Marshall. "When you read, she would say the next line. It was crazy."
She composed her first poem at age 9, a class assignment for all students to write an ode about something they saw on a field trip to the Virginia Museum of Fine Arts. She selected an untitled abstract metal sculpture. "Ode to Untitled," she titled her poem.
Her way with words was noted then and still. Her current English teacher, Mary Hopkins, subscribes to a poem-of-the-day from the Academy of American Poets, some of which she shares with her students and discuss in class. When she learned of the 2021 Inaugural Poem Project and Contest for Students in late November, she encouraged Gabby to consider writing something.
"I knew she'd be excited to take advantage of it," Hopkins said. "She's creative. She's empathetic. She really has the soul of a poet. I knew it would be fun for her, rather than just another assignment she had to do. I just knew she'd think it was cool to try."
The contest was open for "18-and-under" participants, which gave Hopkins pause—thinking about a 7th-grader competing against high school students – but not for long. "Oh, it's a good experience," Hopkins thought.
Gabby wasted little time.
Contest organizers sought works "in the spirit of past inaugural poems" that "reflect on the country's challenges, strengths, and hope for its future," so Gabby focused on the positive.
"Everyone's been down," she said of the country's mood. "I just think people need to be positive, and it's just something people need to hear right now.
"Everyone needs to have hope, and plus it's my middle name, so it's always been special to me."
"The Power of Hope Today" began to take shape. She wrote her first thoughts on a sheet – both sides—from a sticky-note pad she found in the kitchen drawer. Then she typed what she composed and show her mom. The poem was on its way to the academy within a day or two, well ahead of the Dec. 30 deadline. Which meant she had a lot of time to wait and ponder, though she never really thought she was going to win. Never could even imagine it.
Hopkins didn't know whether Gabby would win anything, but she knew what she had written was good.
"I appreciate her economy of words," Hopkins said. "She writes very tightly and neatly, and her images are very clear."
Last week on what turned out to be the day before Gabby learned the results, Hopkins asked if she'd heard anything.
"She said, 'No, I'm probably in one-billionth place, but it was a great experience that I tried,'" Hopkins recalled. "That's the kind of kid she is."
The judge for the contest finalists was former inaugural poet Richard Blanco, who composed a poem in 2013 for Barack Obama's second inauguration. Of Gabby's poem, Blanco wrote: "Reminiscent of Emily Dickinson's famous poem, 'Hope is the thing with feathers.'"
So, you know, whoa. That will look good on her college applications in a few years.
Blanco also wrote that Gabby's poem "reaffirms the enduring and unwavering power of our nation's hopes, which never abandons us, even during these trying times."
Only five poets have been commissioned by president-elects to compose poems to be shared at their inaugurations. The fifth, Gorman, 22, really stole the show Wednesday with her poem, "The Hill We Climb."
Gabby was in school when Gorman recited her poem, but she watched it later and was wowed. What she saw was "incredible" and "inspiring." She also saw something to aspire to.
"I hope to be just as talented … one day," she said.
Gabby's poem is posted on the poets.org website and will be published in American Poets magazine. She also won $300.