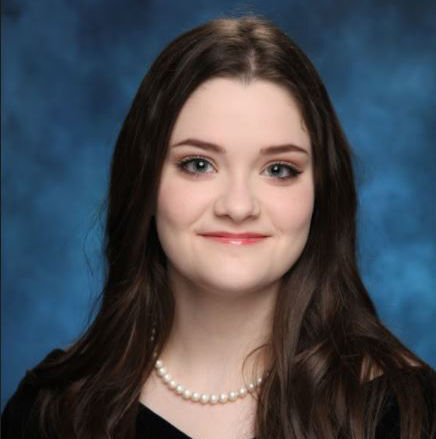 Culpeper County High School
Parents: Stephen and Jana Searle
Classes: English 12 Dual Enrollment, VA US Govt Advanced Placement, Piano Lab, Discrete Math, Women's A Cappella, Spanish 3, Ecology, Advanced Acting and Studio Art 1
Honors: National Honor Society, Tri-M Honor Society, Thespian Honor Society, Art Honor Society, Academic Achievement Awards (9-12th), VHSL Forensics District 2nd Place and Regionals 3rd Place, Women's A Cappella District Honor, Best Actress Award 2020 for Morticia Addams, Governor's School Nominee, Spirit Award, Rising Star Award, VHSL District Competition One Act Play, VHSL Award of Excellence for State, scholarships from Bridgewater College, Longwood University and University of Mary Washington
Extracurricular: Drama Honor Society, Art Honor Society—Co-President, Perfect Pals, CCHS drama productions, BDP Anchor, Writer's Club, Medford League and forensics.
Community: CCPS Special Education Advisory Committee, senior living centers performances, Culpeper County Library teen volunteer, VBS leader, Culpeper Health and Rehab volunteer, CCHS Student Ambassador and pet sitting.
Hobbies: Voice and piano lessons, dance/cheer, gymnastics, horseback riding lessons, Theater (CCHS, Fauquier Theater, Hope Theater, State Theater), acting lessons, designing costumes and painting sets.
Ambitions: My dream for the future is to attend James Madison University. I would like to major in special education with a concentration in Autism. I would like to also get a minor in music therapy. Of course, I want to still be involved in theater at Forbes Center and be in an a cappella group like the JMU Overtones. Being on the Special Education Advisory Committee, singing at local nursing homes, and working with students in Perfect Pals and Hangouts, gave me direction. I realized that I truly enjoyed working with people and trying to make a difference. I would love to come back to Culpeper County Public Schools and teach in the future!