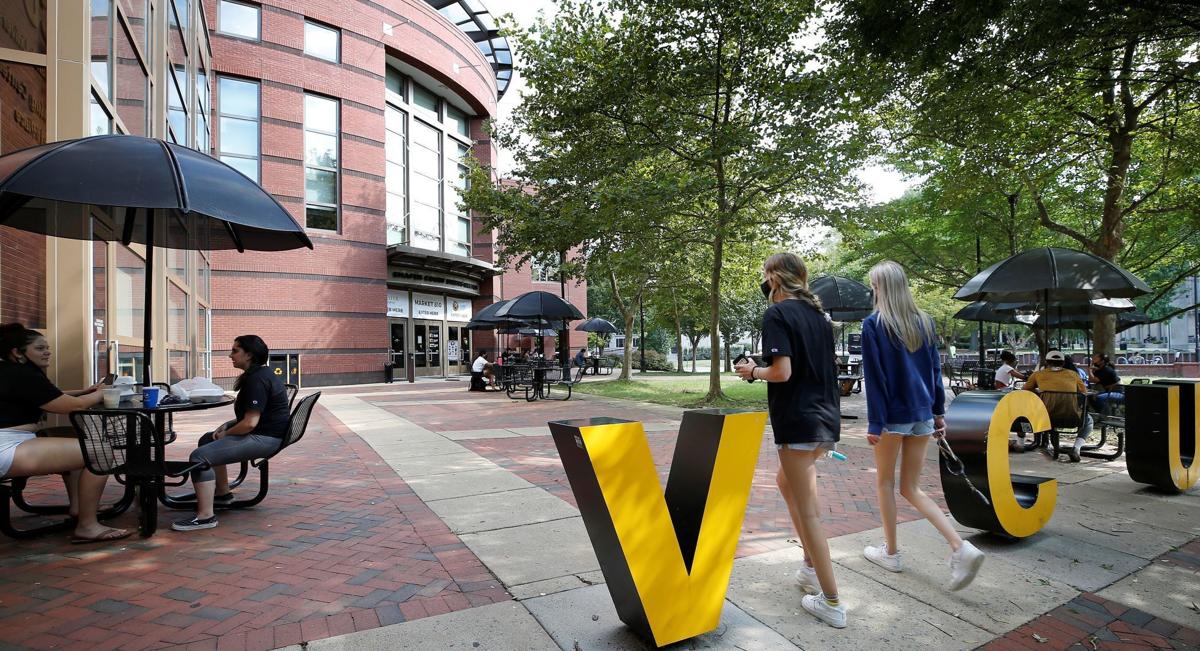 College students across the state are leaving campuses next week and returning home as cases of the coronavirus are surging nationwide and the Centers for Disease Control and Prevention recommends people not travel for the Thanksgiving holiday.
Administrators are trying to ensure that when their students go home, they don't take the coronavirus with them and spread it to older, more vulnerable family members. Young, otherwise healthy people are more likely to transmit the virus without displaying symptoms.
Most colleges in Virginia opted not to hold a traditional Thanksgiving break. Instead, they are ending in-person instruction this week or next week and finishing the semester after the holiday in a completely remote format.
At Virginia Commonwealth University, freshman students have to leave on-campus residences by Wednesday morning. But the university made accommodations for a small number who wished to stay, school spokesman Michael Porter said. Students who requested to return to their dorms after Thanksgiving to finish classes and take their finals were allowed to do so.
Many upper-class dorms, which are apartment-style, remain open 12 months a year, allowing students to remain during the holiday if they wish.
Students with symptoms or positive tests can stay in the university's isolation housing in Gladding Residence Center III. About 4,400 students live on campus this semester, though full capacity is closer to 6,500.
VCU offered students the opportunity to be tested before going home, and between 1,300 and 1,400 opted in, Porter said. Of the first 700-800 results that returned, only one person tested positive, he said.
Virginia Tech asked its students to be especially careful in the last two weeks before going home, and it is offering them testing before they leave. In-person instruction there ended Friday.
Frank Shushok, Virginia Tech's vice president for student affairs, urged students to keep making good decisions and encourage others to follow suit at home.
The University of Virginia is requiring that all its students, both on-campus and off, take a saliva test before they leave Charlottesville. The university has asked that once students have left they not return to the Charlottesville area until classes for the spring semester begin Feb. 1. UVA has about 4,500 on-campus students and 13,500 off-campus.
UVA also will offer voluntary testing to academic division faculty and staff, contracted workers, and Medical Center and University Physicians group team members.
President Jim Ryan thanked students for generally following COVID-19 regulations.
"Aside from a few unfortunate lapses, you did what you had to do to stay safe," he said in a video statement. "You looked out for one another. You dealt with testing, isolation and Zoom fatigue."
Dr. Meredith Hayden, associate executive director of student health and wellness at UVA, recommended students minimize contact with people for 14 days after leaving college. She also advised students to get a flu shot and to be mindful of grandparents and older family members.
In recent weeks, colleges have reported fewer positive cases. There have been more than 5,000 cases at Virginia colleges since the pandemic began, but the majority of them occurred in August and September.
In mid-September, Virginia Tech reported a seven-day positivity rate of 19%. Since mid-October, that figure has remained under 4%.
Virginia Tech, which tests students on campus at the Fralin Biomedical Research Institute, is able to conduct more tests than most universities across the state and has completed 37,000 tests since Aug. 3.
According to Dr. Noelle Bissell, health director for the New River Valley, college students are not driving virus transmission in Southwest Virginia.
Working adults ages 25-59, however, have contributed to rising cases in that part of the state because of social and work gatherings, household spread, church events and carpooling, Bissell said.
"We know how this spreads," she said. "It spreads from that close social contact."
Shushok, at Virginia Tech, said he was afraid students would tire of wearing masks and avoiding social functions, but that never happened.
"Our students stayed committed the entire time," Shushok said.
Dr. Danny Avula, health director in Henrico County and Richmond, said college students didn't appear to be driving cases in the metro area either. While the 20- to 40-year-old age groups have represented a larger portion of positive cases recently, college students don't seem to be the cause, he said.
During the week of Aug. 27, VCU reported 82 new student cases — its worst week of the semester. The week of Nov. 9, it reported 22 new student cases. VCU has conducted about 9,800 tests.
Be the first to know
Get local news delivered to your inbox!