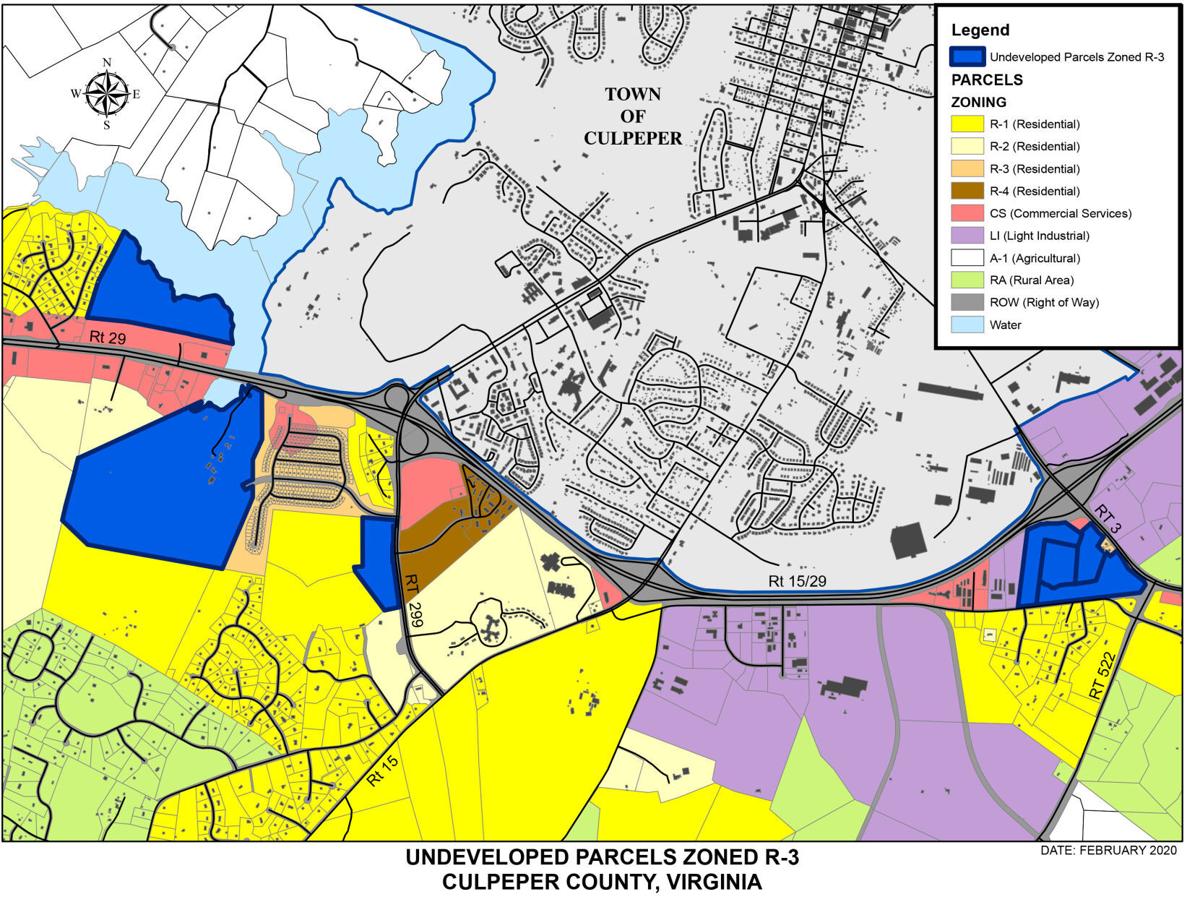 Culpeper County supervisors have unanimously approved an ordinance change requested by Fairfax County developers they say will result in "affordable" housing built closer together on the outskirts of town, with more open space and more amenities targeting empty nesters.
Proponents also claim the change will limit sprawl in the county to areas near utilities and highways, such as the property owned by the applicants. Culpeper Gateway LLC, of Oakton, has four parcels, zoned Residential-3, near State Route 3 and U.S. 29 eyed for a future "cluster housing" development project.
The measure approved Tuesday night reduces lot sizes and allows for taller townhomes (an increase from 35 to 45 feet) on their property and the few other R-3 properties remaining in the county, all right around the town of Culpeper.
Perhaps most notably, the change also provides an option to halve the open space requirement—from 40 to 20 percent—on R-3 land if developers agree to install recreational amenities such as gazebos, trails or grilling areas. This locally new concept of "an open space credit" was not previously in place, leaving recent residential developments void of recreational resources, according to county staff.
Now, developers wishing to build dwellings closer together and higher up would, in exchange, provide $500 per single-family home or $250 per townhome to install other such features as playgrounds, courts or ballfields. For a development with 100 homes, for example, that would be $50,000 in amenities, according to the staff report.
The county Planning Commission voted against the ordinance amendment, stating it was not required to serve the public necessity or convenience the general welfare.
But staff found some value in it, and recommended approval.
"The density does not change," county Planning Director Sam McLearen said. "It allows for a different style of development that may be encouraged," he said of conceivably less-expensive townhomes that can now be built on 1,600-square-feet lots. Previously, 2,000 square feet was the requirement.
The change increases the number of townhouses that can be grouped together from five to eight, and allows single-family houses on R-3 land to be situated on 4,500-square-feet lots. Previously, that was 6,000 square feet.
East Fairfax Supervisor Kathy Campbell, a local real-estate broker-owner, supported the concept.
"We definitely need this," Campbell said, adding that she investigated and, "There are only 24 houses on the market at less than $359,000."
Stevensburg Supervisor Bill Chase said he started talking about the advantages of cluster housing 40 years ago.
"At the time, it was a great thing and it's still a great thing," he said. Chase said the ordinance change wouldn't create more houses, but it would create "affordable housing."
"I think it's a fine idea and I see nothing wrong with it at all," Chase said.
Cedar Mountain Supervisor Jack Frazier, a homebuilder, added his support: "Not adding units is always a good thing. I like the ideas for the clustering and the space."
He advised that transportation improvements at the Culpeper Gateway development would need to be addressed during the site-plan process.
At the recent meeting, Culpeper lawyer John J. "Butch" Davis III represented the applicants, Culpeper County Gateway LLC principals David Lesser and Lisa Weaver, who also attended.
"Cluster allows more affordable housing put closer together leaving more open space," Davies told the board. "The result is a more affordable house—in the $250,000 to $325,000 range."
Reduced costs for roads, parking and other infrastructure with this concept allow for housing costs to come down, he said.
The town's water and sewer utilities are close, further lessening costs, he said.
"It's important that we see that kind of development occur," Davies said. "It helps to limit sprawl in the county."
The Culpeper Gateway developers said they heard from national builders that Culpeper is under-served for homes with first-floor master suites and smaller homes for retirees looking to downsize, or those living alone.
Weaver said empty nesters and seniors "want less maintenance on yards, but wouldn't mind having space around them." Trails are a big deal for this demographic, she said.
Lesser added that there is a "demand for ramblers," a ranch-style house, with first level master bedrooms. An estimated 30 percent of the housing in Culpeper Gateway would be this style. The developers' application says clustered housing is more environmentally sensitive as it maximizes open space and recreation while reducing impervious spaces like streets and parking lots.
Be the first to know
Get local news delivered to your inbox!