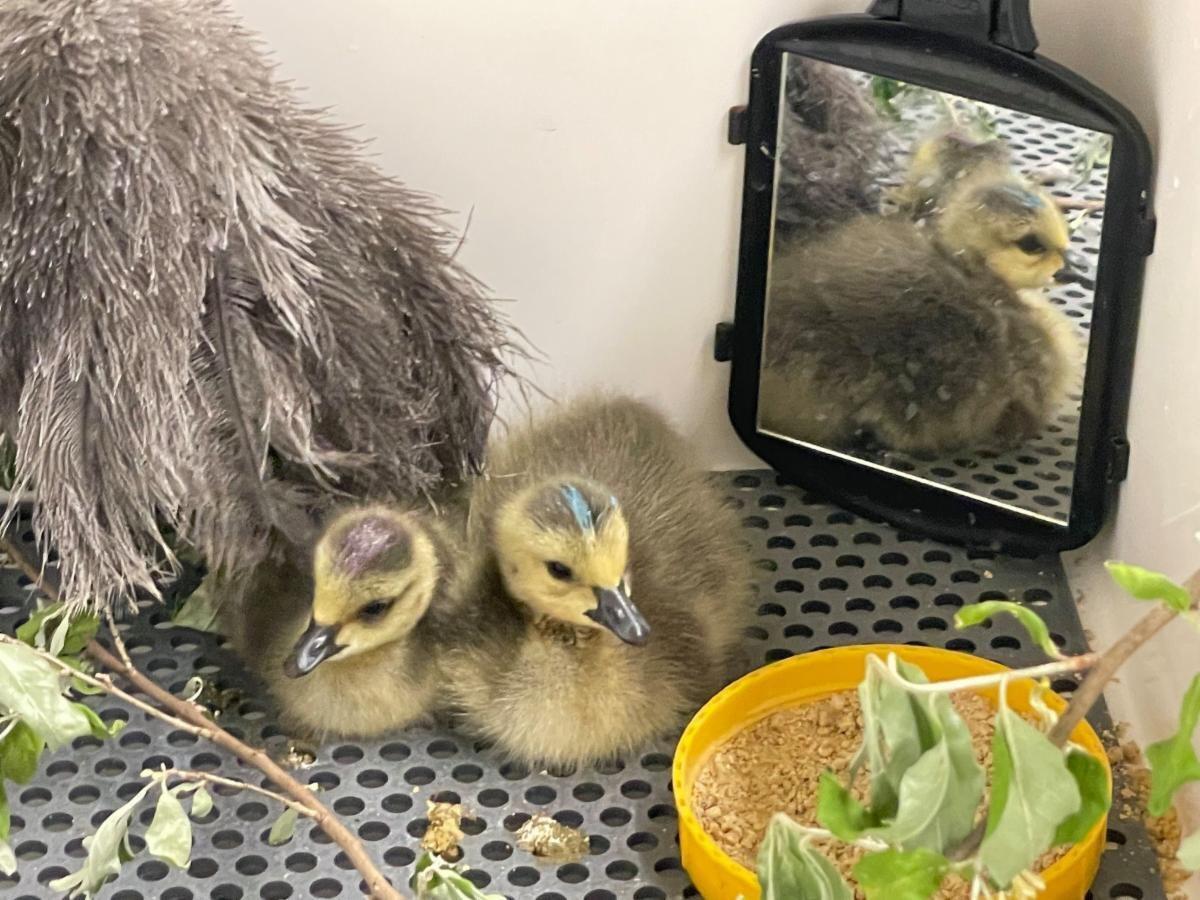 It's gosling season: Blue Ride Wildlife Center receiving calls
Canada geese are starting to hatch in the area and Blue Ridge Wildlife Center has already received dozens of calls about the. The wildlife rescue's most recent goslings came from Front Royal. They were found alone with no adults nearby and are now being raised at the Center.
Goslings should be with their families, but they occasionally get separated due to road crossings, predators, and other situations, according to the center. Find a healthy gosling alone? It is best to thoroughly investigate nearby and look for adult Canada Geese with other babies. If placed near adults with other babies, the lost babies will typically cry out and attract adult attention so that the family can be reunited. This is always what is best for the gosling.
Car show Saturday at Ole Country Store
A car show fundraiser for the Fisher House Foundation will be held 5:30 to 9 p.m. this Saturday, May 8 outside Ole Country Store of Culpeper on U.S. Route 29 south of town.
CCFS Car Meets is partnering on the program in support of the organization that provides a "home away from home" for families of patients receiving medical care at military and VA medical centers.
Registration ($15) is from 5:30 to 6 and space is limited. There will be music, food from Lonesome Dove BBQ and sweet frozen treats from Ole Country Store Creamery. There will be an awards presentation at 8 p.m. plus managers choice trophy and best in show.
This is a collaboration with the local nonprofit, Cruisin For Heroes (cruisinforheroes.com) and is a family friendly event supporting the community and our military. CDC guidelines will be followed.
Madison Literacy Council benefit at Revalation Vineyards
Join Revalation Vineyards in Madison's gorgeous Hebron Valley from 1 p.m. until sunset this Friday, May 7 for a benefit for the Literacy Council of Madison County.
Ten percent of the day's proceeds will be donated to support the Literacy Council's adult and family education services.
Mother's Day Breakfast this Saturday
Meals for Missions presents a special Mother's Day Breakfast from 8 to 10 a.m. this Saturday, May 8 at Reformation Lutheran Church, 601 Madison Rd. in Culpeper.
Pick up at the south side of the building at the Fellowship Hall or dine in. On the menu is French toast, sausage links, fruit, cinnamon rolls, coffee and juice.
Freewill donations accepted to benefit community groups. The last two Meals for Missions events raised $2,000 for the Culpeper Food Closet and First Call for Help. Reserve a meal for the Mother's Day Breakfast at https://bit.ly.3gBcUU1.
Culpeper Food Closet: canned stew, chili, chicken, tuna
This week, the Food Closet at St. Stephen's Episcopal is in need of canned beef stew, sloppy joes, chili, chicken and tuna.
The Food Closet provides food and personal care items for Culpeper families, individuals, and seniors in need of assistance, and continues to serve our community during the pandemic. See ststephensculpeper.net or Facebook for more details for more ways to help: "We can't do it alone." Contact 540/825-1177 or culpeperfoodcloset@gmail.com.
Artist selected as Shenandoah's latest Artist-in-Residence
Shenandoah National Park is pleased to announce the selection of Nancy Hershberger, a fiber artist, as the May Artist-in-Residence.
A former Artist-in-Residence at Great Smoky Mountains National Park and Manassas National Battlefield Park, she noted, "artists are influenced by their surroundings and experiences. I never miss an opportunity to encourage artists to look at our National Parks from a different perspective … Shenandoah National Park is one of the most hauntingly beautiful places in the country. I have no doubt that it will influence my work for years to come."
Artist-in-Residence program is established in numerous National Park Service sites to inspire artists to create and share art that not only motivates and encourages millions of people to visit and explore, but also helps build awareness and develop stewardship of these beautiful public lands.
"Art has a long connection to our National Parks, going back to Thomas Moran and William Henry Jackson, whose art helped in the creation of our first national park, Yellowstone," said Superintendent Pat Kenney. "We are very happy to see this connection to art continued at Shenandoah National Park."
Shenandoah's Artist-in-Residence program is supported by a generous donation from the Shenandoah National Park Trust.