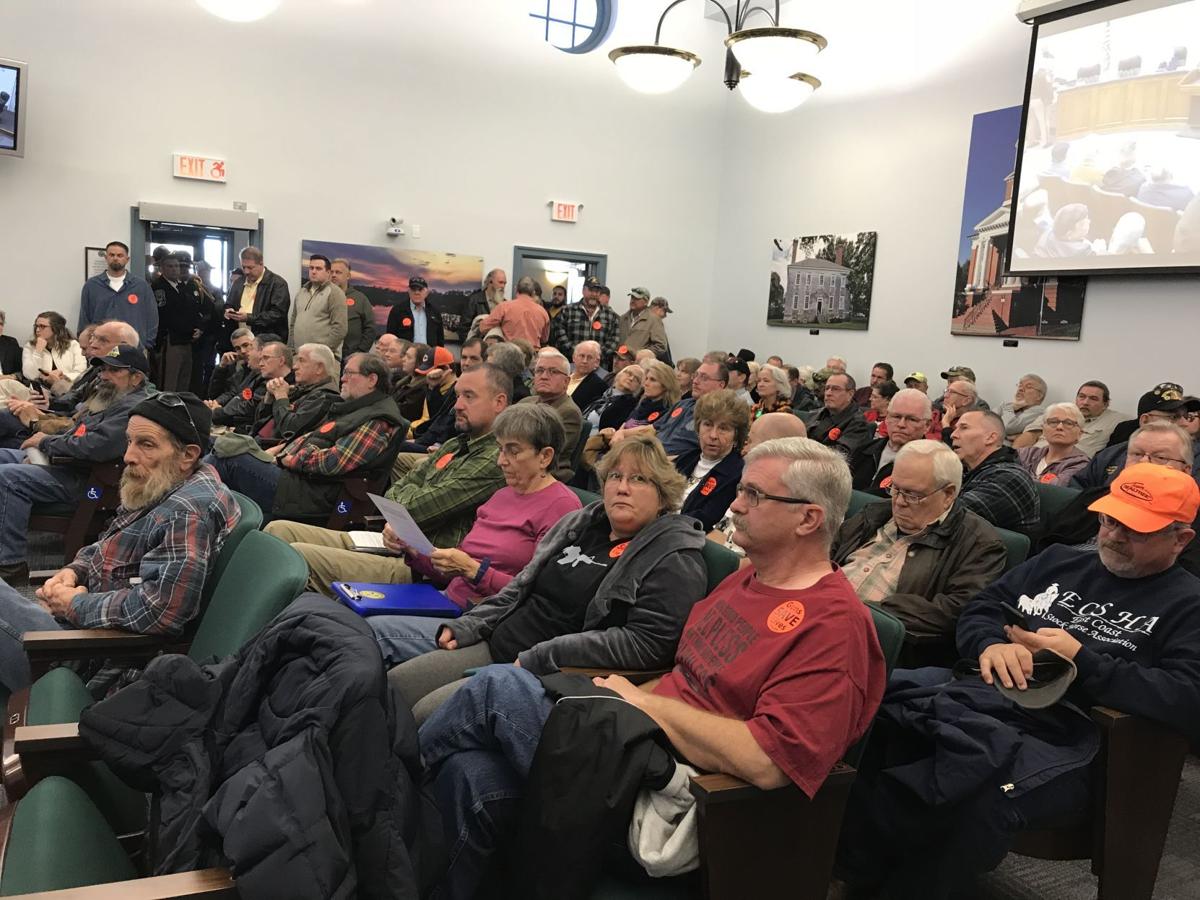 Culpeper County has approved another resolution stating its opposition to any infringement of gun rights for local citizens and visitors alike.
At its meeting Tuesday morning, the Board of Supervisors almost unanimously approved the document recommended for adoption last month by Culpeper County Sheriff Scott Jenkins. The resolution is in response to a new state law, effective July 1, giving localities the ability to further regulate the carrying of firearms on public property, according to County Administrator John Egertson.
Jenkins asked the board to consider adopting the resolution and Supervisors Jack Frazier and Tom Underwood requested the item be put on Tuesday's agenda.
The resolution was drafted to state, according to Egertson that, "The board has no intent to utilize that new legislation in order to place further restrictions on firearms."
Underwood said he also heard from various members of local "Second Amendment groups" wholly in support of the resolution. The board in December unanimously voted to declare itself a Second Amendment Constitutional County as part of a statewide effort among Republicans to push back on Democratic-led gun reform in the Virginia General Assembly.
"We will not be enacting new regulations," Underwood said on Tuesday and Frazier agreed.
Supervisor Paul Bates made a motion to approve the resolution and Supervisor Brad Rosenberger seconded it. Supervisor Bill Chase, listening by telephone, abstained from voting on the hot button issue because he said, he "couldn't hear a damn thing" about the gun resolution discussion due to his remote access to the meeting held in the auditorium at Eastern View High School for distancing requirements.
"REGARDING LOCAL AUTHORITY TO REGULATE FIREARMS UNDER SECTION 15.2-915(E) OF THE CODE OF VIRGINIA WHEREAS, in acknowledgment of its deep commitment to the rights of all citizens of, and visitors to, Culpeper County to keep and bear arms, the Culpeper County Board of Supervisors previously declared Culpeper County to be a 'Constitutional County'; and
WHEREAS, certain legislation has been passed in the Virginia General Assembly that allows localities to, by ordinance, ban otherwise lawfully possessed and transported firearms from certain public spaces, causing law-abiding citizens to be exposed to a patchwork of local ordinances as they travel throughout the Commonwealth; and
WHEREAS, the Culpeper County Board of Supervisors acknowledges the significant economic contribution made to our community by tourists and visitors and does not wish to discourage travel to Culpeper County; and
WHEREAS, Culpeper County wishes to welcome all law-abiding citizens who wish to live in, visit, or otherwise participate in the economy of our community, including those citizens and visitors who choose to legally carry a firearm for personal protection; and
WHEREAS, the Culpeper County Board of Supervisors does not wish to infringe on the rights of the citizens of, or visitors to, Culpeper County to keep and bear arms; and
WHEREAS, the Culpeper County Board of Supervisors wishes to express its continued opposition to any law that would unconstitutionally restrict the rights of the citizens of, and visitors to, Culpeper County to keep and bear arms;
NOW, THEREFORE, BE IT RESOLVED that the Board of Supervisors of Culpeper County, Virginia hereby declares that Culpeper County shall not exercise any authority granted to it by § 15.2-915(E) of the Code of Virginia to regulate or prohibit the otherwise legal purchase, possession, or transfer of firearms or ammunition."
Be the first to know
Get local news delivered to your inbox!