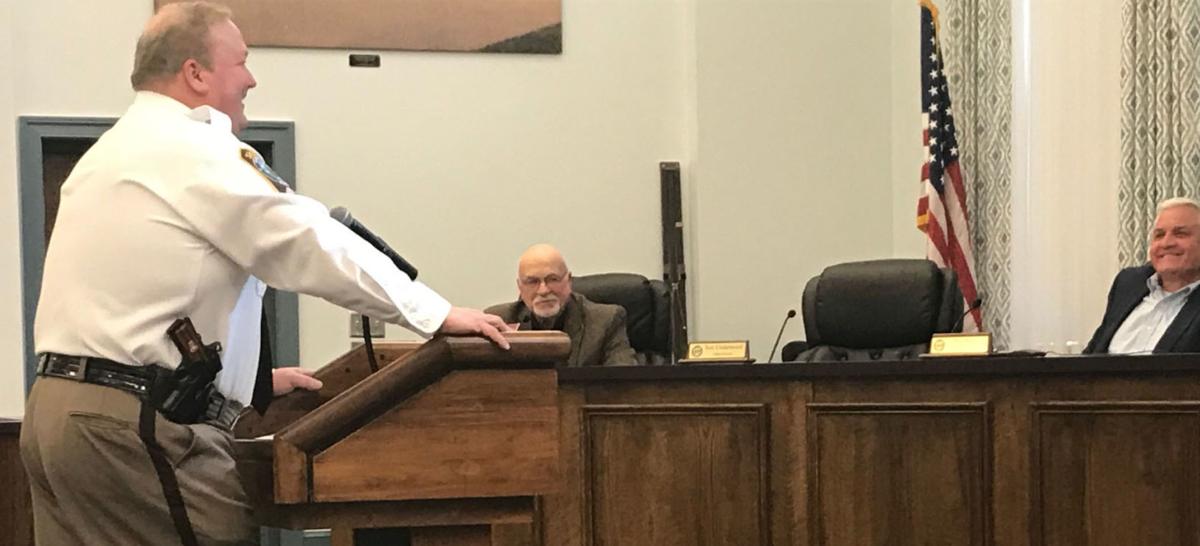 Culpeper County Sheriff Scott Jenkins last week presented a proposed budget for Fiscal Year 2021-22 that is more than a million dollars greater than the current year budget.
Including court security, law enforcement and jail operations, the FY22 Culpeper County Sheriff's Office draft budget is $11.329 million, compared to $10.24 million in the current fiscal year. This does not include another estimated $2.6 million in salaries covered by the state compensation board for the 111-person agency.
The coming fiscal year request impacting the county general fund includes two new part-time positions—in jail administration and records—and 18 new vehicles as part of ongoing replacement efforts to an aging fleet.
Outside jail services—the housing of local inmates at Rappahannock Warren Shenandoah Regional Jail in Front Royal due to consistent overcrowding in the Culpeper County Jail next to the courthouse—will cost $1.752 million in the coming fiscal year. This is compared to $1.33 million in the current fiscal year. Five years ago, outside jail services cost the county around $813,000 annually.
Jenkins told the Board of Supervisors the county is still getting "a really good deal" from the regional jail, which reduced the contractual charge for up to 100 inmates to 65 inmates during lower pandemic population times. The sheriff said this saved the county about $30,000 for a few months.
Jenkins added the daily charge for housing inmates in the Front Royal facility, however, is still going up.
"The cost always goes up," he said.
The Culpeper jail is rated to hold up to 70 inmates, but actually holds around 92 inmates on an average day, according to projections last March provided by the sheriff. The average daily jail population for Culpeper, including those held in Front Royal, is 180—double since Jenkins first took office in 2012, he told the board last week.
As part of last year's budget, six new vehicles were approved in the CCSO budget. Due to COVID-19 and shipping and manufacturing delays, the new vehicles were not received until November of 2020, Jenkins said. And they are still not in use due to delays in outfitting them with lights, sirens, and other necessary equipment. This delay is a national problem, the sheriff said.
Jenkins said the vehicle fleet is the same size as when he took office (around 80), noting drug seizure funds allowed the purchase of several vehicles in the past few years. The sheriff said his agency spends about quarter-million a year to maintain the older fleet of cars.
As for the new positions, administrative staff is preparing for a surge in work once the courts open back up and resume jury trials, Jenkins said. According to budget documents submitted, a new part-time records department clerk is needed "to assist with increased paperwork due to social unrest and additional incarcerations in the future."
As for the new part-time jail records employee request, the budget justification sheet explained it, "As incarcerations increase due to the additional disruption in our society due to housing evictions and civil unrest, there is additional paperwork to be performed for those increased numbers of people cycling through the local jail."
Jenkins said it's "an enormous paper load" and that he had not increased records staff since 2012.
"It is a point of desperation," he said. "We know more work is coming and they need help already."
Catalpa Supervisor Paul Bates noted it was "kind of disturbing" that the new vehicles can't be used because of the delays on outfitting them. He asked if local auto shops could help with the work.
Jenkins responded it is expensive to fabricate cages that separate the front and back of law enforcement vehicles and that they are working on getting it done.
Cedar Mountain Supervisor Jack Frazier expressed concern about the same issue. The impression was you buy the vehicles and they can be used, he said.
"We think the problem will go away and it doesn't," Frazier said.
Not having dependable cars in which to respond to emergencies is not a good situation, he said.
The sheriff's office budget also includes a 1.87 percent cost-of-living raise for all employees and the potential for an additional merit raise, up to 2 percent, according to County Administrator John Egertson. This raise has been budgeted for all county employees in FY22.