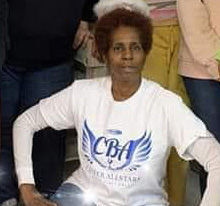 An apparent alcohol-involved verbal altercation Saturday night in Culpeper ended with a beloved local mom fatally shot, a man sent to the hospital and another man charged with homicide. 
Culpeper Police Officers responded at approximately 7:55 p.m. on Sept. 19 to the 1100 block of Vantage Place along James Madison Highway in town. A man and a woman were found suffering from gunshot injuries, according to a Sunday night news release from the Culpeper PD.
The woman, Torri Robinson, 56, of Culpeper died at the scene. The 59-year-old male was taken to Novant Health UVA Culpeper Medical Center with non-life-threatening injuries.
Leroy Chandler, 66, of Culpeper was charged with first degree murder and malicious wounding. He is being held in Culpeper County with no bond eligibility.
Investigators determined Chandler and an acquaintance got into a verbal argument that escalated, police said. The male shooting victim and Robinson reportedly tried to intervene and defuse the situation, when the fatal shooting occurred, the release stated.
Chandler was still on the scene when police arrived. A search warrant was executed at his home, resulting in the recovery of the alleged murder weapon and additional evidence, police said.
"Our condolences and prayers go the family of Torri Robinson for their loss," said Culpeper Police Chief Chris Jenkins in a statement. "We also wish the other victim of this shooting a full recovery. This incident is a horrible example of what happens with you mix alcohol and firearms, and could have been entirely avoided."
He thanked the Culpeper County Sheriff Office and Virginia State Police for assistance with the initial response and follow-up investigation as well as the Culpeper Commonwealth Attorney's Office and Culpeper County Crime Victim Witness Program for their assistance and services.
This is an active and on-going investigation. Anyone with information is asked to call Detective Curtis Pittman at 540/727-3430 ext. 5508 or email tips@culpeperva.gov. Callers wishing to remain anonymous can submit tips by to Culpeper Crime Solvers at 540/727-0300 or culpeperpd.org.
There is currently no evidence of any active or on-going threat to the community, police said.
Chandler is due to appear Sept. 28 on the charges in Culpeper General District Court.
Family and friends mourned Robinson's tragic death with condolences pouring out on social media. She leaves behind a 9-year-old daughter, Faith.
Culpeper native Kym Majors knew the local mom through the Culpeper Blue Angels Cheer All Stars Team. Majors, founder of the cheer team, called the death of one her team parents sad and senseless.
"Torri took pride in being the leader of the team. She made everyone feel welcomed and included," Majors said. "You know the saying, 'No kid left behind?' Well, she made sure every athlete and parent on the team was involved and not left out of any event big or small."
Robinson would go out of her way to help you, had a heart of gold and a smile that shone from within, Majors said. The local cheer team leader had a positive attitude that was contagious and was well respected and loved, she added.
"We are beyond words right now as it is hard to sum up Torri in a few sentences," she said. "We truly lost an angel who is now shining down from above."
Be the first to know
Get local news delivered to your inbox!