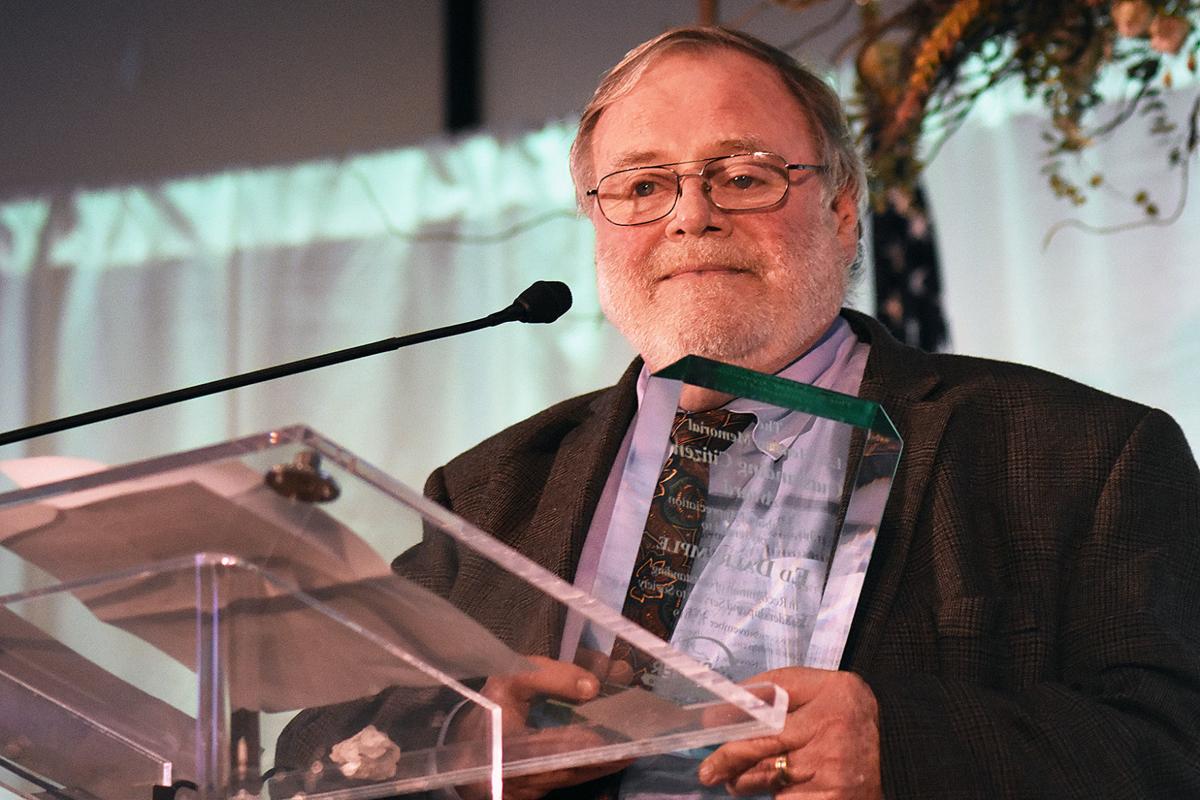 A who's who of local business and community leaders gathered Thursday night for the 105th annual Culpeper Chamber of Commerce Meeting & Awards Banquet at Germanna's Community College's Daniel Technology Center.
Shining stars representing various industries had a moment in the spotlight as the surprise awards were announced during the multihour social and professional networking event.
The evening's top acknowledgement, the L.B. Henretty Memorial Outstanding Citizen of the Year Award, went to Ed Dalrymple, president of Cedar Mountain Stone and Chemung Contracting Corp.
In recent years, Dalrymple has earned other accolades for his community service, including Philanthropist of the Year from the Germanna Community College Educational Foundation, for creating the college's asphalt technology program. The program allows students to study, work and earn money while joining an industry that needs a steady workforce.
Dalrymple has given his time to various community causes, such as the Culpeper AirFest Foundation, GO Virginia, Region 9, and as a Virginia Community College System board member.
At Thursday's Chamber Banquet, Services to Abused Families (SAFE), was named Nonprofit of the Year. Headquartered in downtown Culpeper, SAFE provides shelter for abused women and children in the five-county area along with other preventative and practical services and support. SAFE formed in 1980 when it opened the area's first shelter for battered women.
The Large Business of the Year Award went to UVA Community Credit Union, founded in 1954 by Daniel D. Colcock, and a group of University of Virginia Hospital administrators. Today, the credit union has branches in eight counties, including Culpeper and Orange, and the city of Charlottesville. The Culpeper branch opened in June 2018 in Meadowbrook Shopping Center.
Culpeper Home Services, a plumbing, HVAC and electrical business with an office on South Main Street, was named Small Business of the Year. Family-run, the firm focuses on providing a high level of customer service and expertise for the comfort and safety of area homes.
Elected Tuesday as the new supervisor for the county's East Fairfax District, Kathy Campbell was named Entrepreneur of the Year at Thursday's banquet. She is a dynamic broker, owner of Settle Down Real Estate, and recently opened an office at a second location on Waters Place, next to the Depot in downtown Culpeper.
Known around town for being behind the camera as a photographer for the Culpeper Times, Ian Chini was named Young Professional of the Year at Thursday's Awards Banquet. He is also founder, owner and operator of I&L's DJing, offering deejay services, photo booth rentals, live sound and customized lighting.
Finally, Dennis and William Brown, of Cole's Hill Farm, were named the Agribusiness of the Year.