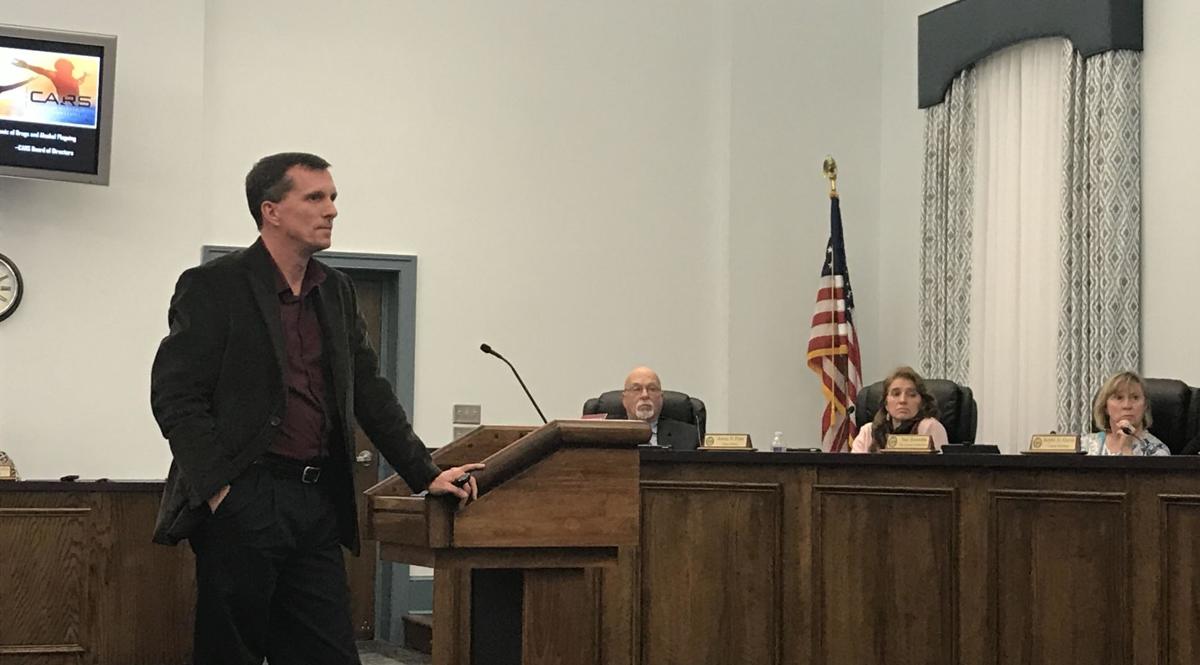 Orange County Planning Commission Chairman Donald Brooks gave the applicants for a faith-based, residential addiction treatment center an "A+" for their mission, but an "F" for where they wanted to construct it.
In a lengthy meeting Feb. 4, planning commission members grilled applicants from Culpeper-based Christ-Centered Addiction Restoration Services (CARS) on their special use permit application to construct and operate a residential drug and alcohol treatment center at the Raccoon Ford Road campus of Mountain View Community Church.
The commission opened the SUP public hearing two weeks ago and will accept comments on the application through today, Feb. 23.
The subject property is eight acres and is zoned agricultural.
CARS is a not-for-profit corporation established to help men and women struggling with drug and alcohol abuse. It cites its mission as bringing, "restoration to lives destroyed by addiction," with a vision to "provide a safe environment to redeem and grow men and women in a holistic, Christ-centered life."
It seeks to serve those between the ages of 20 and 40 in Orange, Madison, Culpeper, Rappahannock and Fauquier counties.
Recently hired CARS Executive Director Brooke Chumley, Mountain View campus pastor Jeff Kesner and senior pastor Mark Jenkins represented the applicants during the virtual hearing.
Commission members were supportive of the premise of treating addiction, but asked direct questions about the proposed operation's details and structure, as well as the applicants' approach to the project.
The eight-acre property is located in District 3 and accessed from Route 611 in the north-central part of the county.
In a PowerPoint presentation, Chumley explained how the proposed project originated and how it would be structured and funded, should it ultimately gain approval.
"We would provide long-term nurturing and restorative environments for men and women, ages 20-40, who are struggling with risky, habitual and debilitating behaviors surrounding the use of drugs and alcohol," she said. "We believe freedom through faith is what people struggling with addiction need to overcome that."
She said the proposed facility is not a detoxification facility (referencing the Boxwood Recovery Center in Culpeper, a 30-day treatment program operated by Rappahannock Rapidan Community Services). Anyone participating in the CARS facility would need to be medically detoxed before coming to the home, she said.
She said the facility, which would be on land leased from the church, would be constructed to look like a home, not an institution. Chumley referred to potential participants as "students." The first facility would be for women, with a future home constructed for men. The program would last between nine and 12 months, she said.
The CARS home would represent an expansion of the regional Restore effort—a Christ-centered addiction support effort with groups meeting in Culpeper, Madison, Greene and Rappahannock.
The home would be funded through tuition, grants and donations.
The proposed center would be regulated and certified under the Virginia chapter of the National Alliance of Recovery Residences (VARRonline.org) and the Evangelical Council for Financial Accountability, Chumley said.
"Our mission is pretty blunt: To bring restoration to lives destroyed by addiction."
She said the program would not only improve the lives of those suffering from addiction, but also their families, friends and co-workers.
"I'm on board with the goal, mission, the question is if this is the sort of use that fits in that particular area," District 1 commission member Jason Capelle said.
Brooks agreed, lauding the applicants' vision, but critical of the proposed location.
"Convince me why I should vote for a special use in an agricultural spot?"
"The church is already there and the church is not agricultural," Kesner said. People are used to having a church in the community. We're not trying to build it in the middle of a subdivision.
He said the facility would complement the church.
"It's still the same idea and theology; it's not like we're building it where something like that isn't already there."
Brooks asked if a residential addiction treatment facility is an adjunct part of a church?
"Absolutely, because, we're in the business of transforming hearts and minds and lives. Taking people who need a hand up and making them an active and productive part of society," Kesner said. "That's what we do as churches. We take people who are hurting people looking for a new life and a new way."
"You don't have to convince me what church does. I know what church does," Brooks quipped. "Don't try to save me, try to convince me."
He also asked the applicants if they had met with neighbors about the proposed facility.
The applicants said they had not.
"Even from a Christian aspect, don't think you should have done that before even approaching us? I think you're festering some opposition right in your neighborhood," Brooks said, noting he'd heard from multiple citizens concerned about the proposal.
Jenkins said that was a calculated decision based on two previous applications in Culpeper.
CARS was approved in 2019 for a women's home in Culpeper County off of U.S. 15 before the property owner was forced to sell the property.
Jenkins said the applicants made the decision to put the SUP before the commission and let the county notify adjacent property owners.
"If you believe this property is a good use for what we want to do, we'll open up the church to the community between the planning commission and board of supervisors and have that conversation," he said. "Either way, we're going to have negative responses whether we do ahead of time or after the fact. If it fails here, I wouldn't need to have the meeting in the community."
"What if you have that meeting and folks say 'absolutely not!' Would that change what you want to move forward on?" Brooks asked.
"So that meeting is irrelevant?" Brooks responded.
Jenkins said it was not, but an opportunity to better share the mission with neighbors in the community.
Capelle said the applicants' goal is aspirational, but daunting and questioned what experience they had with addiction recovery services?
Chumley, cited her psychology degree from Liberty University and her experience working with Services to Abused Families in Culpeper. She said the pastors had experience dealing with individuals in pain and other board members' experience with addiction recovery. She also said the board had done extensive research of successful faith-based recovery centers throughout the country.
District 2 commission member George Yancey asked if participants would be voluntary or court-ordered?
Chumley said students would attend voluntarily, but the group would consider court-ordered participants on a case-by-case basis.
District 4 commission member Julie Zeijlmaker asked specific questions about on-site medical professionals, security, visitation and recreation.
Chumley said staff or volunteers would be trained to handle first aid and mental health issues. While students wouldn't be permitted cell phones during their treatment, their days would be carefully structured and scheduled to prevent boredom, with on-site recreational opportunities provided.
"A lot of their time will be spent digging into curriculum, going into support groups, but there are some opportunities for sure," Chumley said.
Jenkins said visitation would be permitted, but it would be supervised. He said the house rules would be strict for a reason.
"This is for people who want to be there, which is why it's not court-ordered," he said. "You can't simply come to my program because you don't want to go to jail. That's not the spirit of the program. We want the person who wants to be there. They don't want to break the rules; they want to be free."
He said it would be incumbent on the staff to evaluate prospective participants accurately.
He also addressed security of the site.
"We'd have 24-hour staff," he said. "Nothing happens without staff. We'll do what's necessary as far as we can, to make it as safe as possible. We can't lock the doors and windows; that'd make it a prison. This isn't a prison. You do the best you can, without making a prison."
Zeijlmaker also asked why the treatment window is nine to 12 months.
"That seems like a hardship for a woman to leave her family for a year. Is there a success rate that's higher for that?" she asked.
Jenkins said 30-day programs yield 30-day results. "There's no restoration, you're just finally clean. After that, the time for restoration begins."
He cited the success rates other centers have with similarly styled programs.
He said many individuals suffering from addiction likely already are have family hardships because of their addiction.
"These individuals are in situations already. They're likely not helping their kids or someone else is already taking care of them," Jenkins said. "It's already a hardship, which is why we're working to reduce the cost as much as possible. We need it so the people we're trying to reach can afford it."
Estimated costs would be approximately $100 a day, the applicants said, though they hope to defray costs through insurance, grants and scholarships. The initial, women's facility would accommodate between eight and 12 participants.
District 5 commission member Jim Hutchison inquired about the funding for the program.
"You have a lot of unknowns. How much of a commitment do you have?" he asked.
Chumley said the group is exploring a variety of potential funding streams. "There are a lot of moving parts. A lot of things need to happen simultaneously," she said. "If we could break ground in a year, that'd be great. We believe it will happen."
"Believing and it actually happening are two different things," he countered.
As the lengthy back-and-forth wrapped up, Capelle reminded the applicants of the commission's role in the process.
"I know it's not fun and we asked some hard questions, but we have a responsibility to evaluate the use from start to finish and have constituents we have to consider," he said.
"I don't think anyone on this commission is opposed to the theory or idea, but the SUP is your struggle," Brooks added.
Written comments to the planning commission should be no more than 500 words on a single sheet of paper and can be submitted by mail to Sandra Thornton, 128 W. Main Street, Orange, VA 22960; or by email to sthornton@orangecountyva.gov. Comments must be received by noon, Tuesday, Feb. 23. Application materials can be viewed at orangecountyva.gov. For more information, call (540) 672-4347 or email zoning@orangecountyva.gov.