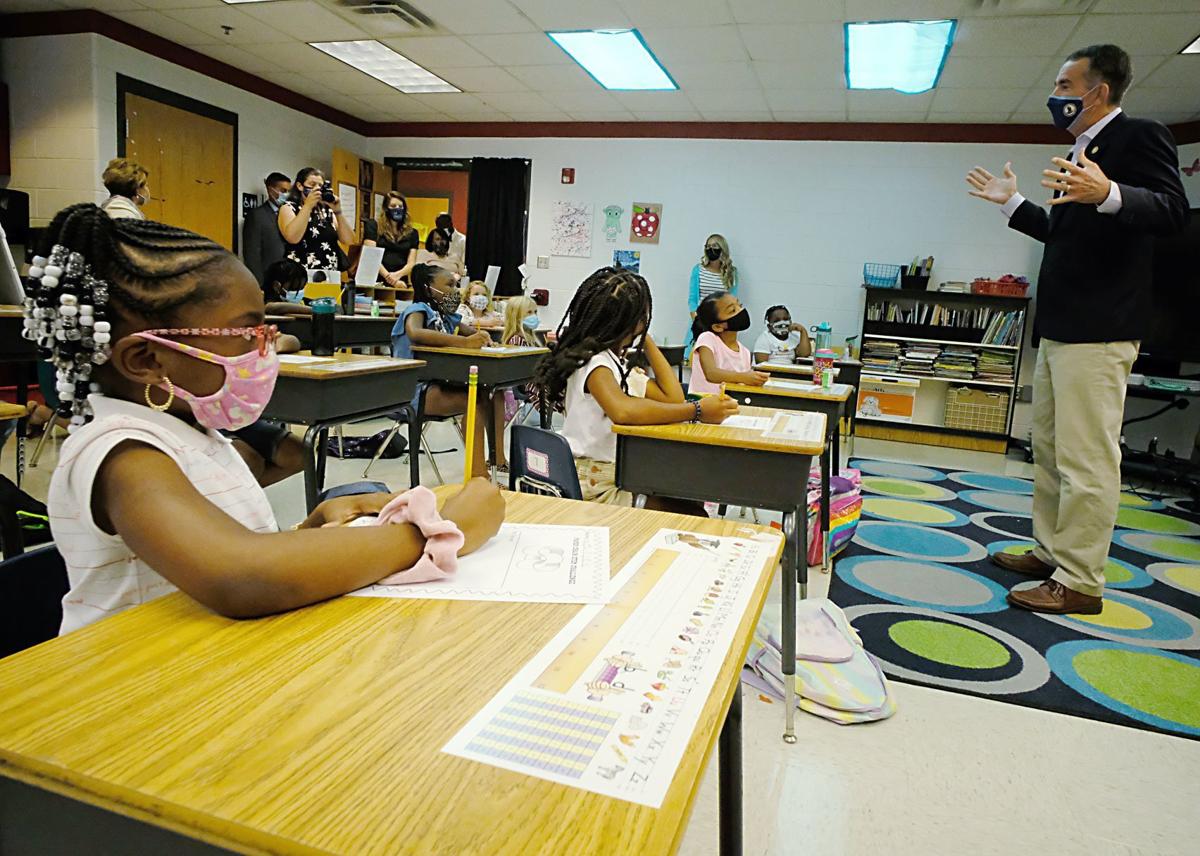 Hopewell City Public Schools became the first school division in Virginia Monday to implement year-round school district-wide, which prompted state officials to sing praises to the district.
Gov. Ralph Northam, along with Virginia First Lady Pam Northam, visited Hopewell Monday and congratulated the district and its students on their first day of school. Hopewell, a district with just over 2,000 students, began studying year round school in 2018 in an effort to improve academic performance. The Hopewell School Board approved a year-round calendar in 2019, with plans to begin in 2020. But, given the pandemic, those plans were upended, with some Board members fearing a rocky implementation in a first-ever virtual year.
In Hopewell, the 2021-22 year-round school calendar runs July to June and started Monday. Regular school is held every month of the year, but breaks come in the form of three two-week "intersessions," or breaks, throughout the year. During intersessions students can choose to take time away from school or take part in enrichment activities.
The first two-week intersession happens in September, and students have more than 100 classes to choose from. Intersession courses, according to Hopewell Schools' website, include courses for students who are considering teaching as a career choice, an elementary school level social entrepreneurship class, and even a basketball course. Some of the intersessions are just one week courses, others are two weeks. The last day of school for students, according to the new calendar, is June 10. An intersession will follow and then the first day of the new school year.
"I think we will have significant results as to engagement and joy and love of learning and attendance sooner than later," said Hopewell superintendent Melodie Hackney at Hopewell High Monday. "I think it's going to take us a little while, at least until the end of the school year, to look at whether or not we've got some specific data."
Studies have found that students benefit from year-around school because it removes the "summer slide" - a phenomenon where studies suggest students forget what they've learned over the summer. The affect is worse among low-income students, some studies have found.
The Joint Legislative Audit and Review Committee, the state General Assembly's watchdog agency, also found some positive results for the calendar shift.
JLARC found that some student groups were more likely to improve their standardized test scores in certain subjects at year-round schools than their peers at schools with a traditional calendar. That same study, done in 2012, also found "no appreciable difference" in academic outcomes in year-round school versus those who attend a traditional school model.
Hopewell School Board member Ruth Johnson said the innovative intersessions sold her on the idea, despite some the apprehension she heard from parents.
"I've always been a proponent for a balanced school year," Johnson said in an interview at Hopewell High School. "I'm excited for the opportunity,. The intersessions is what sold me. We have so many students that fall through the cracks. During the summer time, there's nothing to do. But now they get a choice of doing something during their down time."
Byron Davis, Supervisor of Balanced Calendar Implementation for the district, said thanks to the years of research, the touted outcomes sold the Board and the administration on year-round school. One of those outcomes is the lack of a "summer slide," where students forget everything over a two month break, along with a stop to burnout.
"Particularly in the fall, there aren't a lot of built in breaks that naturally happens," Davis said. "So there can be these long, long stretches without a break, and people just kind of get to a point where it's really hard for them to pour their full energy into… what they're doing."
Year-round school is a concept that even state officials have pushed, and offers incentives for. Following the findings of the 2012 JLARC report, the General Assembly created the Extended School Year Grant Program in 2013. The Virginia Department of Education, according to its website, will offer school division grants for $50,000 just for research of year-round school. Should the division want to implement it, the state will offer up to $400,000 for implementation. Last year, the VDOE awarded $7.7 million in grants for year round school implementation. 
"Ultimately the decision on calendars, is a local decision," said State Superintendent James Lane, who attended the event at Hopewell High  Monday. "However, the research shows, especially for students of poverty, that if we can create additional experiences beyond the traditional school day, whether that be intersessions or extended summers that we can really make a difference with students."
In Richmond, a district with a majority of students who are considered low-income, and much larger than Hopewell, Superintendent Jason Kamras' administration tried to sway the Richmond School Board earlier this year to use federal COVID-19 recovery money to implement year round school in the 2020-21 school year. The Richmond School Board ended up voting it down due to what they said was a lack of community engagement. Unlike Hopewell, who, according to Hackney, held more than 40 community town halls, Richmond Public Schools held four different town halls, depending on residency. 
In March, the Richmond School Board voted 8-1 to delay a year-round school for some students for a year, with Jonathan Young, Richmond School Board Vice Chairman dissenting on the grounds that the division desperately needed the touted outcomes in various studies. During that same March meeting, the administration informed the Board of reading data that showed RPS' youngest learners further behind than the rest of the state.