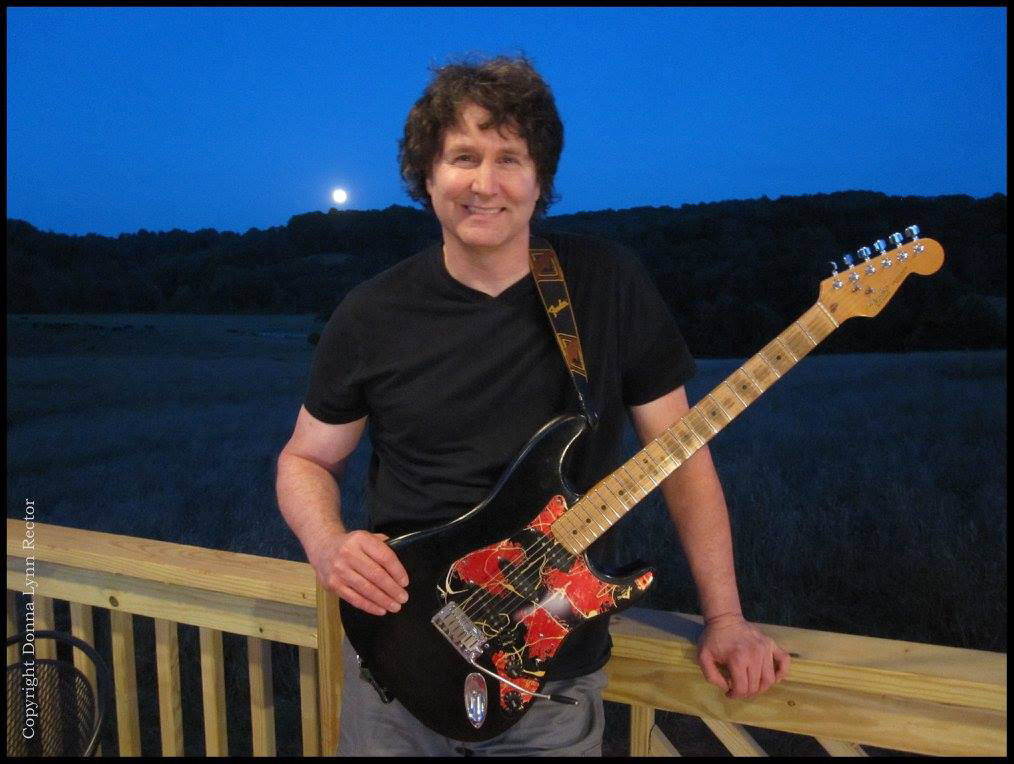 A prolific local musician from a prominent Culpeper family has gone on to the stage in the sky, dimming the lights at the many venues he frequented.
David Leckie Gilmore died Sept. 20 at his home in the town of Culpeper from congestive heart failure. He was 61.
Gilmore's life partner, Donna Rector, was there with him. The Saturday night before his death, the guitarist and singer who had performed countless gigs around the Culpeper area over a career spanning decades, played music for three hours with his closest friends—for the final time.
"He went out the way he would have wanted to. He was in his heaven," Rector said of the gathering with close friends and fellow musicians Bill Hughes, Lee Goldsborough, Bob McDugald, Dave McNally and Michael O'Connor. "He had not played in over a month he was so weak, but that day in the sun, surrounded by his friends, he must have played 20 songs."
Gilmore vocalized "Daydream Believer" by the Monkees: "Cheer up, sleepy Jean/Oh, what can it mean/ To a daydream believer/And a homecoming queen."
He sang until he couldn't sing anymore, said good-bye to friends and went home. He died the next morning.
"It was a great day," Rector said. "I feel so blessed to have had such a special person in my life. He made it so unique and so fun."
Gilmore preceded his father, Wussy Gilmore, in death. He left behind Rector, mother Jacqueline Gilmore, four siblings: Elaine, Jeannie, Chuckie and twin brother, Alan, as well as numerous nieces and nephews.
Memories flooded social media at news of Gilmore's passing. Remembered as a kind and gentle spirit always with a smile, Gilmore showed longtime friend Lee Goldsborough where the notes on the neck of his first bass were: "He was my original music teacher and I'll be forever indebted and grateful to him for that gift," Goldsborough posted on Facebook.
"He was a great musician and even better person. I never heard him say a bad word about anyone. Class act," posted local music promoter Gordon Humphrey.
Another post from one of many local admirers: "David Gilmore was the last live music I had the pleasure of hearing before the quarantine. It was for many reasons a perfect night, not least of which for the familiar soundtrack of his music, and I don't know when we'll ever get another like it. Today, Culpeper mourns a true legend."
Gilmore himself posted about his recent diagnosis of congestive heart failure on August 21 at his musician page on Facebook: "Culpeper Hospital was great and now I need to follow up with many doctors to see if I can get better. Till then…I'll be laying low but working on my comeback...love ya...Dave."
His final post was on Sept. 11 in which he thanked everyone for their prayers and said he had started treatments for recently-discovered cancer, which ultimately caused his heart failure.
"You might see me riding thru town or getting something at the store, but I'm stayin' close to home with my Nurse/Organizer/Cook/etc., Donna. I am lucky to have a great family, support from my siblings and sisters-in-law, especially, Julie, helping me deal with this condition. I hope all of you are well and once again thank you for thinking of me...I'll try to stay in touch....love you all...Dave."
Rector said as they left the gathering with friends Saturday night she had a feeling.
"I knew it would be the last time they would see us walking away and leaving the party together."
David and Donna, who were inseparable, met 27 years ago. They were introduced by his fellow band mates, the late Sam and brother Vince Vala, who had featured Rector and her sons in a music video they made at the time. Vince, former Star-Exponent newsman, died in April. Gilmore asked the Vala brothers, "Who's that girl you're hanging out with?"
Interment will be private at a later date. In lieu of flowers, donations can be made to the Culpeper County Library, 271 Southgate Shopping Center, Culpeper, VA 22701. An online guestbook and tribute wall is at foundandsons.com.
Be the first to know
Get local news delivered to your inbox!