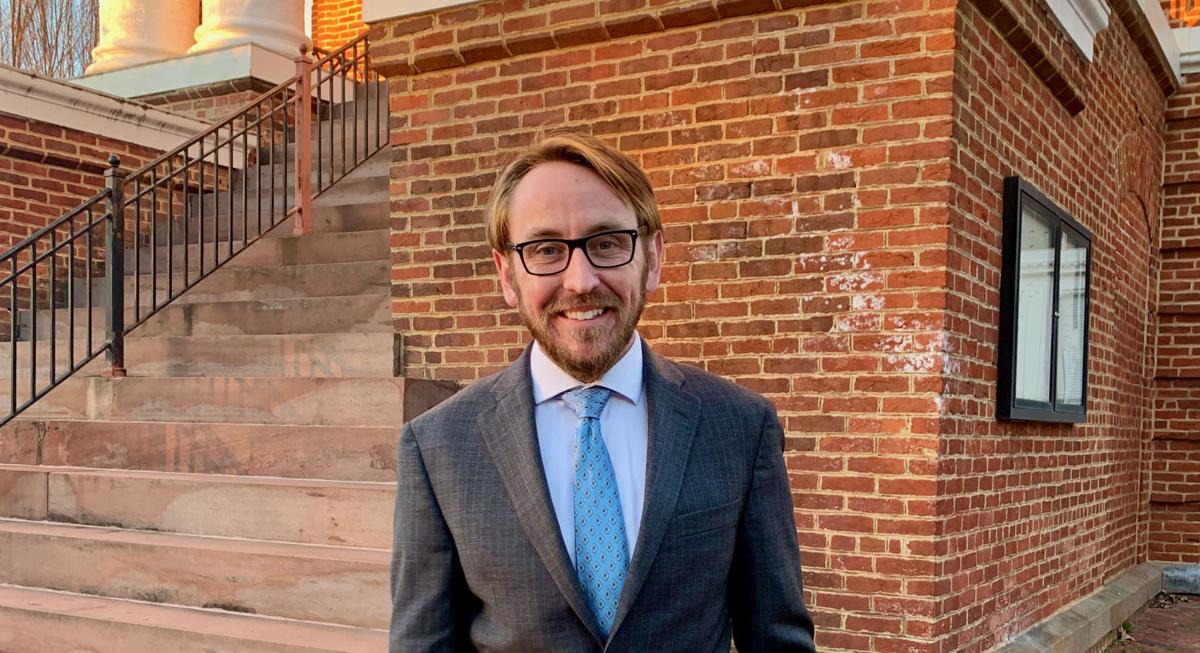 Carson Beard, Culpeper County's clerk of court, is running in his first election to succeed Janice Corbin, the mentor and predecessor for whom he worked over the past six years, since November 2014.
A Culpeper County native, Beard has served as clerk since Jan. 1, succeeding Corbin, who retired halfway through her term to spend more time with a new grandchild. He started work with the Circuit Court as a deputy clerk and worked his way up to chief deputy as of last July.
As one of the county's constitutional officers, Beard works with and oversees the efforts of nine other court staff members.
"I really love the job," he said in an interview. "I love the employees, and we all work together very well. I wouldn't trade it for anything."
Beard, 30, said he considers the clerk's post to be apolitical, and is running as an independent, following tradition for the Culpeper clerkship. Past court clerks have also eschewed party labels, he said.
By statute, court clerks—who have eight-year terms—are tasked with more than 800 specific duties, Beard noted.
"The Code of Virginia pretty much governs everything we do," he said. "It's challenging work. There isn't a day where there isn't something new. I love being in the courtroom, always learning, and I think that's important."
Beard said Corbin—who served as clerk since 2005 until her recent retirement and has worked in the Court office for 25 years—is an experienced and expert clerk whose guidance was sought by colleagues across the state.
She "helped me out a lot" and demonstrated that fulfilling the responsibilities of court staff "requires a lot of hard work," Beard said.
"She trained me," Beard said of his predecessor, who was also an independent. "We had a great relationship."
The office employs four courtroom clerks, the staff members who go into the courtroom to help the judge, to take notes, handle trial exhibits, and prepare orders at the judge's direction, he said.
"It's not easy being clerk," he said. "Unless you have served in that position, it would be extremely difficult to know what to do. It is a very difficult and intense job. You need to know what you're doing."
Beard, an independent, will face candidate Marshall Keene, a Republican, in a special election on March 30. Voting by mail, if people request a mail ballot, will start Feb. 12, 45 days before in-person voting at the county's polling places.
Beard will be on the ballot, having filed all of his paperwork and presented the 125 signatures from registered voters that are required, Culpeper County General Registrar James Clements said Saturday afternoon.
Beard had planned to run in November's general election, but the Board of Supervisors voted 6-1 two weeks ago to request a special election this spring. Dale Durrer, presiding judge of the Culpeper County Circuit Court, issued a writ on Jan. 11 to order the March 30 contest, Clements said.
Keene, chair of the Culpeper County Republican Committee, has filed some of his paperwork, but not all, Clements said; he has until Jan. 29 to do so.
"I don't foresee his having any issues getting on the ballot," the registrar said.
No other candidates have expressed an interest in the post, Clements said.
Whichever candidate wins the special election will fill the unexpired portion of Corbin's term, until 2023.
Beard comes from a well-established Culpeper County family. His grandfather, who he adored and spent abundant time with growing up, was George P. Beard Jr., the Republican state delegate who represented the area from 1978 to 1988.
"I am here to serve the citizens," the lawmaker's grandson said. "I have done that the whole time I've been in the clerk's office. My family has done that the whole time we have been in Culpeper."
Beard said he wanted to try and follow in his grandfather's footsteps, supporting the community. "He taught me to help people, to serve your neighbors," he said.
As a court of the commonwealth, the Culpeper court serves residents outside of the county, too, he noted.
Beard attended Culpeper County High School but graduated from Eastern View High in 2009, as a member of its first graduating class. Academically, he was in the top 2 percent of graduates, he said.
At James Madison University, he quickly decided to major in justice studies, after hearing JMU grads describe their work.
"I wanted to be involved in some way with the justice system," he said.
Landing work with the Culpeper court was nearly his first job out of college.
He briefly served with the town police force in Culpeper's Yowell Meadow Park, keeping order among its visitors as a part-time park attendant with a radio.
Then he went to work in the clerk's office, and found his duties—deeds, land records, gun permits, civil court cases—"very interesting."
Now, Beard said of the county courthouse, "the building ... is basically my second home."
Growing up in Culpeper and spending time with his grandfather, who lived next door to his parents, he learned to love the community, he said.
"I am a true independent," Beard said. "I want to serve everyone, not just one political party or the other. My only interest is to serve the citizens of Culpeper."