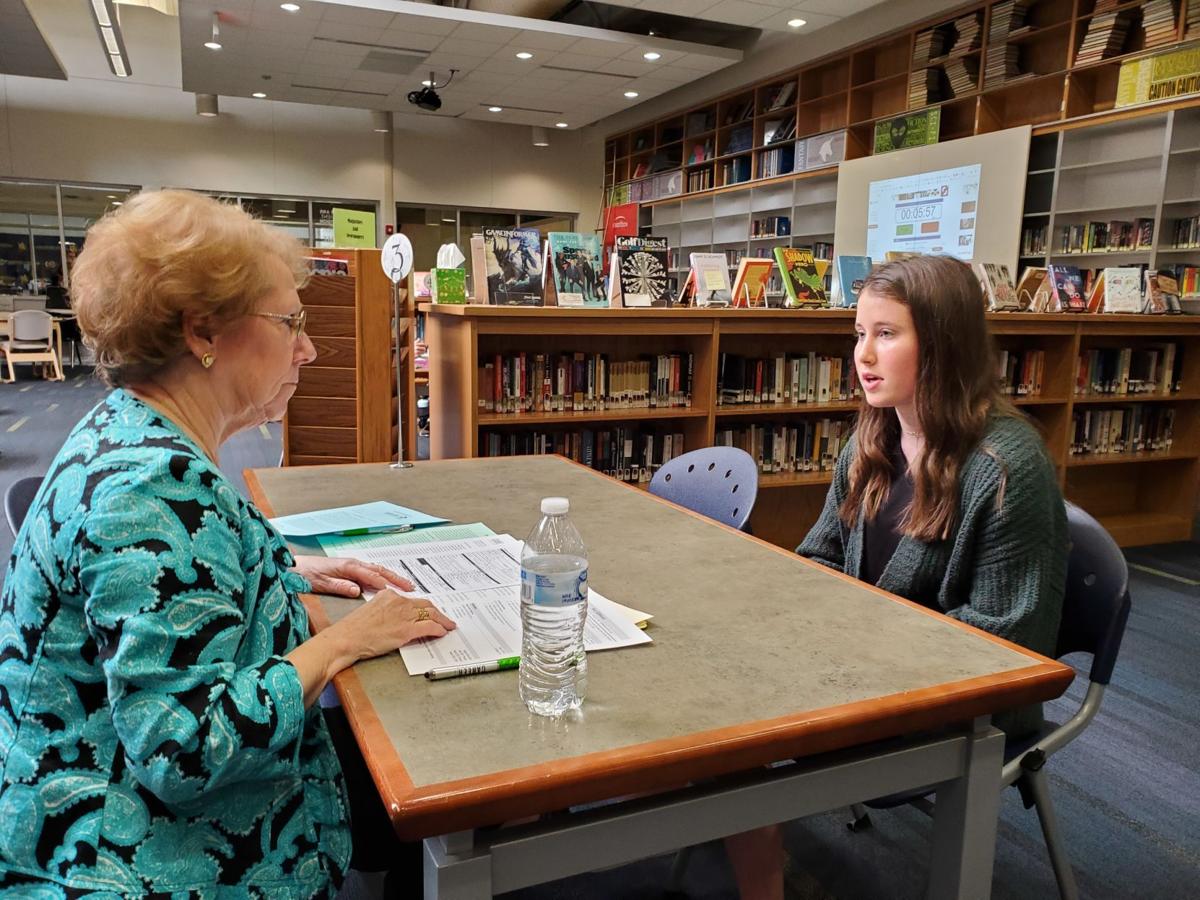 Culpeper County School Board Chair Michelle North shocked her colleagues Monday night by announcing she was stepping down immediately as its leader, and will resign from the board on Dec. 31.
North, 66, had chaired the board since January, and had represented the county's Jefferson District for seven years, since 2013, serving as vice chair last year. She will leave office with one year left in her term.
In a brief statement from the dais of the County Administration Center's boardroom, North said she reached her decision "after months of personal reflection and discussion with my family."
She spoke at the start of the meeting, which was broadcast by Culpeper Media Network. Earlier, she had delivered her letter of resignation to Superintendent Anthony Brads and Pearl Jamsion, the deputy clerk of the School Board.
North said she hopes that, between now and Dec. 31, qualified Jefferson District residents "who desire to work collaboratively to address the educational issues in our public schools" will consider seeking an interim appointment to complete her term of office. "This decision did not come easy," she said.
"For seven years, I have been privileged to represent my district and to speak with parents, guardians, grandparents, teachers and staff, as well as business and community leaders on relevant issues," North said. She described her public service as "challenging, rewarding, intellectually stimulating, and sometimes frustrating, when financial or human resources were limited."
"Unfortunately, the strain, of what I refer to as the Three P's—the pandemic, the politicization of public schools, and personalities—have now overshadowed the positives aspects and my ability to effectively serve on the board," North said. "The concern I have for my family's health, as well as mine, has made me hesitant to attend in-person committee meetings, worksessions and board meetings since they resumed in July. Attempting to chair meetings virtually, while the majority of the board is in attendance in-person, is difficult and frustrating for everyone involved."
"... It is my heartfelt desire that whomever is appointed to complete my term of office commits to educating themselves on the issues before them, participates with an open mind, recognizes and supports the diversity of our students and staff and always, always, make decisions based on what is best for the students in Culpeper County public schools, and not from a forced agenda from elsewhere," she said.
North recognized the "dedicated and talented" staff members in the school division'sCentral Office, thanking them for being an invaluable resource.
Looking back on her service, the chair expressed pride in being appointed by her colleagues to serve on the Board of Supervisors and School Board's Joint Career and Technical Advisory Committee, which is working to open the school system's Career and Training Center next to Germanna Community College's Daniel Technology Center. She also said she will miss being involved with Career Partners Inc., a local nonprofit that helps better prepare Culpeper graduates for the workplace, calling it "one of the most vibrant, focused community boards I have ever had the pleasure of serving on."
Lastly, North said, "May the (School Board) continue to ensure that every Culpeper student be inspired, empowered, and educated to prepare them for success in their careers, or in their pursuits at technical schools, community colleges or universities. It is equally important to support students to become productive, contributing members in their communities with rewarding and respectful relationships in all they do."
The board voted unanimously to accept North's resignation.
For a short while, it considered a motion by board member Marshall Keene to name Vice Chair Pat Baker as the new chair. But board member Anne Luckinbill asked for more time to consider what to do, expressing displeasure that North didn't consult with her colleagues first before announcing her resignation.
When the School Board next meets, in a work session on Oct. 26, it will need to appoint a new chair.
Baker and the board's two newest members, Barbara Brown and Crissy Burnett expressed their gratitude to North for her long service to the county's public schools and their regret at her decision to leave the board.
"I just want to say what a pleasure and an honor it has been to work with you. ... You have offered great leadership," Burnett said. "... You will be greatly missed."
"It's very sad when a member of the board, our chair, feels she must resign. ... I feel as if the pandemic was the straw that broke the camel's back," Baker said, her voice choking with emotion.
Baker also referenced the politics that have dominated some of 2020's most consequential school issues, from reopening amid the COVID-19 pandemic to budget negotiations.
A Rixeyville resident who was born in Alexandria, North traces her family back four generations in Culpeper County. The Hackleys settled here in 1852.
North is a former president of Culpeper Downtown Renaissance, the nonprofit group of businesses that has breathed new life into Culpeper's historic commercial district.
Get local news delivered to your inbox!
Subscribe to our Daily Headlines newsletter.