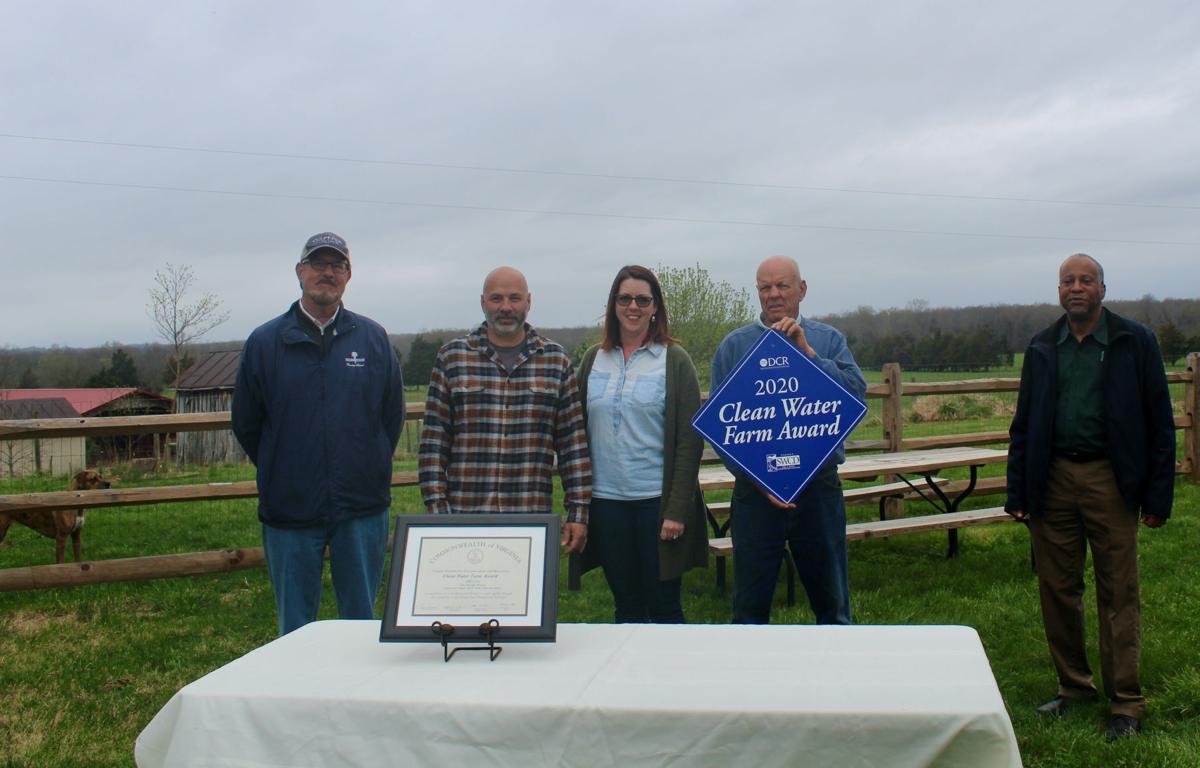 Culpeper's Haught family, who own and operate a cow/calf beef and stocker operation near Elkwood, has been honored with the state's 2020 Clean Water Farm Award for Culpeper County.
Bordered by Flat Run on the west and Mountain Run on the southeast, the Haughts' farm is comprised of cool-season perennial pasture and hay land with a mixed hardwood forest, according to the Culpeper Soil and Water Conservation District. Both of the streams converge on the property and run for three miles before flowing into the Rappahannock River.
Working over many years, the family has protected more than 9,000 feet of streambank from cattle grazing, which has enhanced local water quality, said Greg Wichelns, manager of the local conservation district. Multiple fields allow for rotational grazing and provide rest periods for the cattle forage, he said.
"It is because of the conservation efforts made by the Haught family over the past three decades, and their commitment to improving water quality, that they received this award," Wichelns said.
On a recent, rainy day, Culpeper County Board of Supervisors Chairman Gary Deal and Darryl Oliver, director of the Virginia Department of Conservation and Recreation's Soil and Water Division, visited the family's farm to recognize their achievements.
Deal stressed the importance of agriculture and conservation management to Culpeper County. He recognized agriculture as the county's primary industry, and highlighted the importance of Culpeper's natural resources in supporting farming.
Every year, the Culpeper Soil and Water Conservation District selects one farm to receive a State Clean Water Farm Award, based on its accomplishments and commitments to land stewardship and conservation management.
On the Haught farm, the family began conservation efforts through state and federal programs in the late 1990s when Virginia was experiencing drought conditions, Wichelns said. Streams were going dry. Livestock required alternative sources of water.
Officials approved state and federal emergency funds to help ag producers drill wells and install water troughs to supply water for their livestock.
Taking advantage of these programs, Thomas Haught had a well drilled, installed two pressurized water troughs and fenced fencing that protected more than 7,000 feet of streambank from cattle access on both Flat and Mountain runs, Wichelns said.
Several years later, in 2007-2008, Haught implemented another stream-fencing practice, which protected another 2,000 feet of streambank. He planted 5.6 acres of trees under the U.S. Department of Agriculture's Conservation Reserve Enhancement Program.
That buffer helped control erosion, improved water quality and provided wildlife habitat, Wichelns said. Soon after the trees became established, the family planted another 2.3 acres of native, warm-season grass for much the same purpose, he added.
Now, the Haughts' farm has excluded cattle from 100 percent of its streams and creeks.
Tom's son, Matt, has undertaken the next phase of conservation. During 2019 and 2020, he installed an additional 7,800 feet of fence to facilitate rotational grazing of the cow/calf herd, as well as seasonal stockers, Wichelns said. He also put in more than 4,100 feet of pipeline and four water troughs.
Now, the farm has 16 pastures, which all have access to alternative water in the field or in a common fence line. The interior cross-fencing has allowed the Haughts to expand their farm's grazing abilities and provide more flexibility for their herd, Wichelns said.