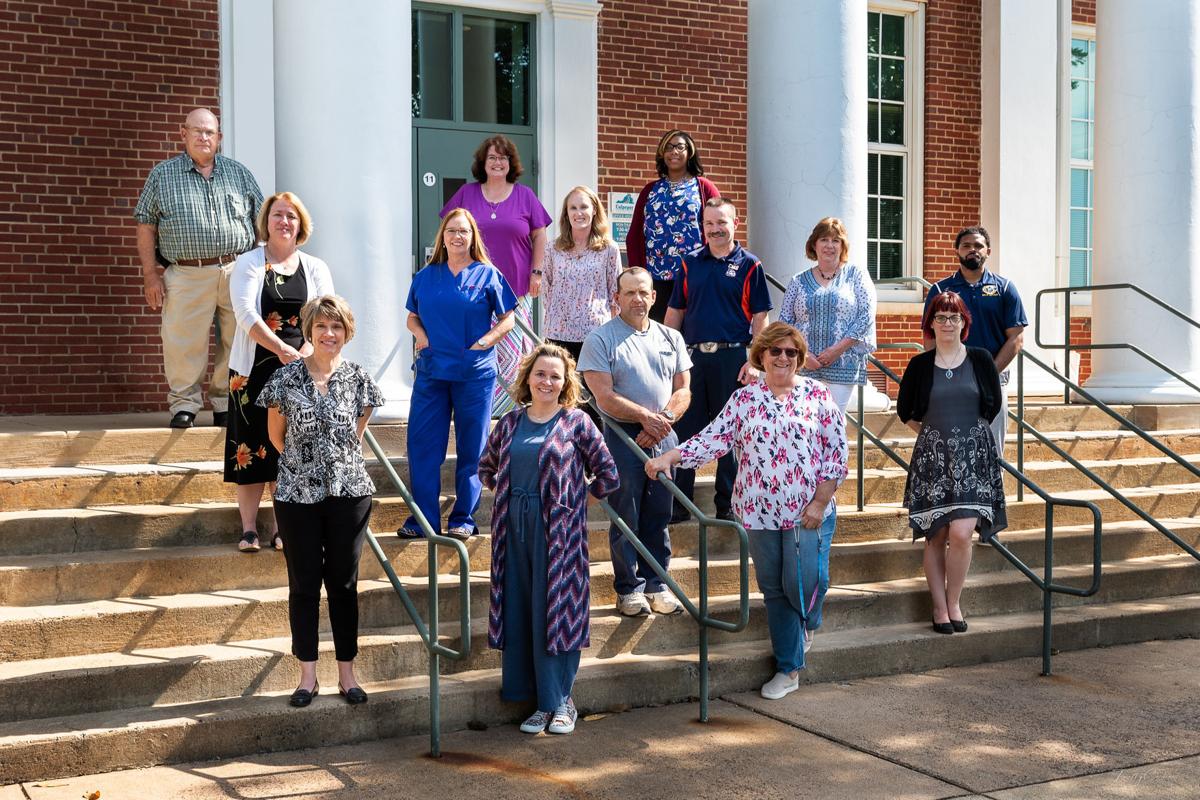 Without the hundreds of support workers who feed staff and students, clean desks and mop floors, maintain the technology, and tends to everyone's health, education and daily life in Culpeper County's public schools would grind to halt.
So it was natural this week when honors for the best of the system's support personnel were announced with some extra emphasis on their essential work. Getting through the 2020-21 academic year during the COVID-19 pandemic hasn't been easy.
After employees from each of the division's 10 schools were recognized, School Board member Pat Baker was among the leaders who commented on their hard work.
"It does take a village to educate our children," Baker said. "We have provided the best education we possibly could during the pandemic, from Dr. Brads to our first-year employees. I know it can only get better from here on out."
As the board met in Eastern View High School's auditorium Tuesday night, Superintendent Tony Brads and Human Resources Director Michelle Metzgar announced Culpeper schools' top classified employees of 2021.
Paired with the mini-biographies written by their peers, those individuals are:
"Mark is incredibly patient and finds a way to connect with every student he works with. He is consistently hard working and has a positive attitude with a sense of humor. He is able to diagnose and adjust to the learning style of each student. Mark is a role model to all students. As a para, he supports students in a variety of classrooms as well as virtually. He also provides support to a diverse group of students in the Resource classroom. Mark goes above and beyond to assist students who are not enrolled in the courses in which he collaborates. He enjoys participating in all things CCHS. During the past few years he sponsored clubs, participated in the Black History Month assemblies, Teacher Talent Show, fundraiser games, and performed at Homecoming! Mark coaches Cross Country, Indoor and Outdoor Track. He has athletes who consistently compete at high levels. To say that the kids in this school adore Mr. Dennis would be an understatement. He has earned the respect of students and colleagues alike."
"When Nurse Barlow is not handing out medications, reviewing mitigation plan seating charts, writing exposure letters, tending to sick students, bandaging up scraped knees, and helping students manage difficult conditions such as diabetes, she plants herself in the hallway where she can keep an eye on the wellbeing of her students while collecting a dose of smiles and elbow bumps. She often offers an ear to a colleague who's having a rough time and coaches them on ways to de-stress.
"Nurse Barlow is also eager to soak up opportunities to connect and collaborate with school nursing peers from across the division and uses social media and professional associations to connect with school nurses throughout the state and across the country. She likes to keep a pulse on what issues are out there and what other school nurses are dealing with. She mentors nursing students from local colleges and universities."
"Keith Hargreaves believes that the work he does extends beyond his expected custodial duties. He is highly committed and works passionately for the children, faculty, and staff of CMS. In addition to his regular cleaning and environmental duties, Keith has always been pleasant and cooperative with both teachers and staff. Never taking a day off or arriving tardy to work, Mr. Hargreaves takes great pride in his position at CMS and ensures that he is always dependable and reliable. In his spare time, he enjoys being with his wife Heather and his family, hiking or bike riding, and/or washing his car. He is an avid football fan and has aspirations of ascending to a managerial position someday with CCPS. We are proud of the wonderful work he has done and continues to do for the students and staff here at CMS. We enthusiastically support and affirm his status as our classified employee of the year."
"Tammy Hicks has been a remarkable custodian at Floyd T. Binns Middle School for the past 4 years. She has always shown dedication to her work and support to the staff and school. When asked, our staff described her as pleasant, personable, dependable, genuine, and caring. Tammy's favorite thing about FTB is being able to work with everyone and getting to know everyone.
"She is married to Scott Hicks, and has a daughter, Kiley; a son, Nolan; and one grandkid. She enjoys spending time with her family, gardening and reading fiction. We are extremely lucky that she is part of the FTB family."
"Heather is the epitome of team player at Phoenix Alternative Education. She is always looking for new opportunities to help support students and her colleagues. This year, she even became a Google for Education Certified Trainer to offer staff members mini-PDs throughout the year. Students know they can go to Ms. Lunceford to help them troubleshoot any online struggle. She offers her help and support always with a great attitude. She has been selected by her peers to serve as the Classified Roundtable Representative for several years. Congratulations Heather for your selection."
"Ms. Bostic took on a unique role this year as a paraeducator. She was tasked with assisting students in the Supplemental Instructional Program. In this role, she worked with K-2 students on remote learning days, Monday through Friday. She took on this role and made it her own. Ms. Bostic outlined a daily schedule for students that included dedicated instructional blocks of time. She worked closely with students in assisting them with assignments and caring for them as well. Students responded well to Ms. Bostic and showed great respect for her. Ms. Bostic is dependable and displays a positive attitude even when faced with difficult situations or tasks. Her willingness and flexibility is evident in the way she carried out assigned duties and her interactions with students each day. Ms. Bostic is definitely deserving of this great honor."
"Jennifer Davidson is truly a one-of-a-kind employee. She continually goes above and beyond and will always take on more responsibilities with a smile on her face. She greets everyone that stops at her desk with a smile and is warm and friendly to every family that calls. This year, in addition to all her other duties, she offered to take over our yearbook and put the whole thing together herself and she offered to take additional night classes to learn Spanish so she could help all of our families that call. Our attendance clerks took on so many additional responsibilities this year to begin with. Jennifer's willingness and offer to take on even more is truly commendable! Sometimes her job is one that others do not realize the vast responsibilities she has, so I was so excited to see that she was our Classified Employee of the Year and her dedication and impact was truly appreciated by our whole staff!"
"Prior to joining Farmington as our head custodian this year, Mr. Sanker worked at (Culpeper Middle School) for 5 years. Mr. Sanker joined Farmington in a very critical year in terms of keeping the building sanitized and clean and he has done an excellent job and this has not gone unnoticed by the staff. His friendly smile, positive attitude and his quick response to requests has been truly appreciated by staff. This year a lot more furniture and staff were moved, some of them multiple times and Mr. Sanker was always there to join and lead the moving team. Each day Mr. Sanker can be found throughout the building working hard sanitizing door handles, bathrooms handrails and commonly touched areas to keep everyone safe in addition to his usual cleaning duties. Mr. Sanker is truly a dedicated and hardworking staff member that cares about doing the best job every day. True to his kind spirit, Mr. Sanker would like everyone to know how much he appreciates this nomination."
"Emily Carlton is amazing at what she does, which means she is amazing at everything. At Pearl Sample, she does so much and she does it with a smile. She is the first to volunteer to support the kids anyway she can. Whether it is spending Wednesdays at Richardsville Fire Department helping the remote kids or volunteering her time for ALL Pearl events. Although, she is a math whiz, she has taken on so many different roles this year and Pearl Sample is lucky to have her."
"Jasmine Butler attended Sycamore Park Elementary as a child and has returned to work where she was a student. One of her joys is working with the same staff members that were here when she was a teacher. Prior to COVID-19 she was the lead math paraeducator which has been her favorite role at Sycamore Park. She has worked in just about every classroom helping all students find success at their instructional level. Her daily goal is to encourage and be effective in helping students reach their fullest potential. Mrs. Butler is positive and kind with the students. She takes the initiative to do things without being asked. She always goes above and beyond. Students feel comfortable with her and even indicate she is someone they would talk to if they had a problem. She is professional and works well with teachers and students."
"Robin Dale-Pancione, known as "Nurse Robin" to Yowell's staff and families, is a valued member of the Yowell staff. During the pandemic, the school nurses played a critical role in ensuring the safety of staff and students. Nurse Robin created an environment in the clinic that made it a safe and inviting place to seek factual information for our staff and parents. She hosted multiple Q-and-A sessions for staff in an effort to ease stress and share timely information. Nurse Robin is a ray of sunshine in the building. She comes to work every day with the mindset of positivity and kindness. Nurse Robin is most deserving of this recognition, and we thank her for dedication and hard work."
"David James exemplifies capable professionalism and exhibits high standards for everything that he does. He delivers meals to families, substitutes several different routes handling an incredible amount of logistical challenges, assists with directions on the radio, and communicates well with coworkers and office staff. He is a unique individual who is not only fully capable but extraordinarily willing to perform his job well at the highest standard. He will always step up and do what needs to be done."
(the division's 2021 Classified Employee of the Year was described in a front page Culpeper Star-Exponent news article on Wednesday, May 12.)
"Glenn came onboard in August of 2014 and after a transition period from the private sector has elevated our department in many fields. He brought extensive experience in the building trades. He exhibits an example setting work ethic and attitude towards his position with us. Don't be fooled by his diminutive stature as Glenn is a giant amongst his peers. Facilities is a higher standard setting department because of his contributions."
"As a senior member of the technology department, Sheri Armstrong has been a critical member of the team. In her position as lead technician, she constantly looks for ways to improve the efficiency of the department. Her experience assists in the managing of more than 15,000 devices throughout the school division. Her approach to teamwork and support for others is apparent in the relationships she builds with the staff and students alike. She is instrumental in the management of the 1:1 initiative and exemplifies a solid work ethic. Sheri's professionalism is evident in all she does. Job well done and a recognition well earned!"