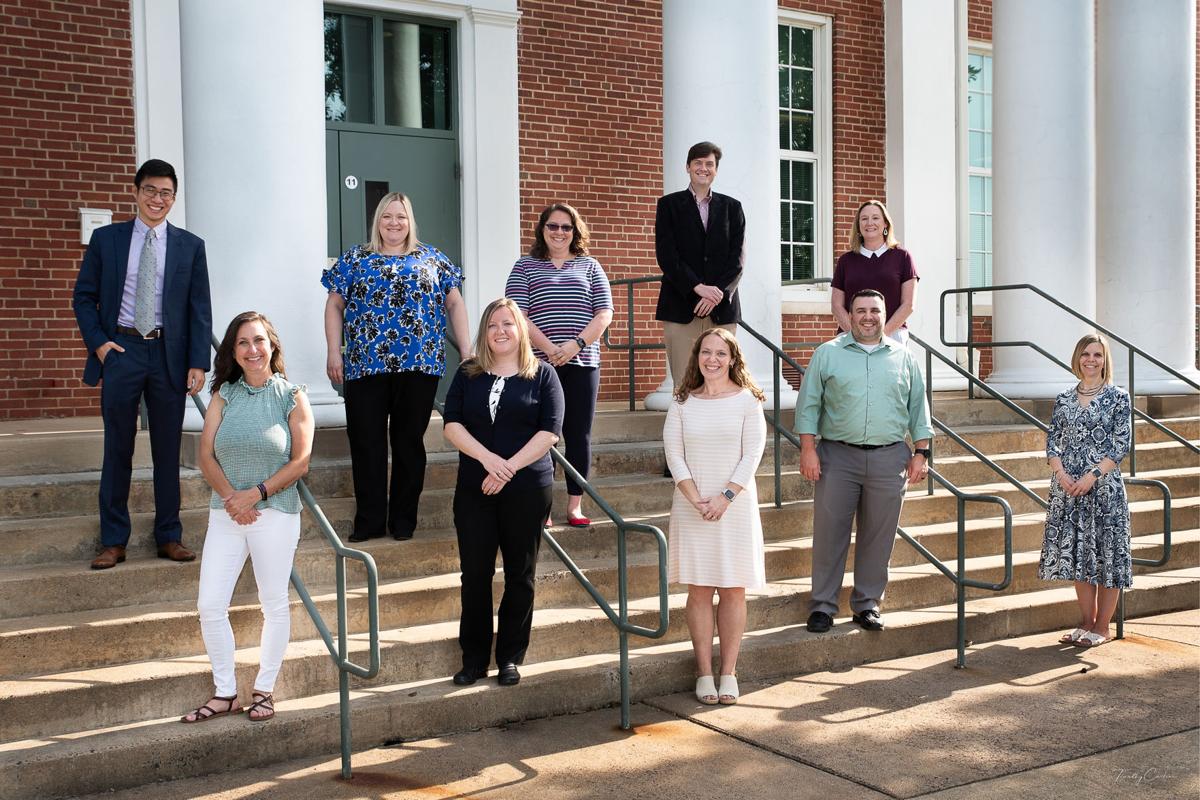 The pride was almost palpable Tuesday night as the Culpeper County School Board honored the best of the system's educators and support workers for their dedication, grit and hard work during a most difficult academic year.
The board watched and listened as teachers and employees from each of the division's 10 schools were recognized for their contributions. After those honors, School Board member Betsy Smith could have spoken for the entire board when she said, "We are so proud of every one of our staff members for this school year. They made it happen."
Smith noted that employees' hard work made it possible for the elementary schools to invite more students to return to in-person classes as the year progressed, and for more students to attend in-school classes four days per week.
Superintendent Tony Brads and Human Resources Director Michelle Metzgar announced the top employees while the board met in Eastern View High School's auditorium.
Each of the workers had their moment, literally, in the spotlight as Brads and Metzgar called them up onto the stage for recognition and to receieve a "goodie" bag.
Paired with the mini-biographies written by their peers, Culpeper's top teachers of 2021 are:
"Mindy McCabe's easygoing personality makes her a favorite of students and coworkers alike. She has a wonderful rapport with her students and with those who need someone to listen, a shoulder a cry on or a safe space to land. Mindy brings energy to her classes which proved to be a blessing for an Honors English class she was asked to teach last semester on short notice. Her positive attitude and devotion to teaching earned a 100% SOL pass rate for the class...during a pandemic. As a case manager she diligently oversees accommodations and monitors schoolwork. She teaches reading strategies courses and has taught numerous other subjects to include English 11, Geometry, Government and others. Her willingness to pivot from one course to another and still maintain a positive attitude is a real tribute to her character. She also devotes her time and energy coaching the CCHS Varsity Volleyball team. Mindy is a kind, professional teacher with a wonderful sense of humor, a great work ethic and a ready smile for us all."
"Andrew Ballard has served as a teacher and director of theatre and performing arts at Eastern View High School for the past four years. In that time, Mr. Ballard has demonstrated a keen awareness of providing equity to his students by executing the curriculum of his courses and creating opportunities for students to experience success in the classroom and on the stage. Mr. Ballard is always available to collaborate with teachers and administration on a wide variety of projects and initiatives. During the school year of the pandemic, Mr. Ballard was innovative at finding ways for students to actively participate and produce live performances. When Mr. Ballard is not enjoying his hobbies of running, exercising, and reading, he can be found participating as a working actor or in his office at Eastern View High School."
"Timothy McGuire is from a small town in western Pennsylvania, Clarion, where he also went to college and met his wonderful wife, Sarah. They have been married for 15 years and have two beautiful daughters, Alycia and Kahlin. In 2012 he interviewed with Culpeper and began teaching 8th-grade physical science at CMS; his wife began teaching second grade at Farmington and they have been in Culpeper ever since. They love Culpeper as there is so much to do while still holding on to that small-town charm they love so much. In 2018, he became the ITRT at CMS. He loves his job because every day is unique and he gets to do so many different things. A few examples include designing educational material, communicating with students and parents, updating the school website, posting social media, co-teaching lessons, and teaching his fellow staff members new and exciting instructional programs that help bring their already impressive instruction to a new level. We are proud to have him as our teacher of the year!"
(The division's 2021 Teacher of the Year was described in a front-page Star-Exponent article on Wednesday, May 12.)
"Janine Morrison has truly shown dedication to the students, staff and families this year. She consistently works with students and families not only to provide academic support but emotional support as well. Ms. Morrison teaches classroom guidance lessons, meets with small groups in-person/virtually and holds individual student sessions as well. She even created a Google Classroom that houses mindfulness resources for students and staff mental well-being. Hybrid and virtual learners can also complete an on-line request to meet with Ms. Morrison. In addition to counseling duties, she co-facilitated a Girls on the Run group this Spring. Ms. Morrison works hard to ensure the students and families have the necessary support and tools to succeed. She consistently seeks ways to engage students in learning. Whether meeting with students and parents on Google Meets, holding in-person conferences, or making home visits, she has truly has the students' best interest at heart."
"Caryn Shaffer is an exemplary teacher. She always volunteers to take on new tasks and even during this crazy year she agreed to take on a student teacher, become the New Teacher mentor, and led weekly yoga sessions for our staff. She is student focused and builds a strong bond with every student she teaches. Her students know she cares about them and their families feel the dedication she has to her profession. She collaborates and supports her grade level team and assisted every grade level in implementing a new program this year. During faculty meetings, staff consistently would bring her up for our 'Good for the Order' section and continually praised her for helping them. Without a doubt Caryn deserved to be Emerald Hill's Teacher of the Year this year!"
"Ann Mayles has been teaching 3rd grade at Farmington for 15 years. Ms. Mayles attended the University of Pittsburgh where she received her BA in psychology and a certificate in Asian Studies in addition to her teaching degree. In 2011, she received a Master's in Education degree in Curriculum and Instruction from the American College of Education. Ms. Mayles is a dedicated teacher who works hard to differentiate her instruction to meet the needs of the students. She deeply cares about her students and their learning and because of this she works hard to learn and implement new strategies to assist her students. She enjoys reading, spending time with her husband, Wes, and son, Alexander, and attending concerts when there is not a pandemic. She supports Wildlife Rescue because of her love for animals and enjoys artistic endeavors. Ms. Mayles dedication to providing the best for students is evident in her classroom and daily interactions."
"Catherine Van Pelt is the definition of hard working. She is always looking to find ways to support her students however she can. Miss Van Pelt understands her students and is able to connect with them because she meets them where they are and they know she loves them. She advocates for her children and is always searching for ways to put resources in their hands. Miss Van Pelt is also a leader at Pearl Sample and is the first to jump at an opportunity to help Pearl Sample as a whole. She is a phenomenal teacher and an even better person."
"Laura Boyd has dedicated her 21-year teaching career to the Sycamore Park community. For the past 10 years, she has given her love and attention to kindergarten students. Not only is she supportive to students but her colleagues as well. She has mentored new teachers and given them a great start into their career. She has taught this year like all others, with her cup half full. Mrs. Boyd is sweet, kind, patient, so organized, fun and funny with her students. She connects with every child and makes them feel safe and loved. She handles tough situations with grace, calmness, and just the right amount of firmness. She is just an all-around amazing teacher and human!"
"Above and beyond, caring, knowledgeable, and enthusiastic—these just begin to describe Karen Dugger. Mrs. Dugger serves as Yowell's ITRT. She supports teachers in any and every way possible with their understanding and use of technology to enhance learning. Mrs. Dugger leads professional development, designs and models lessons, and meets individually with teachers to help them be successful. Mrs. Dugger also supports the school's STEM instruction. Whether it's coming to the STEM Zone or doing a lesson in class, students love STEM instruction thanks to Mrs. Dugger. She has worked to foster students' love of creativity, problem solving, collaborating, and engineering. Her impact on both our teachers and students is tremendous.
"Mrs. Dugger is also involved with most of the extracurricular activities at Yowell. She has sponsored a technology club, chaired the county Spelling Bee, and volunteered at most of our after school events. Mrs. Dugger is most deserving of being recognized as Yowell's Teacher of the Year, and we thank her for the dedication, enthusiasm, and joy she brings to Yowell each day."