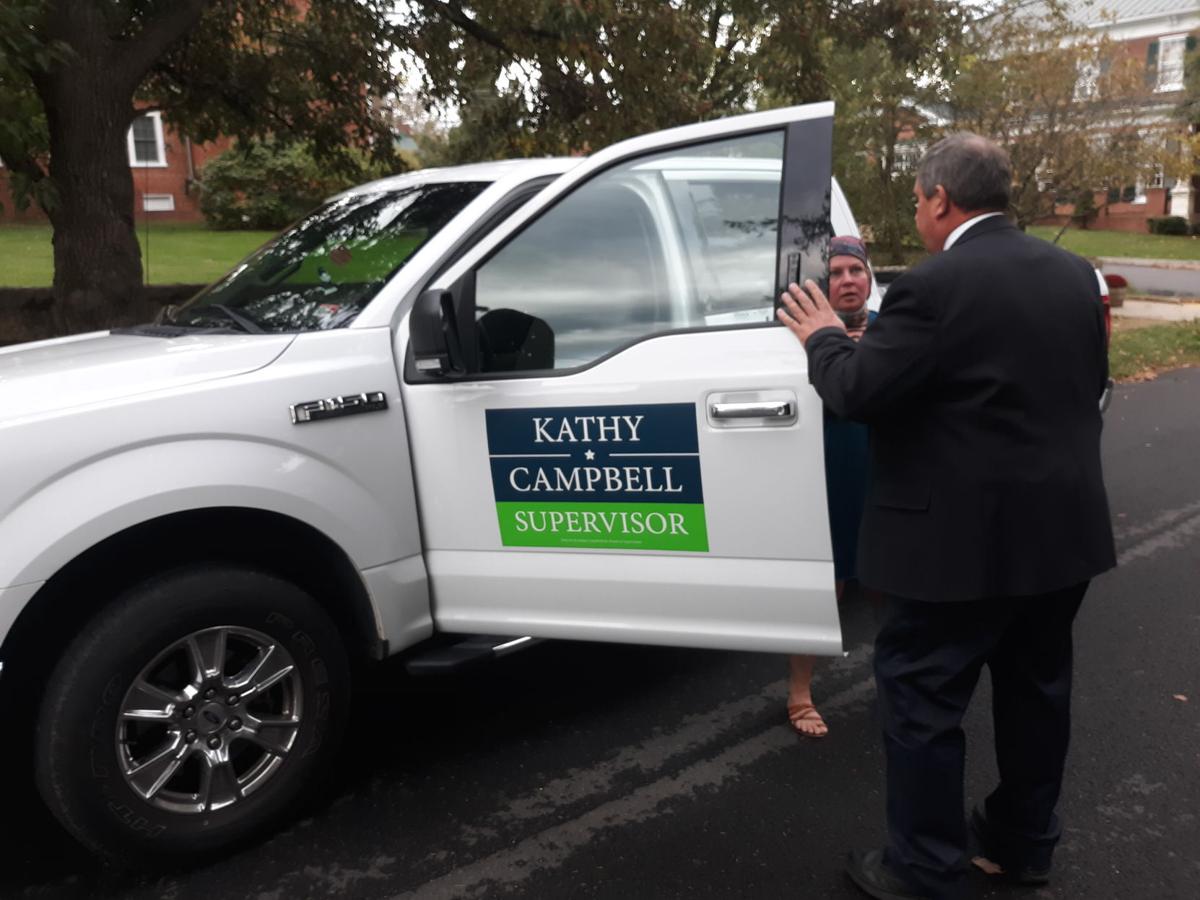 Heeding a judge's order in Rappahannock County, Culpeper County Supervisor Kathy Campbell has forfeited two vehicles as the latest step in a long-running court battle over $33,049 she has owed a former coworker at her Culpeper realty business.
Madison County resident Julie A. Garrett sued Campbell over nonpayment of real-estate commissions when Garrett worked for Campbell's Settle Down Real Estate LLC in Culpeper. Garrett filed a civil lawsuit on Oct. 9, 2019, and won a judgment on July 2, but Campbell didn't comply with court orders until last week, court documents state.
On Friday, Culpeper's East Fairfax District supervisor appeared in Rappahannock Circuit Court and turned over her 2016 Ford F-150 pickup truck, bank-account funds and $30 cash to help pay her debt to Garrett, according to The MadRapp Recorder online newspaper.
Late Monday, about 35 minutes before the court's deadline, the Culpeper real-estate broker returned to the county seat in Washington, Va., and handed over the keys to her 2007 Hummer H3, The MadRapp Recorder said. She had faced arrest if she didn't deliver the car to the Sheriff's Office by 5 p.m. Monday.
In a show-cause hearing Friday, Campbell appeared before retired Judge Lon E. Farris to explain why she didn't heed Chief Circuit Judge Douglas L. Fleming Jr.'s Sept. 14, 2020, order to relinquish the Ford, Hummer and funds to settle her debt.
On July 2, Judge Jeanette A. Irby found Campbell in default. She ordered the Realtor to pay Garrett $33,049 for damages, plus interest from Sept. 20, 2019, court costs of $308, and $1,391 in attorney's fees for Garrett's lawyer, David L. Konick of Washington, Va.
Campbell did not respond to Garrett's request for document discovery or the court's March 9 order compelling discovery, and payment of $633 in attorney's fees to Konick, Irby found.
On Sept. 14, Judge Fleming ordered her to hand over the vehicles, $30 cash, and $50 from an Oak View National Bank personal checking account. He struck several items from his order, including a $6,250 commission from a Culpeper real-estate transaction, proceeds from three pending real-estate transactions, Settle Down Realty office furniture, her personal Macintosh computer, and $12 in a SunTrust Bank account.
On Sept. 24, after Rappahannock County Sheriff Connie Compton reported Campbell had not delivered the vehicles and money, Fleming ordered her to appear Oct. 16 to explain why she shouldn't be held in contempt of court for failing to comply with the court's order.
On Friday, a Rappahannock County Sheriff's Office captain escorted Campbell from the courthouse to her pickup truck so she could retrieve her purse to provide the cash, the MadRapp Recorder said. The judge allowed Campbell to retrieve her cellphone from the Ford.
On Friday evening, in a brief phone conversation, Campbell declined a Culpeper Star-Exponent request for comment.
Settle Down's Facebook page indicates the brokerage continues to list properties for sale.
In a separate case, Garrett is asking the Rappahannock Circuit Court to garnish Campbell's salary and wages as a Culpeper supervisor. The Culpeper County Sheriff's Office served Campbell with that summons on Sept. 23. A Circuit Court hearing is scheduled on March 8, 2021, court documents state.
Get local news delivered to your inbox!
Subscribe to our Daily Headlines newsletter.