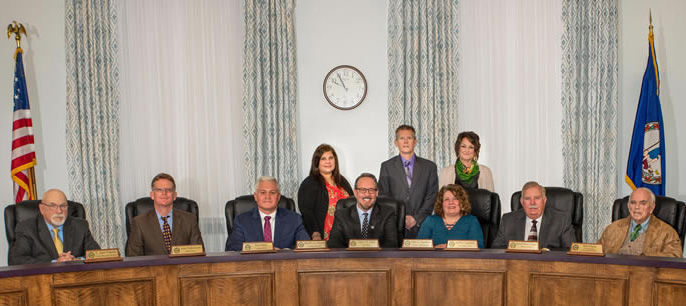 Attention, local parents: Culpeper County is getting ready to hand out $730,000 worth of grants to those financially impacted by the coronavirus pandemic.
The Board of Supervisors on Tuesday unanimously approved its COVID-19 Child Care Relief Program for parents or guardians of K-8 students in Culpeper County Public Schools and any Culpeper private school not open full-time.
Culpeper Human Services will manage the grant program that will run starting on Tuesday, Dec. 2, through 4 p.m. Dec. 16.
Supervisors Jack Frazier and Tom Underwood, in recent months, led the initiative to help parents, primarily of local public school students attending in-person classes only twice a week due to pandemic restrictions.
The grant will be a one-time award per family and the amount awarded will be pro rata, based on the number of families that apply.
Successful applicants must show: 1) Proof of additional child-care costs related to COVID and associated homeschooling responsibilities during the first quarter of the 2020-21 school year; 2) Parents' proof of lost or reduced job/income due to COVID during the first quarter of the school year or 3) Parents modified their work hours due to increased schooling responsibilities at home related to COVID during the first quarter of the school year.
Federal CARES Act pandemic relief funds will pay for the local grant program.
Culpeper Human Services Director Lisa Peacock said her agency was fully ready to run the program and have checks in the mail by the end of December. Applications can be picked up in person at the offices of Culpeper Human Services, located off of State Route 3 on Industry Drive.
A PDF of the application will also be available on the county website or by emailing childcarehelp@culpeperhumanservices.org. Completed applications can then be submitted electronically or placed in a drop box outside of the human services office.
Also on Tuesday, the Board of Supervisors unanimously approved a quarterly budget appropriation that includes a 2.1 percent cost-of-living, across-the-board raise for all county employees, including teachers, social workers, first responders and local government workers, effective Jan. 1.
Underwood, in supporting the measure, noted the school system had been responsible in spending its first-quarter allocation, having money left over. He said he would love to see public schools open as much as possible as soon as possible and that he hoped the School Board would decide on that sometime early in the New Year. The Salem supervisor, in voting for the raise, said the cost of living is clearly on the rise.
"What staff is recommending makes sense to me," Underwood said.
Frazier commented that the Board of Supervisors and School Board need to have a better line of communication. He referenced critical comments made by School Board members in October after the Board of Supervisors withheld $360,000 in CARES Act funding from the schools to pay for the child-care relief program that passed Tuesday.
Open dialogue "would make the process a lot simpler," Frazier said, versus School Board members "criticizing us for various reasons."
Chairman Gary Deal agreed, saying, "We need to defend ourselves."
He said the Board of Supervisors has consistently supported the public schools.
Deal said county budget cuts were implemented across the board in March, at the start of COVID, because of the unknown financial situation going forward.
Those who voted to divert the CARES Act funding to the child-care relief program did so because they believed it was in the best interests of the county, the chairman said.
"I hope we can have more camaraderie going forward," Deal said.
Stevensburg Supervisor Bill Chase, participating in the meeting by phone, said he didn't care about getting criticized. Chase said a statement by a School Board member after the fund-diversion vote was "stupid and untrue."
As for the financial health of the county, it has $39 million in its unreserved fund balance, due in part to a windfall of CARES Act money.