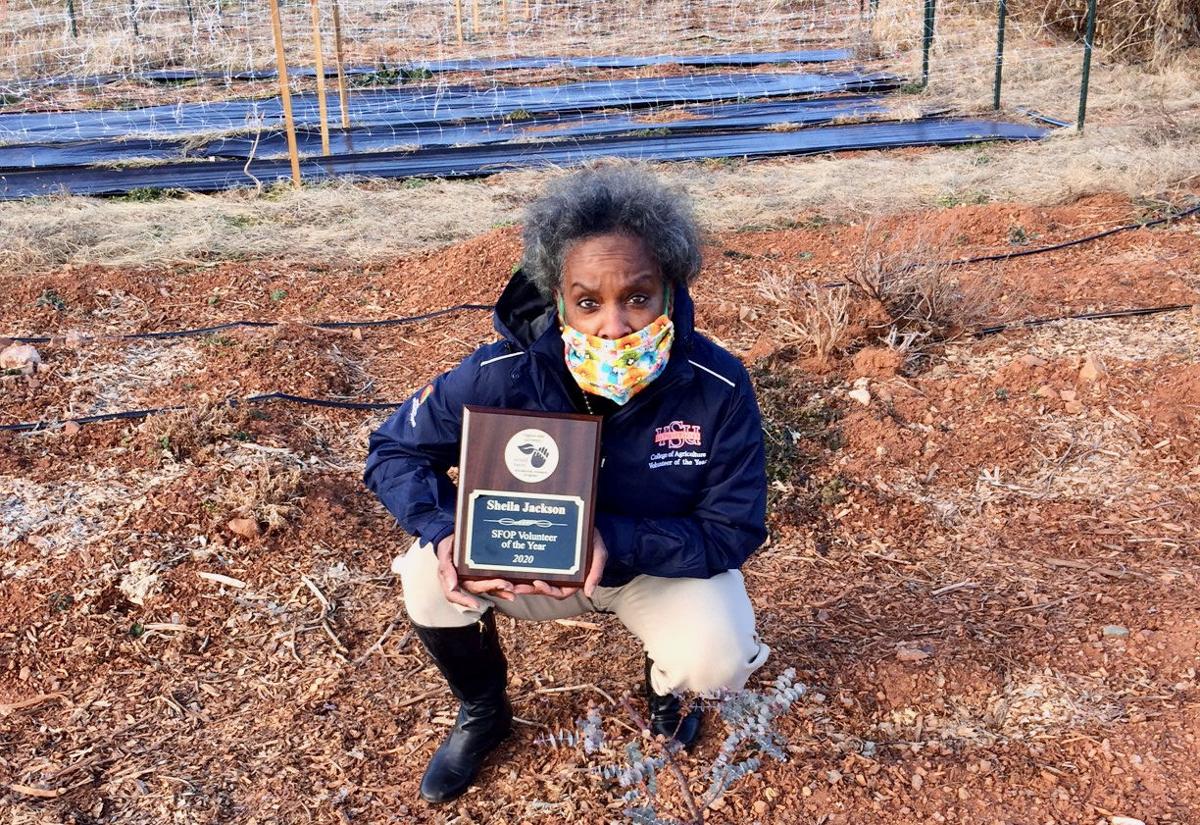 Sheila Jackson cherishes the old saying, "Give a man a fish, and you feed him for a day. Teach a man to fish, and you feed him for a lifetime."
Her father taught her the proverb, plus how to fish and also how to garden, lessons for which she remains grateful many decades later.
Now she gets to share the latter knowledge with others at The Carver Center in Culpeper County, where she grows a wide variety of herbs in one of the public gardens tended by the Minority and Veteran Farmers of the Piedmont.
Last week, the Culpeper County woman was named 2020's Volunteer of the Year with Virginia Cooperative Extension's Small Farm Outreach Program. The significance of the statewide honor caught her by surprise, especially once a videographer and twice as many colleagues as expected appeared Jan. 14 at Carver to congratulate her.
"I was totally surprised," she said in an interview Friday. "It was really nice that people came out here for me. That moved me and made me very happy. I told them that my father would be proud of me, to be recognized for what I'm doing."
The Small Farm Outreach Program at Virginia State University typically announces the commonwealth's award winners at its annual Small Farm Conference each fall, but the 2020 get-together was cancelled due to COVID-19 restrictions.
Growing the herbs, vegetables, flowers and berries at The Carver Center takes intensive work for all of the Piedmont group's volunteers. In 2020, the gardeners and farmers—who toil in the soil behind the center's buildings—donated hundreds of pounds of fresh-grown produce to area food banks to help people during the COVID-19 pandemic.
Jackson, known for her punctuality and work ethic, oversees the 50-by-50-foot herb garden in the center of the garden complex.
"I'm there to do what I can do to make this successful," she said. "This is manageable. And it's something I truly enjoy."
When she first came in contact with the farm and garden group in November 2019, she recalled being curious to see how its members followed through on their vision for agriculture.
Of the Piedmont group, Jackson said, "I appreciated their message of wanting to grow food for area food banks and help people who are less fortunate and most needy."
Sitting beside U.S. 15 between Cedar Mountain and Rapidan, The Carver Center occupies a former high school for the region's Black students during segregation. The school was named, as is today's center, for George Washington Carver, the scientist famous for many inventions, including new uses for peanuts.
Jackson, who is already looking forward to 2021's growing season, grew chamomile, oregano, tarragon, fennel, parsley, garlic, chives, eucalyptus trees and four kinds of basil—holy leaf, lemon, Thai and Genovese—at The Carver Center.
At home, she grows a variety of tomatoes from seed, along with fresh herbs.
Jackson said she thinks it would be great if more people knew a few recipes for meals they can make from home-grown herbs and vegetables, since ready-made meals and store-bought veggies are so expensive.
She has been interested in growing things since age 8, when her dad, Milladge Griffin Sr., would take her fishing at Hemlock Lake in upstate New York, for hours at a time.
"Sometimes, we would only bring home five fish," she remembered. "It was then I would learn my greatest lessons, while sitting in the boat under the hot sun."
Griffin was passing down lore and gardening wisdom he had learned from his kin. Jackson's great-grandfather, Gilbert, bought 115 acres about 25 miles southwest of Augusta, Ga., in 1889. The land is still in her family.
Her grandfather, Lindsay, took over the farm, growing vegetables and watermelons. He would drive his produce into Augusta, selling it directly from his truck, singing a catchy jingle to draw customers, Jackson said.
Her father absorbed lots of that farming lore, but chose to earn twice a Georgia wage by moving to New York. Among other things, he taught work-scholarship students with Wegmans, the grocery chain, how to plant vegetables.
"Dad not only taught me to fish, but he also taught me how to create sustainable living through gardening," Jackson said. "So when we learn important lessons, we need to pass them on."
She said she has tried to do that with her daughter and grandchildren and, recently, new gardening friends who get together—in COVID times—via conference calls.
"I've learned to help other women, even though they're not a part of this program, have their own gardens," Jackson said. " 'Seed sisters,' we call one another. One of the great things about volunteering and doing a little bit is you get to meet a bunch of different folks and, on top of that, help other people.
"We'll say to the others, 'Have you tried this?' And we all walk away with something new and different."