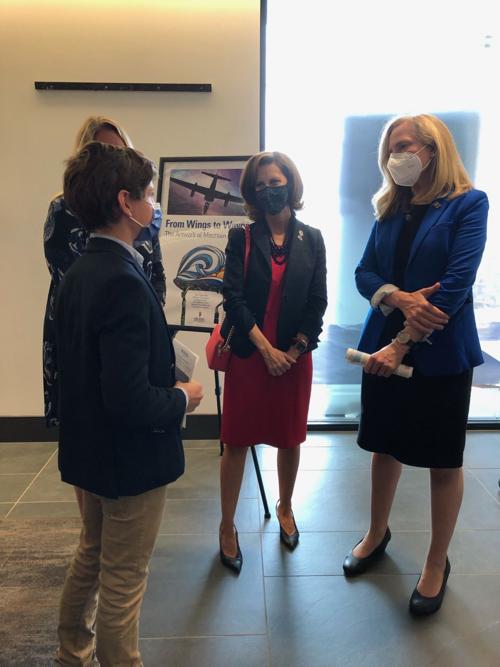 We should all reflect on the strength and beauty of America, Rep. Abigail Spanberger urged Saturday as she shared her thoughts with Virginians on the 20th anniversary of the terrorist attacks on U.S. soil.
"So much has changed in the 20 years since September 11, 2001," the Central Virginia lawmaker said in a statement. "And on this day, I hope we all take time to remember the sacrifice, the bravery, the heroism and the community we all witnessed, experienced and sought in the aftermath of the attack. I hope we will reflect on the strength and beauty of our country and our people and recommit to finding a common sense of community and purpose—in honor of everyone we have lost since that fateful day."
In Richmond, Spanberger attended the Virginia War Memorial's 9/11 observance and joined Virginia first lady Pam Northam in talking with people at the 20th-anniversary event.
The former CIA case officer, who specialized in counterterrorism and nuclear-proliferation issues, said she spent much of the day thinking of the nearly 3,000 Americans who died 20 years ago.
"They began the day like so many others—going to the office, checking in at the airport, reporting to the firehouse—but they never returned home," Spanberger said. "They were murdered by a horrific attack on our country."
The two-term congresswoman recalled how Americans rallied together in collective grief after the attacks.
"We learned of the bravery of the firefighters and volunteers who ran up the World Trade Center towers and into the burning Pentagon as people fled," she said. "We heard the stories of the flight attendants and pilots who tried to protect their passengers, and we all reflected on the heroism of the passengers of Flight 93 who—knowing they couldn't save themselves—saved the fourth intended target and everyone in it. And as we all mourned, brave first-responders and volunteers answered the call, spending months in New York, Virginia and Pennsylvania combing through rubble to return the lost to their families."
Many of the latter individuals have suffered lifelong health challenges due to their exposure to the smoldering rubble, Spanberger noted.
"In the wake of the attack, many Americans were inspired to serve our country—and today, we remember and honor the service members and civilians who have died in our country's Global War on Terror," Spanberger said. "They devoted their lives to protecting our country, our people and our freedom."