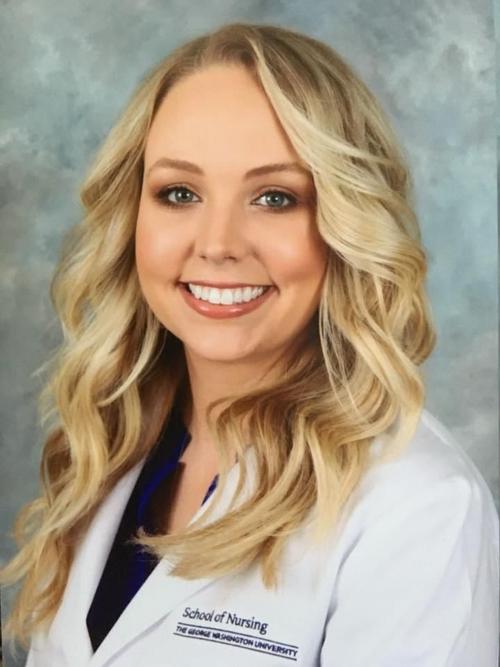 Early on, Mary Hunt knew she wanted to be a nurse. Born and raised in Fauquier County, she began her health-care career in 2011 after becoming a certified nursing assistant through Liberty High School.
"Nursing has always been a dream of mine," she told the Star-Exponent.
These days, newly married, Hunt and her husband are expecting their first child at the end of June.
Hunt began work at Culpeper Medical Center's Critical Care Unit in October 2019, finishing her orientation in February 2020—just in time for a global public-health emergency that has changed billions of people's lives.
"As a new critical care nurse, I would not have thought that I would be starting my career in a pandemic," Hunt said recently.
"When the news of the pandemic hit, I was terrified," the registered nurse recalled. "I prepped a 'go' bag to have in my car with all the essentials to stay the night if needed."
One of the nurses' most difficult experiences was aiding families who were barred—to prevent infection and contagion—from seeing their loved ones during the initial months of the pandemic, Hunt said.
"These patients were missing birthdays, anniversaries and major holidays. It truly broke our hearts not having families together during such a crucial time," she said. "The Critical Care Unit team got very creative in its ways to allow families to communicate with their loved ones. For example, we started using an iPad to FaceTime families."
Hunt's empathy helped her care for numerous COVID patients and comfort their families, her father told the Star-Exponent.
"She calls us every night at the end of her shift, sometimes in tears over the loss of her patient," he wrote. "Mary and all nurses on the front line of COVID deserve special recognition. Her mother and I are proud of Mary's courage and compassion."
Culpeper's hospital has "a small but mighty team of nurses," said Hunt, who is now the CCU's clinical unit leader. "We truly could not have made it through without such great teamwork."
The Warrenton resident said she began thinking around age 10 about becoming a nurse. At 12, her mother enrolled her in Fauquier Hospital's Junior Volunteer Program to see if it was really something she was keen on. It was.
At James Madison University, Hunt earned a bachelor's of science degree in health assessment and promotion, with a minor in chronic diseases, in 2015. During those years, she completed two internships at Fauquier Hospital's Interventional Radiology and Outpatient Special Procedures departments. In 2017, she graduated with a bachelor's of science degree in nursing from The George Washington University, completing some master's-level courses in leadership and evidence-based practice.
Having worked as a nurse for four years, with 18 months of that time spent on the staff of Novant Health UVA Health System Culpeper Medical Center, Hunt remains passionate about her chosen field.
"The most rewarding part of being a nurse is being able to help so many people during such a vulnerable time in their lives," she said.
Asked what she'd tell people considering a career in nursing, Hunt said, "Do it! It is the most rewarding job! We get to touch the lives of so many, and our patients touch our lives every day."