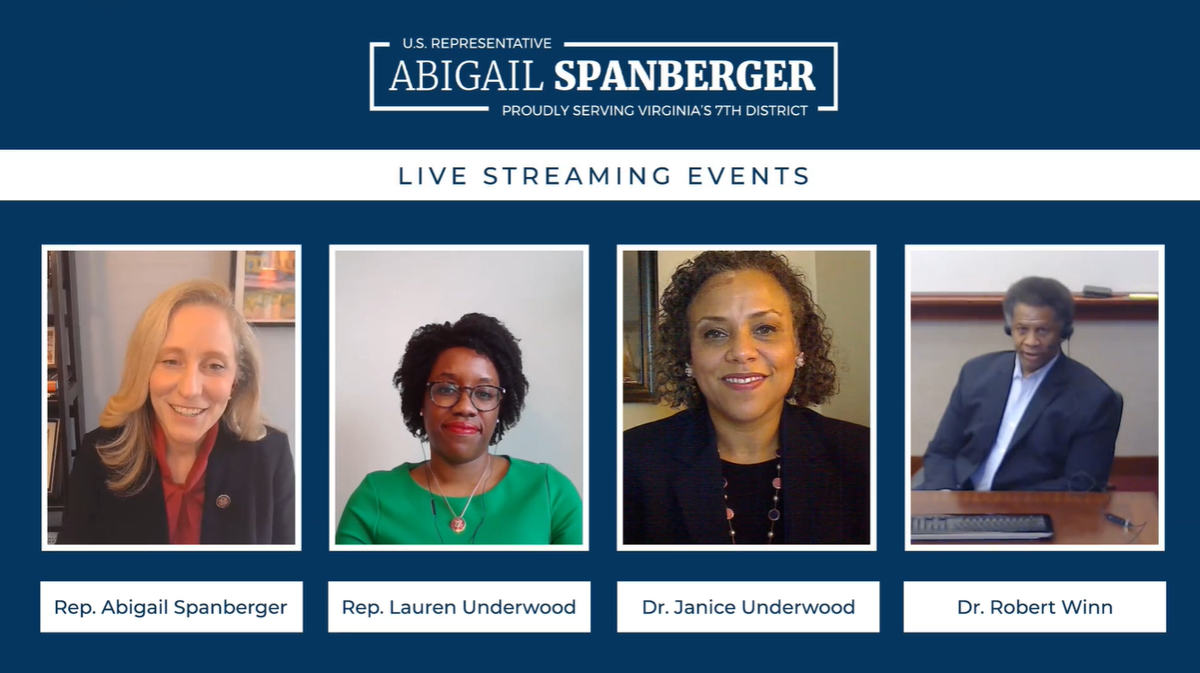 The novel coronavirus is affecting every family, business and community in Central Virginia, but its devastating effects are unequal.
As more of Virginia reopens, the public and government officials need to better understand how and why COVID-19's effects have been harsher among the state's black and Latino residents, an expert panel convened this week by U.S. Rep. Abigail Spanberger agreed.
"We need to build a comprehensive strategy to protect the populations that have been hardest hit," Spanberger said while hosting a virtual town hall Wednesday night to answer constituents' questions about the pandemic. Experts on the panel discussed how the virus is disproportionately affecting minority communities in Central Virginia and across the country.
The 7th District congresswoman addressed a myriad of COVID-19 issues with Rep. Lauren Underwood (D-IL), Virginia Chief Diversity, Equity and Inclusion Officer Janice Underwood and Dr. Robert Winn, director of Virginia Commonwealth University's Massey Cancer Center.
More than 4,100 Virginians tuned in to the town hall, streamed via video on Spanberger's website and Facebook page, and now archived on her website.
The speakers agreed that the coronavirus pandemic has forced the country to confront inequities in its health-care system.
Dr. Robert Winn said it's time for Americans to "roll up our sleeves and address the structural issues that have led to worse outcomes for our underserved and marginalized communities."
Winn expressed optimism that the United States will weather the pandemic, provided people continue reducing their exposure and heeding public-health advice.
"I believe that we will come out of this pandemic as a stronger community and a stronger country, but that begins by increasing access to testing, educating the public, and working together to find long-term solutions," he said.
Dr. Janice Underwood, America's first Cabinet-level chief diversity and inclusion officer, said Virginians have seen the pandemic disrupt every part of their lives.
"As our commonwealth moves into additional phases of reopening, we need to engage with every community and inform them about the challenges that remain in mitigating the effects of this virus," said Underwood, a key adviser to Gov. Ralph Northam.
CDC data shows racial and ethnic minorities suffer more from COVID-19. There are 17,810 COVID-19 cases among Virginia's Latino population, or 50 percent of all cases for which there is ethnic data, the state Department of Health says.
Winn said he isn't panicking about a second wave of the virus because some drug therapies and more testing are available.
He expects COVID-19 cases will spike in the fall, but doesn't think it will be as bad as it was in in the year's first half.
Dr. Underwood said Virginia health officials are giving out face masks and hand sanitizer in "under-resourced" areas of the state, and using radio, billboards, TV commercials and social media to communicate hygiene tips.
"We are using anything we can to get the word out," she said. "We want everyone to follow the wear-a-mask mandate."
But officials realize that some African American males may feel that doing so could cost their life, if they are perceived as a threat by police because they're wearing a mask, Underwood said.
One caller, Deborah, expressed concern that ongoing protests will increase the number of COVID-19 cases.
Dr. Winn said it is important for people to take part in demonstrations, if they wish, despite the pandemic.
But everyone should wear masks, use hand sanitizer, and stay physically distanced if they can, the pulmonologist said. He urged protesters to get tested for COVID-19, as the CDC recommends.
If a person has a fever or cough or isn't feeling well, they must stay home, Winn said. "There are ways to let your voice be heard without potentially exposing other people to COVID-19," he said.
Rep. Underwood noted that black women are three times more likely to die of COVID-19 than white women.
She joined with Spanberger in urging the Trump administration to include victims' race and gender among the data it collects on people who die of COVID-19.
The pandemic makes it even more important to ensure that every American has access to affordable health care, Rep. Underwood said.
"The stakes could not be higher," she said.