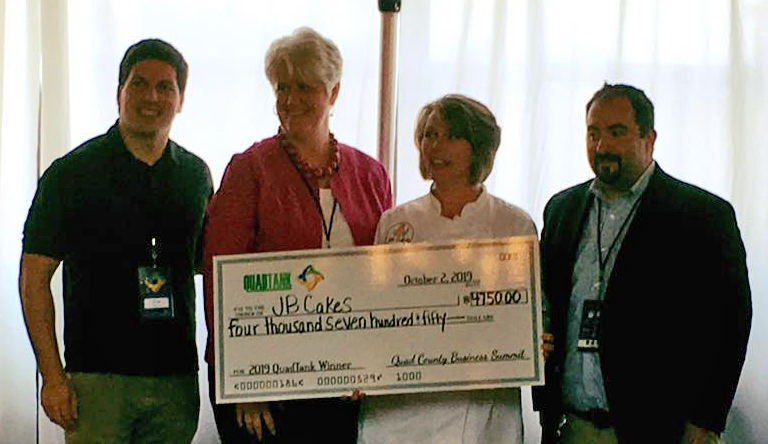 A year ago, Jennifer Bryington was busy baking cupcakes and other tasty treats and looking to expand her home-based bakery business—JB Cakes—to a storefront operation and sandwich shop in Rhoadesville.
When the Orange County Economic Development Office hosted last year's Quad County Business Summit and introduced its new Quad Tank Pitch Competition, Bryington stepped out of the kitchen and into the mix as Orange County's finalist.
The energetic and engaging Unionville baker convinced a panel of judges that hers was the business to back in a pitch competition modeled after the popular Shark Tank television show.
In her presentation to the judges, Bryington said, "I am an upscale bakery. You're not just getting a run-of-the-mill dessert. I believe in a 'wow' factor and when you walk away from JB Cakes you have that 'wow' factor."
She wowed the judges, won the $4,750 prize and said she would use the funds to help purchase commercial baking equipment to improve productivity—including an 80-quart mixer "I can dump a 50-pound bag of flour in and work up a batch of happiness in moments."
Bryington and JB Cakes opened late last year and continues to operate out of its Lafayette Station location.
"It's worked out, even though we opened at about the worst time possible," she said. "We went from dreaming into survival-mode. But we've haven't closed; we've gotten great community support and even expanded a little bit. We've had to come up with some different ideas, but we're still moving forward. I've learned a lot since I won that money a year ago."
This year's Quad Tank Pitch Competition will take place virtually Nov. 17, from 10 a.m. to noon. The fifth annual Quad County Business Summit will follow it from 1 to 4 p.m. Fluvanna County will serve as this year's host.
Held annually, the summit brings together leaders in Orange, Greene, Louisa and Fluvanna to network, learn and develop business throughout Central Virginia.
The virtual event will feature keynote speaker Sandy Sponaugle from Platinum PR and participants also will hear from Hope Lawrence of Hudson Henry Baking Company on how her Fluvanna business has reached its current level of success, according to Orange County Economic Development Project Manager Rose Deal. The Summit also will include breakout sessions and opportunities for virtual networking. The event is free for Quad County business owners.
"In light of current pandemic, the Quad County Business Summit Planning Committee decided to take these events virtual to ensure that our rural entrepreneurs and business owners would still have access to this valuable network of resources," Deal said.
This year's summit has expanded to include Madison County businesses.
"Throughout the pandemic the Quad County Chambers of Commerce have been meeting to discuss responses, ideas and plans as we operate within a pandemic," Fluvanna County Economic Development Coordinator Bryan Rothamel noted. "Our region is so collaborative, from the economic development teams to the chambers. We all do so much with the Madison team in economic development and tourism that it made sense to continue that synergy this year at the summit. As we planned a virtual Quad County Business Summit, it felt natural to invite our Madison friends as our special guests this year. We hope the Madison business community enjoys the summit as much as the Quad County business communities do."
Meanwhile, the Quad Tank competition is available for new or current business owners from the participating counties—Orange, Greene, Louisa and Fluvanna. Businesses will prepare a business plan and pitch that plan to the panel of judges for a $5,000 prize. The final presentations and judge questions will be hosted live for all summit participants to view.
Quad Tank applicants will work with the Small Business Development Center to prepare and submit their proposal, according to Rothamel. All applicants will work with the Central Virginia SBDC to participate in the Quad Tank competition.
He said the SBDC will organize judges and rather than a three-person panel, this year's event will be structured more like a funding request to a group of investors, he said. "This will be a great exercise in articulating a business plan effectively," he said.
"Business owners can use this to launch their grand plan or they could use this to get them to the next step, similar to how JB Cakes used the money last year," Rothamel said. "Of course, in the current economic and health climate, I'm sure we will see businesses looking to pivot or change operations in response to the pandemic."
Registration and sponsorship opportunities are listed on the summit website: www.qcbsummit.com.
Be the first to know
Get local news delivered to your inbox!