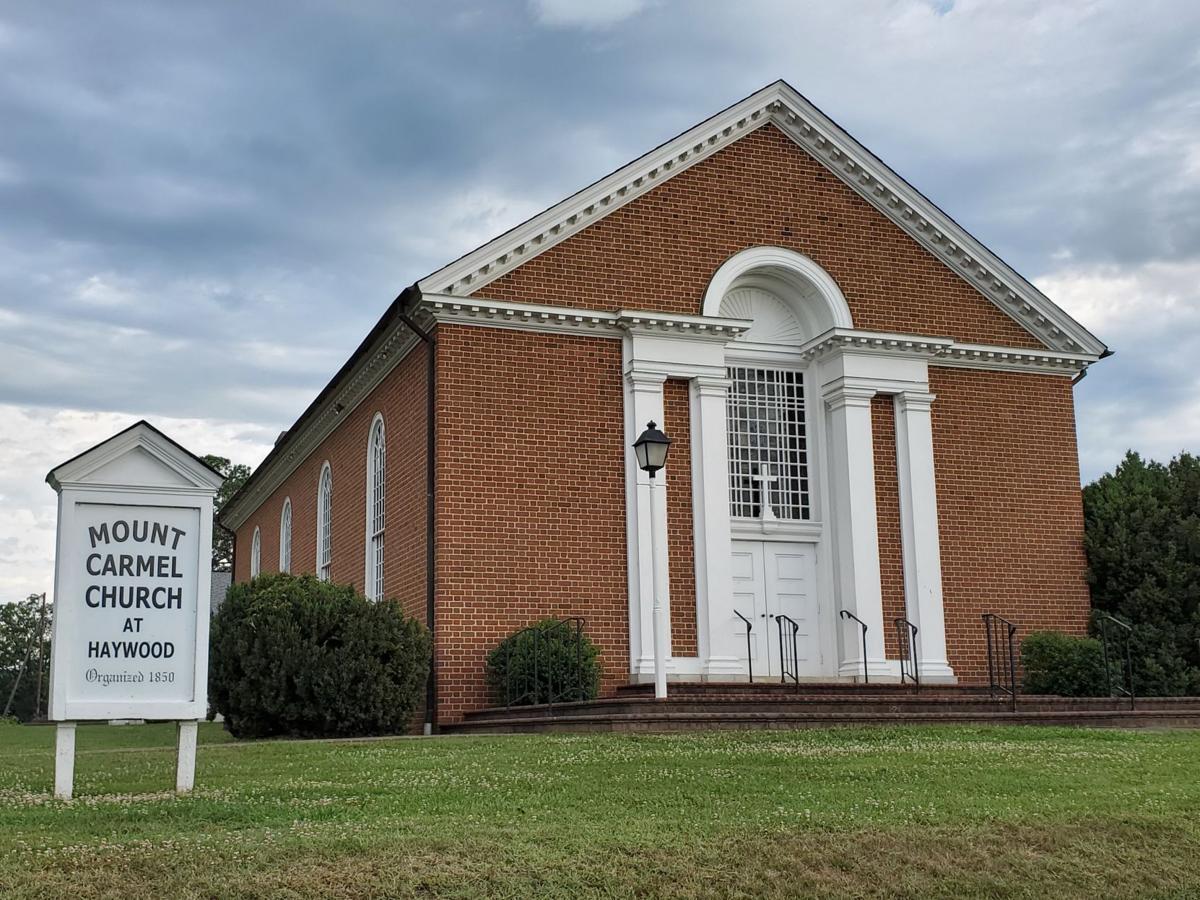 Christmas Bazaar this Saturday
Culpeper United Methodist Women will host its annual Christmas Bazaar 9 a.m. to 2 p.m. this Saturday, Nov. 6 at the Brandy Station fire hall, 20057 Fleetwood Heights Rd in Brandy Station.
Thanksgiving Giveaway at Wayland
The Wayland Blue Ridge Baptist Association, Inc. invites the community to participate in its 2nd Thanksgiving Giveaway for needy families this holiday season.
Churches, businesses, and individuals are encouraged to donate turkeys, hams, and gift cards for families in need. Monetary donations will be accepted as well by sending checks or money orders to: Wayland Blue Ridge Baptist Association, Inc. P.O. Box 1037 Orange, VA 22960 memo line: Thanksgiving Giveaway.
Turkeys, hams and gift cards will be distributed, while supplies last, starting at 10 a.m. on Saturday, Nov. 20 from Wayland Blue Ridge Center, 15044 Ryland Chapel Rd. in Rixeyville. All donated items must be delivered or picked up no later than 5 p.m. on Friday, Nov. 19.
Want to make a donation? Contact Women's Auxiliary President Angela Brooks at 540/854- 7442, Vice President Janice Kilby at 540/636-4098 or Board member Charlotte Johnson at 540/987-3340 or wayland_blueridge@usa.com
All donations are greatly appreciated. "Together, we make the difference," according to an Association release.
The Rev. Dr. Bernardo Snipes is the Moderator, Wayland Blue Ridge Baptist Association, Inc.
Drive-Thru Grocery Giveaway in Orange
Mount Holy Baptist Church will be sponsoring a Drive-Thru Grocery Giveaway from 2 to 4 p.m. on Saturday, Nov. 20 or while supplies last in the Orange County Library parking lot, 146 N Madison Rd. in Orange.
Groceries are for anyone in need, does not matter where they live. Call 540-287-6005 for information.
Honoring Black Catholic History
Bishop Michael F. Burbidge, Catholic Diocese of Arlington, will lead a multicultural prayer service at 6 p.m. today, Nov. 5 to celebrate and honor Black Catholics during Black Catholic History Month.
The service, "Celebrating the Diversity of the Communion of Saints & Black Catholics on the Pathway to Sainthood," will be held at The Cathedral of Saint Thomas More in Arlington.
Bishop Burbidge will begin with prayers and continue with brief historical vignettes on Black Catholic saints and saints-to-be. All are invited to participate.
"As Catholics, we have a sacred duty to work toward unity in all areas of our lives. We must engage in opportunities to heal divisions that exist, be they political, racial or cultural. We must remember that we are one body, united in faith as brothers and sisters in Christ," said Bishop Burbidge. "During Black Catholic History Month, we join together in prayer as brothers and sisters in Christ. It is my hope that we commit to honor the extraordinary contributions of Black Catholics throughout the year. In learning about the many cultures that make up our diocese, we bring greater unity and cultural richness to our Church. May our Lord help us to grow in harmony and be instruments of his truth and peace within our communities," Burbidge said in a statement.
Animal blessing Saturday at Yowell
The furry friends of people in Culpeper can be blessed on Saturday, Nov. 6 at Yowell Meadow Park, said Father Adam Sexton, an Eastern Orthodox priest.
Sexton is an Orthodox priest-in-charge of the new Saints Peter and Paul Mission Church in Culpeper, which is meeting temporarily in the parish hall at historic St. Stephen's Episcopal Church downtown.
On Saturday, anyone can come to Yowell Meadow Park at 12:30 p.m. with animals to be blessed—dogs, cats, hamsters, even horses, or any other animal, Sexton said. People can gather at Pavilion A near Gardner Street, and Sexton will be there at least until 2 p.m.
Surviving the Holidays grief workshops
Dreading the holidays because everything has changed and the happy memories from past years cannot be recreated? Wonder how to survive the weeks leading up to Thanksgiving and Christmas?
A Surviving the Holidays Workshop is especially for folks who are grieving a loved one's death. Culpeper Baptist Church is hosting a pair of two-hour workshops at 5:30 p.m. on Friday, Nov. 12 and 9 a.m. on Saturday, Nov. 13 in the ground floor worship center.
Attendees will be with people who understand how they feel; how painful it is to even think about the holidays without a loved one. Topics for discussion will include: how to deal with the many different and often difficult emotions experienced during the holidays; what to do about traditions and other changes and helpful hints for surviving social events.
There will be a 40-minute video filled with real-life stories of people who have navigated the holidays after their loved one's death and testimonies from workshop attendees about how they are dealing with the holidays. Attendees will receive a FREE personal copy of the GriefShare Holiday Survival Guide and learn how to discover hope for the future.
Free Union Baptist yard sale continues
Check out household items, hutches, servers, kitchen items, bone china, lamps and much more during a large yard sale 8 a.m. to 1 p.m. this Saturday, Nov. 6 at Free Union Baptist Church, Mount Pony Road in Culpeper.
Bobby Slaughter Memorial Men's Prayer Breakfast
The Antioch Baptist Church Trustee Ministry announces this 3rd Annual program beginning at 9 a.m. on Dec. 4 at the church on West Street in Culpeper.
Deacon Vernon Sutton will give the opening prayer with scripture reading and intro of the emcee by Kannatis Crawford. Worship leaders will be Deacon Terry Butler with music from the Rev. Charles Staunton and Robert Michie.
There will be a testimonial from Buster Nelson and mini messages from the Rev. Evan Newman and the Rev. Darnell Lundy. The Rev. Uzziah Harris will give the closing prayer.
Anniversary gospel concert at Wayland
The World Famous Swanee Quintet of Augusta, Georgia is coming back next month by popular demand to Wayland Blue Ridge Baptist Center in Rixeyville.
The group will perform for the 39th Gospel Promoter Anniversary with the Rev. Dr. R. Bernardo Xavier Snipes at 4 p.m. on Saturday, Nov. 13. Also featuring music by Mike and the Fellas of Fredericksburg. Sponsored by Minister Annette Bushrod contact her at 703/223-9073.
Sunday service under the pavilion
Alum Spring Baptist welcomes the community to worship at 11 a.m. every Sunday outside under the pavilion at the church. Services are posted on Facebook. Social distancing and masks are encouraged.
Adult Bible study is at 9:45 a.m. Youth group for grades 7-12 is at 10 a.m. along with K-6 Sunday School.
Children's church for K-6 is provided during Sunday morning worship. Alum Spring Baptist also holds Bible studies at 6 p.m. on Sunday at and at 10 a.m. and 6:30 p.m. on Wednesday. Youth Group meets at 5 p.m. every Sunday to study God's word and for fellowship. All are welcome.
This month's mission offering will support Christ in Action. The church also participates in the Blue Ridge Food Bank food distribution the 4th Wednesday of the month at Reva Fire Department and collects non-perishable food and hygiene items for Culpeper Food Closet. 540/825-3820 or alumspring@comcast.net and see alumspringbaptist.org.
A Journey to Joy with Frank Runyeon
"As the World Turns" Hollywood actor Frank Runyeon will present a three-day mission, "Journey to Joy," nightly at 7 p.m. Nov. 8-10 in the sanctuary at Precious Blood Catholic Church in Culpeper.
The event is free with a free will offering to help offset costs. Bring the family and listen as Runyeon tells "The Story of Luke," "The Sermon on the Mount" and a talk about "Hollywood vs Faith."
The actor, who also starred in "Santa Barbara," is a wonderful storyteller, according to a church release. Audiences will enjoy simple but dramatic special effects. Each performance runs about 80-minutes with no intermissions.
The star of the show manages Runyeon Productions and has been performing Bible texts for 25 years, according to his web site. Contact Kelly Bennett, Evangelization Coordinator at 703/501-2206 or kbennett@pbcconline.com.
Beulah Baptist worship, Bible study
Beulah Baptist will hold in-person Sunday School at 9 a.m. and Morning Worship service at 10 a.m. at the church, 9297 Eggbornsville Rd. Culpeper.
Parishioners are asked to please wear their mask and practice social distancing. Temperatures will be taken. To participate via Zoom, enter Meeting ID 9088220508 or call 646/558-8656 and enter meeting ID 9088220508 followed by # or Beulah Baptist Church Facebook.
Join the church online at 7 p.m. for Wednesday Bible study on the Book of Luke. Conference call only, 302/202-1118 code 862090 to listen in.
Amissville church hosts weekly AA meetings
Sunday service is held at 10 a.m. in the sanctuary of the church, 14760 Lee Highway in Amissville. Zoom and livestream services are also available.
Alcoholics Anonymous meets at 7:30 p.m. Mondays in the Social Hall. Bible Study with Frank Fishback is held at 6:30 p.m. Tuesdays in the social hall.
Questions? Contact Pastor Maxine Crenshaw in the church office at 540/937-4978.
Culpeper Food Closet Need of the Week
The Food Closet at St. Stephen's Episcopal Church provides food and personal care items for Culpeper families, individuals, and seniors in need of assistance.
Every week, the ministry posts a few items that are low in stock. This is a great way to get local youth involved.
This week, the food closet is extremely low on beverages: Gatorade, soda, waters, juices, coffee and tea. Other needs are canned fruit, instant oatmeal and individual snacks.
Buy-A-Bird fundraiser happening now
The Culpeper Food Closet is now accepting donations for its Buy-A-Bird Thanksgiving program for local needy around the holidays.
An estimated 700 families were served through the program last year, receiving a Thanksgiving turkey from the food closet and side dishes through the annual contribution from SWIFT. This year, recipients will receive a voucher to their bird from Safeway. Sides and turkey voucher distribution started Oct. 25. Culpeper Human Services handles eligibility.
Sermon: 'Rock Bottom: A Voice Through the Darkness'
Mountain View Community Church holds Sunday morning services at 9 and 10:30 a.m. at the Culpeper Campus, 16088 Rogers Rd.
The sermon for Nov. 7 is, "Rock Bottom: A Voice Through the Darkness." Children's programs for K-5th grade at both services, 5th-8th grade at 9 a.m. and babies-pre-k at 10:30. Listen at 10:30 a.m. at mountainviewcc.net or Mountain View CC on Facebook.