A citywide task force broke up encampments near the Robert E. Lee statue on Monument Avenue and made at least two arrests Thursday morning, signaling a shift in how Richmond officials are dealing with occupants there.
Authorities confiscated or destroyed the tents, chairs, clothes, grills and bottles of water people have accumulated as they occupied the grassy medians on the north and west sides of the monument 24 hours a day. Earth-moving equipment was used to crush and move tent structures, which were loaded into a dump truck and taken away, witnesses said.
The day before, police delivered a summons, informing the occupants they were in violation of a camping ordinance. City ordinance 8-273 bars anyone from camping, setting a tent or quartering on public grounds maintained by the city. On Thursday at 8 a.m., police arrived to enforce the summons.
Multiple demonstrators described a scene in which police descended on the camp with assault rifles at the ready, waking up those who were asleep there and approaching the grounds with aggression. But a Monument Avenue resident who was walking his dog at the time said that police did not cross a line in their handling of the situation.
After several minutes of talking, tensions escalated when police began removing items. Officers and demonstrators scuffled, causing police to discharge pepper spray and to use, according to Richmond police, a "conducted electrical device."
"From head to toe, I'm burning," said a woman who identified herself as Sade and was sprayed by an officer. She sat on the sidewalk outside the Lee Medical Building, wiping down her leg with a soapy washcloth that had been given to her by a nearby resident.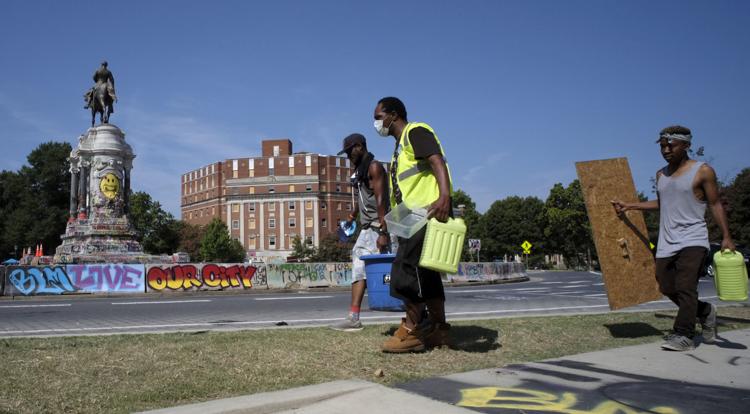 A video circulated on social media Thursday morning showing one man being wrestled by five officers, who appeared to use a Taser-like device to subdue him.
While police gave occupants on the west side of the statue time to pack up, occupants on the north side were given far less time, Sade said, which led to the confrontation.
Officers suffered minor injuries, police said.
Two people, Justin Killough and Kadia Taylor, were arrested and charged with assault on a law enforcement officer as officials "attempted to get people to comply with the state and city ordinances that govern activities in that public area," Richmond police said in a statement.
Richmond police gave no other details about those arrested. Killough was also arrested on a charge of unlawful assembly during a protest on Saturday night into Sunday morning in Richmond.
The Richmond Community Bail Fund said the two people who were arrested Thursday and referred to the group were denied bond.
"Richmond judges and magistrates have noticeably increased the number of bond denials in the last few weeks," the bail fund organization said on Twitter.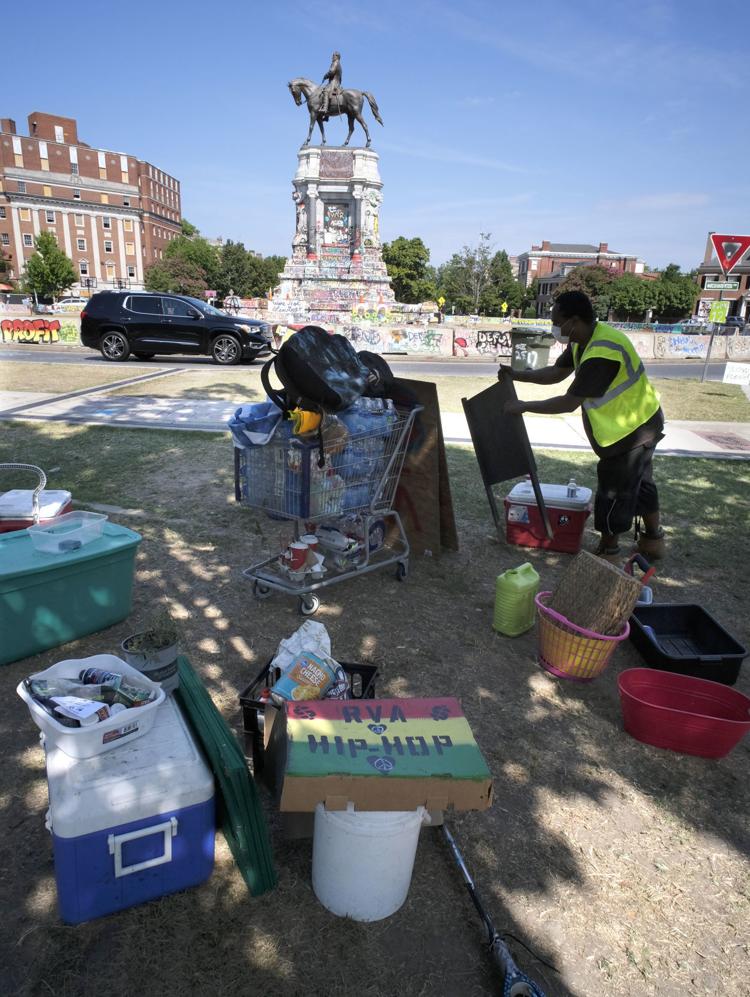 Protesters associated with the Black Lives Matter movement have had a presence near the statue at all hours of the day for the past two months. Organizers have gathered to meet for marches, held concerts, served food and registered people to vote.
Some residents who live nearby have complained of constant noise and disturbances, and police said that demonstrators have taken electrical power, engaged in commerce without permits, displayed videos and played loud music. But police hadn't arrested a protester there in several weeks.
In addition to the police department, other city departments were part of the task force, according to the RPD news release. Those departments were Public Works; Public Utilities; Health; Taxation; Social Services; Code Enforcement; Child Protective Services; Parks, Recreation and Community Facilities; and Fire.
One woman, who identified herself as Foxy, said that tension between police and protesters had been building for some time. On Thursday morning, the pressure finally caused things to burst.
"This is building up on weeks and weeks and weeks of s---," she said.
When two police cars drove by later in the morning, a group raised their middle fingers. The demonstrators who remained Thursday said they have no plans to leave. Foxy said she would leave to take a shower and then come back. By 9:30 a.m., a tent had been set up on the median of North Allen Avenue, just south of the statue.