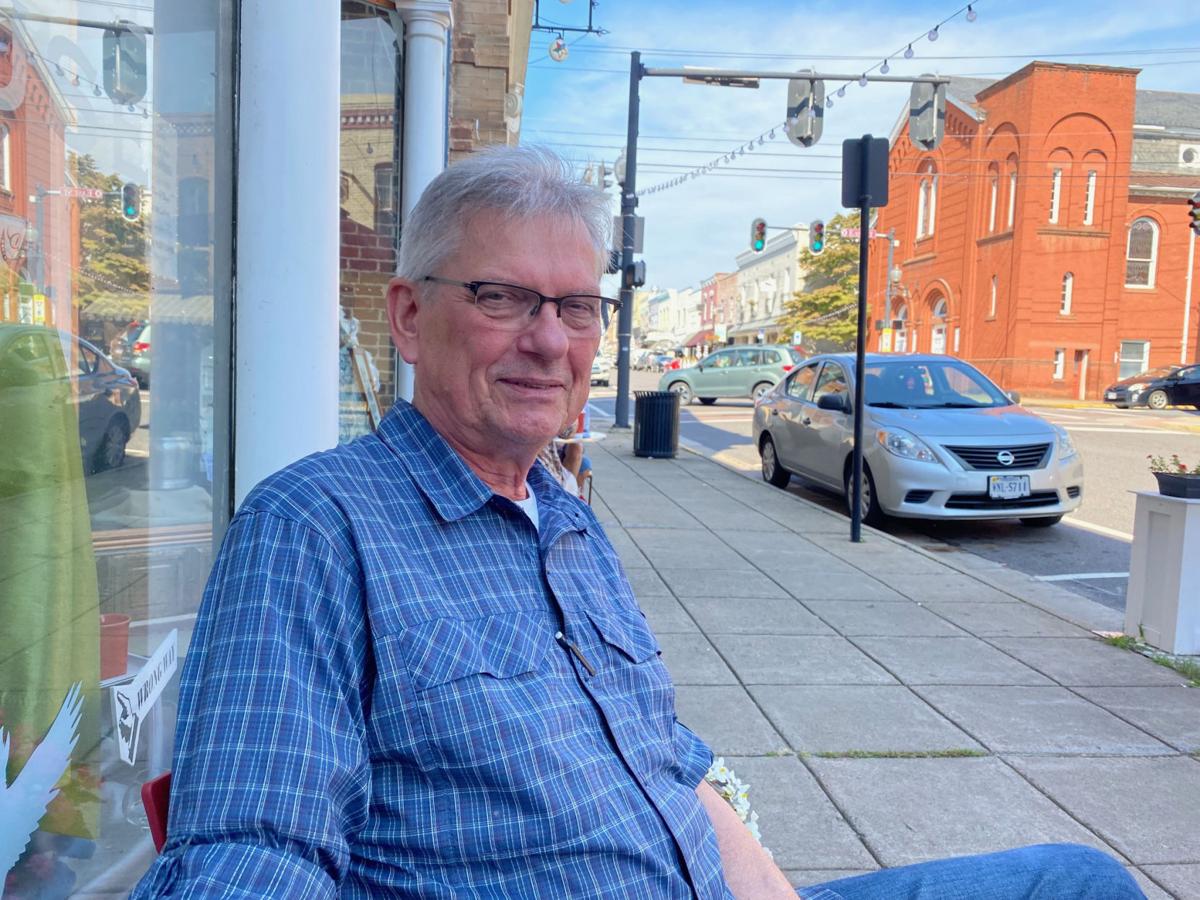 Former two-term Culpeper mayor Pranas Rimeikis pointed to his 16 years of cumulative work on Town Council in stating why he is seeking a fifth term in the November election.
Rimeikis has lived downtown for 30 years come November, the longest he's lived anywhere, following assignments around the world with the army, a childhood in Chicago and his earliest years growing up in a Lithuanian refugee camp in Germany.
He recalled his last military assignment at Vint Hill Farms and finding Culpeper in 1991.
"None of this existed. There was no outdoor seating, there was no coffee shop, nothing on this end of town," Rimeikis, 69, said. He had never gotten involved before at the local level, Rimeikis said, like he did here as a founding member of the South East St. Neighborhood Watch, the first in town.
Rimeikis volunteered with a revived July 4 Celebration Committee and served on the social services board when he ran for mayor in 2002. He served two terms and another two terms as a councilman.
"So I'm kind of invested…I know what works, I know how to get things done. I know what we can do within the limitations legally," he said.
"Something that's been with me after 16 years on Special Forces A teams is the concept of working as a team and remembering the strength of the team is better than the sum of the parts. We each have a role and together things work. I think I can still do that."
Rimeikis referenced the crowded field of 10 candidates seeking four seats in this year's council election saying some of them who have lived here less than 10 years don't know how Culpeper has transformed over the past 30 years.
"It hasn't always been this way. There was a lot of work involved," said Rimeikis.
The seasoned councilman said he doesn't have an agenda or platform and is a fiscal conservative running as an independent. The local Democratic Committee has "recommended" Rimeikis for election.
He said the most important thing is developing working relationships with all eight other members of Town Council, and it's easy work beyond that.
Rimeikis addressed the dreaded reoccurring annual car tax on existing vehicles and said it would have been nice if the state had kept its promise to eliminate it. The candidate added the town could start phasing it out three to five years from now when it is debt-free. The debt payment the town won't have can cover the revenue from town car tax collections, about $1.5 million, Rimeikis said.
The town hasn't raised its real estate tax rate in 22 years, he said, and generally has low taxes for the services provided. The town's population has almost doubled since 2000 to more than 19,000, according to the 2020 Census, the councilman added.
Rimeikis voted against the latest, large approved housing development along Orange Road, Laurel Park, saying his biggest issue was the traffic. He said he also had environmental concerns with the addition of more impervious surface, vast parking lots for multiple cars at hundreds of new houses, next door to densely-populated Highpoint.
"That part of town is going to be 2 degrees warmer than the rest of the town in the summer, the pavement, not enough trees, (houses) packed closer, more heat coming out of AC systems going right back in the atmosphere," Rimeikis said. "Just the density, wish (it) could be little bit less."
On the issue of keeping Lake Pelham's Confederate name, the councilman said the town should continue to capitalize on its Civil War history through tourism. Rimeikis said he supported changing the lake name, but claimed he had "no idea it was going to cause this much controversy."
He said he didn't understand how or why the manmade lake was named after someone "with no significant contribution to Culpeper in anyway—he spent one day here because he had an interest in a judge's daughter, camped out in Orange, came to town for whatever reason and then happened to die here."
"Over 100 years later they drag his name out," to name the reservoir, Rimeikis said, of the moniker decided in a 1970 name-the-lake contest. The councilman said he understood how the name, of an Alabama artillery officer fighting for the Confederacy, could be offensive.
Because of ensuing controversy since Council voted to change the name, but still hasn't, Rimeikis supported leaving it alone.
"We shouldn't be making any decisions that's going to split the community. I don't even like it when we get down to 5-4 votes," he said. "That much grief, let's reverse our decision to name it."
Asked why town voters should pick him over the other nine candidates, Rimeikis pointed to his approach.
"I'm not emotional about issues, there is no place for it here, we're to provide core services," he said, adding, "I am a critical thinker, can accept other ideas that people have. I still got a lot of things I can contribute and you can't have a roomful of rookies, quite frankly. There has to be some institutional knowledge in there and I think I can provide that."