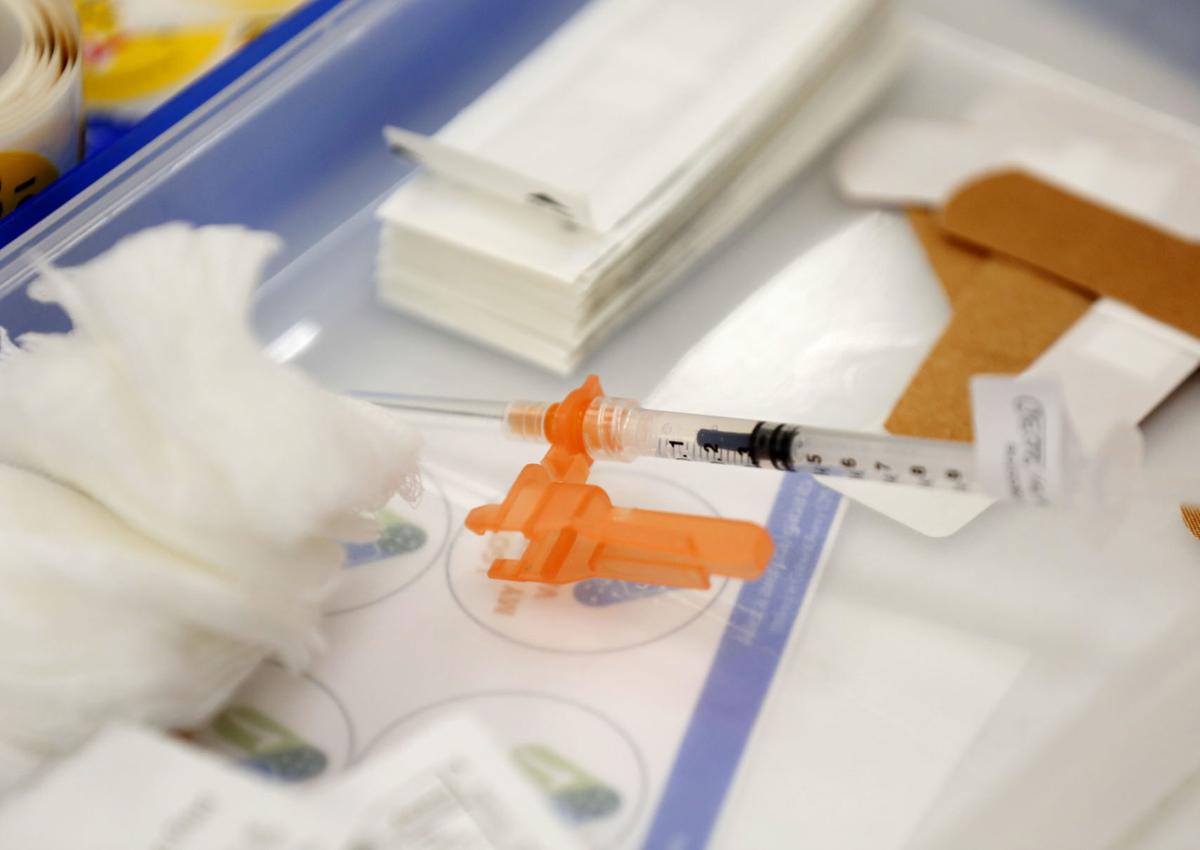 One week into Richmond Public Schools returning to in-person learning, the city's health district is reporting that white 12-to-17-year-olds have up to three times the vaccination rates of Black children.
This means Black kids in this age group could have a greater chance of contracting the virus. The week of Sept. 11, Virginians who had yet to receive a coronavirus vaccine were 15 times more likely to get infected than those who are fully vaccinated, according to the Virginia Department of Health.
At least 5,692 people in the 12-to-17 age group in Richmond have been vaccinated, but exact numbers are difficult to pull without the risk of having large error margins, said Cat Long, spokesperson for Richmond and Henrico's health districts. About 757 vaccinations are excluded due to race and ethnicity not being reported or sample sizes being so small that calculations could be unreliable.
This means the data released on Thursday - the first time the localities have made available the impact the virus has on specifically kids by race and ethnicity and one of the first times a Virginia health districts has done so - are estimates. And they don't include the number of 12-to-17-year-olds who are fully vaccinated by race and ethnicity. 
But eighteen months of COVID data have repeatedly shown the racial disparities in Richmond, where in August 2020, Black residents accounted for 60% of the city's deaths and where this past June, they made up more than 60% of hospitalizations. 
Months later, the percentages are slightly higher. Black Richmonders are almost 70% of cases and hospitalizations and 62% of deaths, said Jackie Lawrence, the districts' director of health equity.
"So if this is already the case, we really are thinking a lot about, 'What will the fall and winter look like, what will the coming months ahead look like, if we continue to not do everything that we can do to reduce the spread?'" Lawrence said.
Richmond and Henrico's health districts plan to combat the disparity among kids through a three-point plan that includes transparency and data sharing - specifically to schools, faith leaders, pediatricians and parents - outreach and education through sports leagues and after-school programs and more vaccination opportunities in areas with low vaccination numbers.
In the city - where poverty levels are more than double Henrico's - the lowest vaccination rates are in public housing units, where the greatest median income is just below $17,000 and up to 95% of residents are Black.
Lawrence noted how these factors influence a person's access to a trusted health provider, childcare or reliable transportation, all of which have been critical in the vaccine rollout and the pandemic - where poverty has played a heavy role in whether someone was more likely to die from the virus.
Among Black youth, Lawrence also emphasized the role that misinformation on social media has played and how the level of trauma experienced through community violence might not make vaccination a priority.
"Especially folks that are dealing with lower income, they just have additional burdens and things that they're dealing with that this creates an extra burden and extra hurdles to jump over to get that information," Lawrence said.
While state officials have hailed the importance of understanding health disparities in determining where to direct outreach, VDH - like the majority of health departments in the U.S. - does not publicly report cases, hospitalizations, deaths or vaccinations among any age group by race and ethnicity. The demographics exist separately.
Only Washington D.C. and six states - Connecticut, Kansas, Michigan, Minnesota, South Carolina and Wisconsin - have compiled the percentage of children who have received a COVID-19 by race and ethnicity as of Sept. 7. In all of the reporting areas, Black children were the least vaccinated.
Long said having a data team separate from their epidemiologists has allowed Richmond and Henrico's health districts to "analyze trends while also doing the intensive research behind outbreaks and case spread."
But even then, there's currently no way of knowing the percentage of eligible students who are vaccinated within Richmond, Henrico and Chesterfield County's public schools because neither VDH or the districts are tracking it.
Tamika Massie, engagement specialist at RPS, said families within the system aren't asked or required to report a student's vaccine status. 
Families with kids in Henrico County Public Schools aren't either, according to spokesperson Chris OBrion, largely because VDH regularly provides the district with the data and the health agency didn't require a COVID vaccine for students to enroll. Chesterfield, unlike Richmond and Henrico, isn't tracking vaccinations among teachers.
"But data about Henrico residents is maintained by the VDH, so I would reach out to them. Some of the info should also be available online," OBrion said. 
Richmond and Henrico's health districts were the ones who initially redirected the Richmond Times-Dispatch to local school systems for a gauge on where vaccination rates among kids are the lowest. 
Across the localities, predominantly Black census tracts with high poverty rates and the greatest case counts also have less than 46% of its population vaccinated with at least one dose - unlike the wealthiest neighborhoods, which boast twice that percentage.
Long said a similar breakdown that includes age groups cannot be publicly shared because dividing the 12-to-17-year-old population by geographic area "would produce too small of populations for us to have confidence that the data is representative of an actual trend."
While it's too early to link the growing infection rates among younger age groups to congregating in schools, Long noted that "spread in schools mimics the spread in the community."
"Low vaccination rates among children have a broader impact on adults, too, since they have potential to spread COVID-19 to their families," Long continued.
The VDH's guidance for Virginia's PreK-12 schools, last updated on Sept. 10, delineates the importance of "achieving high levels of vaccination among eligible students, teachers and staff" in helping schools safely operate and says testing should be offered to unvaccinated students when community transmission is at moderate, substantial or high levels.
That would include all 133 localities in Virginia, but the VDH's routine testing program for K-12 schools doesn't begin until early October.
The latest data compiled by Richmond and Henrico's health districts show the highest infection rates are among Black residents and the 0-to-19 age groups, with children under 10 in the city having more than double the case rates of residents 80-plus. 
While overall risk of severe illness in younger children is low, national studies including nearly 136,000 pediatric patients across children's hospitals in the U.S. found that Black and Latino kids were the most likely to test positive - even though they're the least likely to undergo testing.
A racial and ethnic breakdown of local infection and hospitalization rates in these age groups was not readily available as of Friday.
(804) 649-6103
Twitter: @sabrinaamorenoo