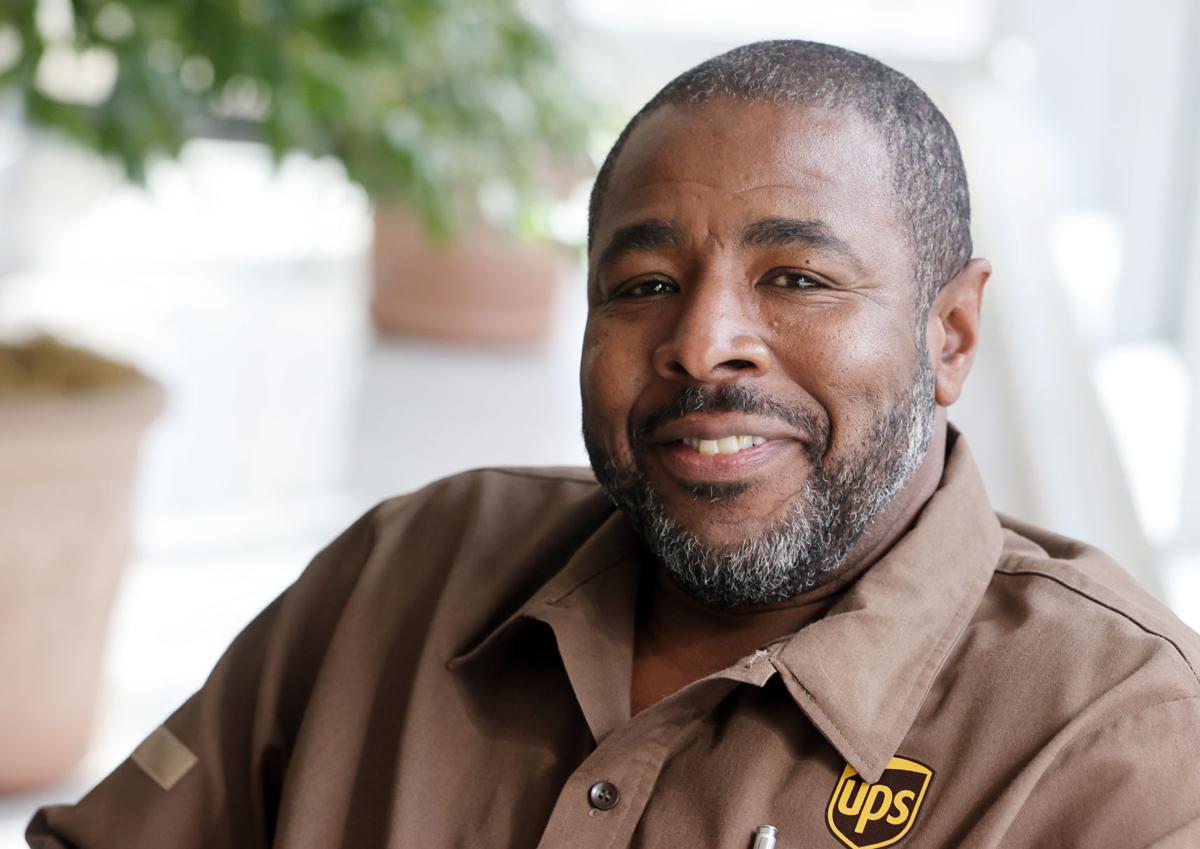 On Wednesday night, Richmond-area UPS driver Anthony Gaskin, 53, appeared on President Joe Biden's inauguration ceremony amidst a sea of celebrities and introduced Jon Bon Jovi.
How the Powhatan County resident and Midlothian worker got there is a story about kindness. How a simple act of kindness – a daily "hello" or a quick smile – brought him to President Biden's inauguration ceremony.
Patty Friedman, 55, moved to the Hallsley neighborhood in Midlothian at the beginning of the pandemic. She was lonely. She didn't know anybody. It was hard to meet the neighbors amidst the calls for social distancing.
"I was really feeling down. Each time Anthony would come by, it made me feel like a friend stopping by," Friedman said. "We'd tease about our daily streak of him coming by every day. I was surprised how much comfort he brought during a really difficult time."
As a recent transplant, she had a lot of packages, getting settled into her new home. Every time he dropped off something, he would smile and joke with her. He made her feel less alone.
Friedman wanted to do something special to thank him near Christmas. She put out a call on Facebook asking if her neighbors wanted to get involved. The response was immediate.
On Dec. 15, over 100 Hallsley neighbors gathered in their cars for a surprise parade on Gaskin's route. They carried signs, honked their horns, gave him cards and ornaments, thanking him for his work and his kindness.
A humble man, Gaskins was moved to tears by the show of support.
The story about the surprise parade was shared on Channel 6 WTVR's Facebook and quickly went viral. His story has now been viewed more than 200 million times. 
Suddenly, the story of the Midlothian UPS driver and the neighborhood who loved him was everywhere: on USA Today and ABC World News Tonight and Good Morning America, just to name a few.
"It was a worldwide sensation," Friedman said. "I'm not surprised it went viral. The whole beauty about it is that Anthony's kindness is so innate."
Gaskin has been a UPS driver for 16 years. He graduated from Powhatan High School and still lives in Powhatan with his wife and family. He has four children: a daughter, 15, a son, 18, and two adult children who no longer live with him."
His route in Hallsley and Westchester is a tough one; it is long and his truck is heavy with packages for businesses and families working from home. This past year has been rough, he said. It's normal to put in 9 to 10 hour days. "It's been more like Christmas year round," he said.
But he enjoys the independence of having his own truck. "I love interacting with my customers. They know me and I know them," Gaskin said.
After the rush of the holidays and the media blitz, Gaskin and Friedman thought that was the end of their story.
But then President Biden's inauguration committee came calling.
"They thought he was an incredible example of a frontline worker moving America forward," Friedman said. "He represented what most of us feel about our frontline workers: that they're risking their health and well-being by being out there. And he elevated it by always doing it with a smile on his face."
For Biden's "Celebrate America" inauguration special, Gaskin was chosen to represent America's essential workers. Last week, Gaskin returned to a street in Hallsley "where it all started," he said, to film the "Celebrate America" segment in advance in secret.
"Nobody knew anything about it. I didn't even tell my family until the last minute. No one was supposed to know about it," Gaskin said.
The 90-minute special aired across several networks Wednesday night and brought together a mix of stars like Justin Timberlake, John Legend and Demi Lovato, as well as average Americans, including teachers, nurses and delivery drivers like Gaskin, on the frontlines of the COVID-19 crisis.
A video clip of Gaskin driving his UPS truck through the Hallsley neighborhood flashed across the screen, while President Biden talked about the importance of "the essential workers who carried the rest of us on their shoulders these many months: the grocery store clerks, the delivery clerks, the drivers, the folks on the assembly line...too often overlooked, giving their best to their country."
Gaskin's appearance was brief, about 30 seconds, but meaningful. He introduced Jon Bon Jovi who sang "Here Comes the Sun" from Miami.
Gaskin watched the ceremony at home with his wife and two teenagers, their phones "blowing up" with texts from their friends.
"I'm glad that we [as drivers] had an opportunity to be recognized for what we're doing," Gaskin said. "We do it because we really care. We really do want to keep the country going. To be recognized for that feels really good."
"He was a lifesaver," Friedman said. "He got me through some really rough days. Together we became friends. And I was able to meet my neighbors. It brought us together. Now I know everyone and everyone comes to me. Talk about a silver lining."
"It's been an experience," Gaskin added, humbly. "One that I'll never forget."
Now, he's a celebrity who's been on TV screens and seen by millions. But you can still find him weekdays on his UPS route, delivering packages with a smile.
(804) 649-6151
Twitter: @collcurran