About 10 months after she was on a ventilator, Danville resident Rebecca Wright still struggles with the aftermath of having COVID-19. 
She has to haul oxygen tanks with her wherever she goes, and her lungs are functioning at just 30% to 40%. On top of that, she could end up needing a lung transplant. 
This week, she will be evaluated to begin pulmonary rehab. 
"It's to hopefully increase that lung function and hopefully repair the damage done by COVID," Wright said during an interview Thursday morning. "If not, a lung transplant may be necessary." 
Wright's ordeal began after a family Christmas Eve gathering last year. She had been trepidatious about attending the event in person. 
Soon after the get-together, Wright started experiencing chills, aches, fatigue, coughing and heavy congestion. There was no indication during the Christmas Eve event that anyone there had the virus. No one had symptoms.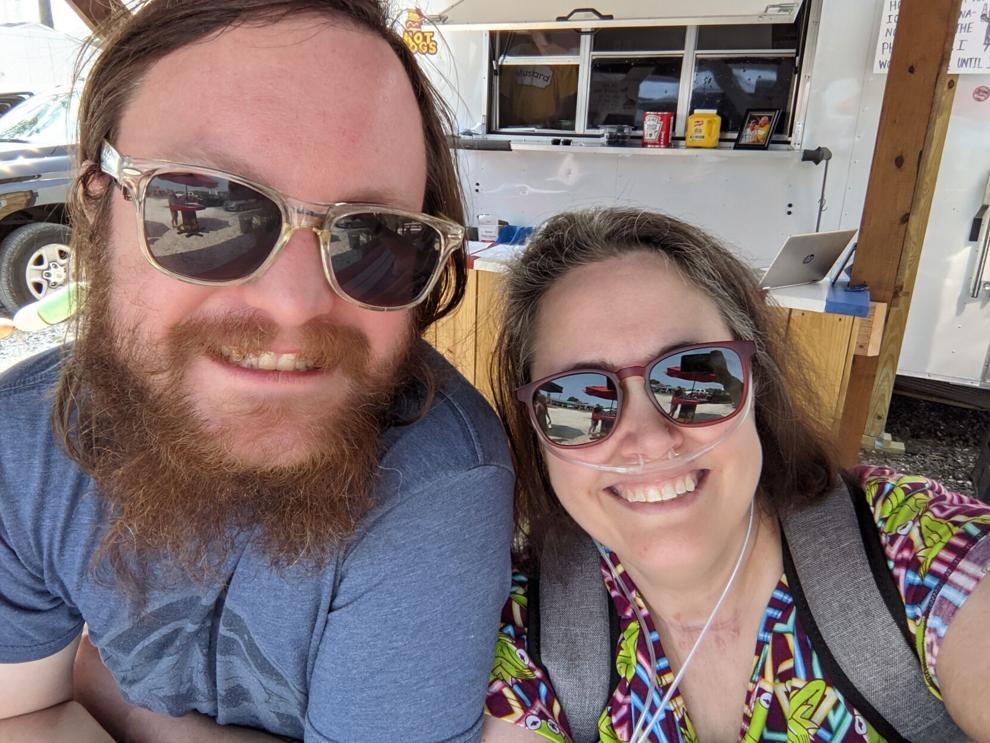 Within a week after the gathering, Wright had tested positive for COVID-19. Her husband, Ben, also caught the disease but experienced only mild symptoms including tiredness, achiness and slight shortness of breath. 
Of the nine who attended the holiday festivities, seven ended up testing positive for COVID-19. 
She went to the emergency room at Sovah Health-Danville on Jan. 6 and was put on a ventilator five days later. She was put under a medically induced coma until that month.
Her family went through ups and downs as Rebecca's condition fluctuated. She had pneumonia at one point and she also has asthma.
She was transferred to Select Specialty Hospital in Greensboro, North Carolina, on Feb. 1 before being moved to Novant Health Rehabilitation Hospital in nearby Winston-Salem on Feb. 25.
During her hospitalization, she experienced "ICU psychosis," a condition in which patients in intensive care experience paranoia, delusions, disorientation in time and place, hallucinations, agitation, increased anxiety and other symptoms.
Today
While she still faces challenges, there definitely has been improvement since she was able to receive the COVID-19 vaccine last spring, Wright said Thursday. 
"I attribute a lot of that to getting vaccinated," she said. 
She received her first dose at the end of April and a second shot at the end of May. She felt marked improvement after each jab, but she experienced an even bigger boost much later. 
"Two months after being fully vaccinated, it was like somebody flipped a switch with my energy levels," Wright said. 
She was able to cut back on her oxygen use. She can turn it off when she is relaxing at home, she said.
"I don't think I would have seen that improvement without the vaccine," she said. "That's my opinion as someone who's not medically trained."
Other improvements include being able to run errands by herself and regaining the strength and stamina to carry her oxygen tanks to the car. 
"I had to have somebody with me before," Wright said. "It was a challenge to to take the tanks to the car."
She has a six-pack of oxygen tanks, with each tank providing about an hour of oxygen.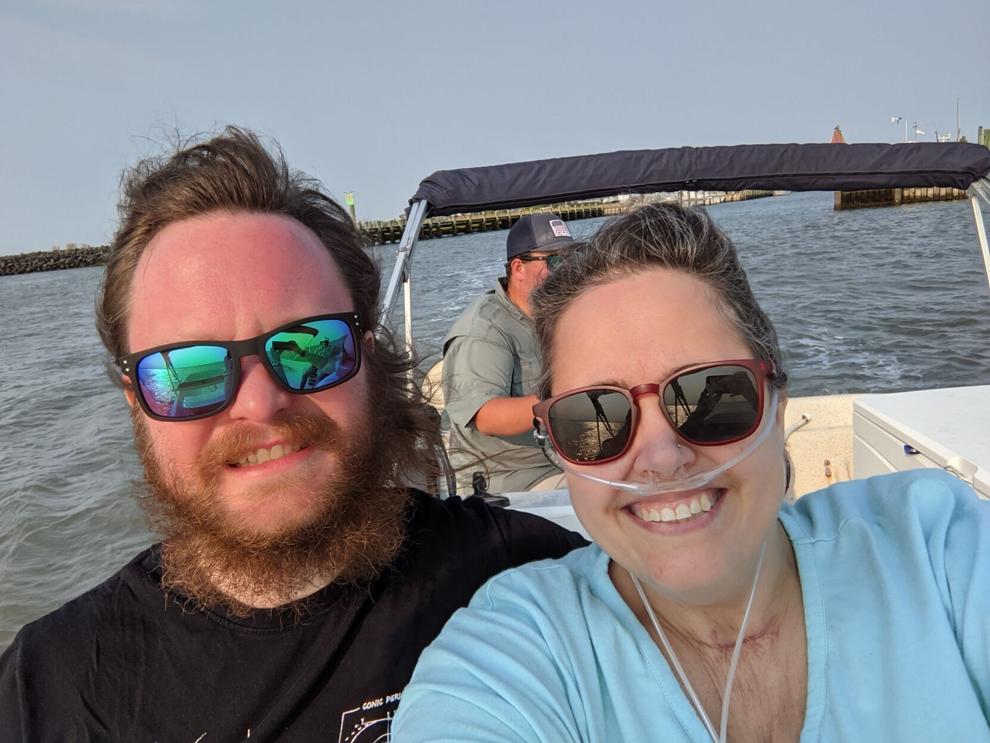 But the biggest coup was recently taking a vacation to Chincoteague on the Eastern Shore a month ago. She took 24 tanks of oxygen and a home concentrator that converts room air to pure oxygen. 
As for her anxiety — which increased after getting COVID and being released from care — it has improved, Wright said. 
"It has definitely gotten better," she said. "That's also helped me to go on my vacation and go out running errands on my own."
However, her energy level is still below normal and remains an issue, she said. She walks with a cane when she is out and still gets dizzy when she turns her head too quickly or looks down for too long. 
She was surprised when she learned of her reduced lung capacity, because felt she thought she was breathing better. 
"I may be adjusting to the reduced capacity," she said, adding that the right side of her diaphragm is paralyzed.  
Ironically, breathing tests showed that obstruction from her asthma has improved. It's less than it had been pre-COVID, Wright said. 
Doctors have told her that she must lose weight or the burden on her heart and lungs will increase, she said. However, they have also told her asthma was what caused her severe reaction to COVID-19, said Wright, whose blood pressure and cholesterol numbers are at medically-desired levels. 
Psychological toll
Though her anxiety has eased, hearing about patients in their 30s and 40s contracting COVID-19 and developing serious cases and dying is trying for Wright, since she knows the ordeal all too well.
"Just hearing all these stories in our community ... it's rough to deal with. It's rough to hear it because I know what they are going through, " she said. "Knowing it could have been prevented, it has an effect to hear these stories. It affects my mental health. It really kind of takes you back to when you were experiencing it. I start reliving things that I remember."
Wright is likely dealing with post-traumatic stress disorder and depression from her ordeal, she said. 
There is also the financial aspect of dealing with COVID-19, said Wright, who returned to her job in information technology with Registry Partners in May. 
If it weren't for insurance covering her bills at the time, Wright would have been more than $1 million in debt for her health care, she said.
"That would have been devastating financially," Wright said. "That's what's facing people, if you get COVID now. The bills are your responsibility."
Through July, she and her husband have paid less than $1,500 out-of-pocket for Wright's care, she said. 
Either way, COVID-19 can seriously alter one's life even if it doesn't lead to death, she said. 
"It really uproots your life," Wright said. "I'm only 44 years old, I'm an empty-nester, my son is out of this house. This should be my time. I should be traveling, just enjoying life. But because of the limitations, it's hard to do that. It's just not really possible."