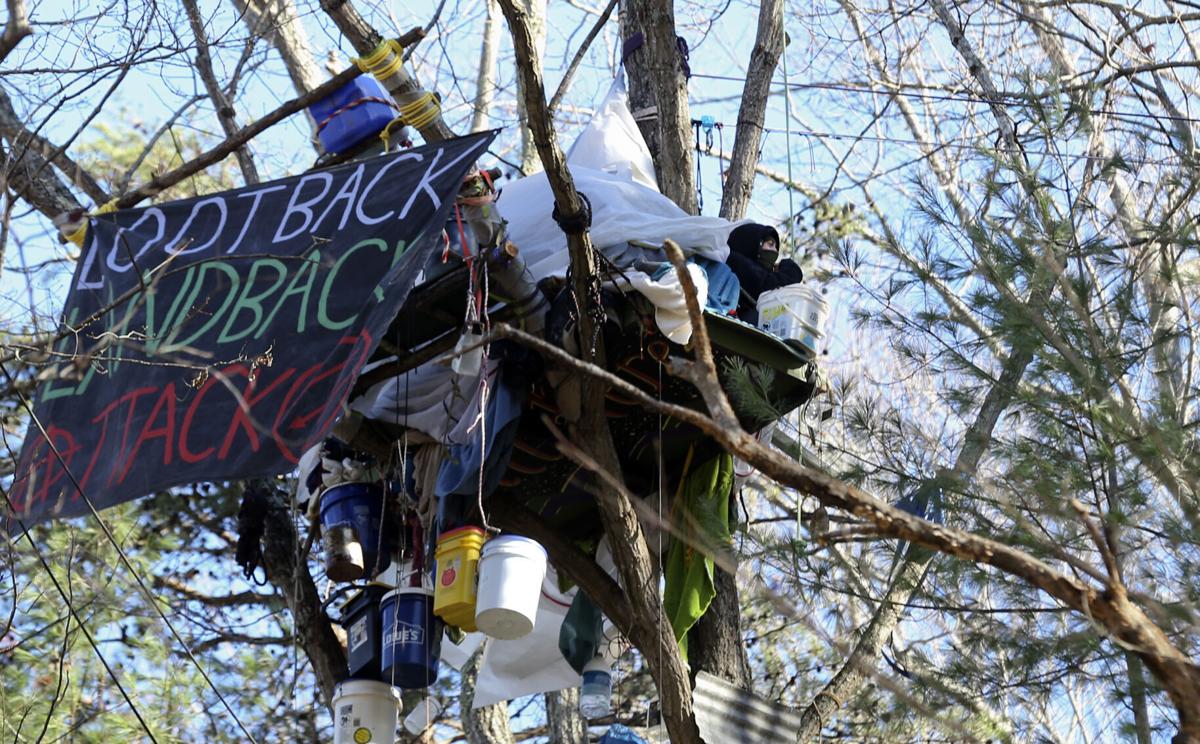 One day after a Montgomery County judge ordered tree-sitters to come down from where they had been blocking work on a natural gas pipeline, or be taken down by authorities, a lieutenant colonel with the Virginia State Police reached out to a colleague.
Removing the protesters "has the potential to be complicated and messy," Matthew Hanley wrote in an email to Lt. John Noel of the state police's Salem division.
"Please keep us abreast of planning, particularly as it pertains to our role," Hanley, who heads the bureau of field operations in the agency's Chesterfield headquarters, wrote in the Nov. 13 message.
Three months later, police are still planning how to best extract two protesters from tree stands about 50 feet high, where for more than two years they have blocked construction of a segment of the Mountain Valley Pipeline.
On Jan. 11, a state police sergeant told his supervisor that Montgomery County Sheriff Hank Partin had made arrangements to use a crane to reach the tree-sitters, who occupy a strategic spot on a wooded and extremely steep slope off Yellow Finch Lane.
Yet the tree-sitters remained in their perches Friday afternoon, waiting for police to make a move.
The sheriff's office is working on a plan "that will bring a safe resolution to everyone involved," Capt. Brian Wright wrote in an email Friday. "However, to ensure the most safety for all involved we are not releasing any information concerning the process or timetable."
Details of the planning are contained in emails between state police officers, which were provided to The Roanoke Times in response to a Freedom of Information Act request.
The talks began Nov. 12, the day Montgomery County Circuit Judge Robert Turk granted Mountain Valley's request for a temporary injunction that gave the tree-sitters four days to leave the pipeline right of way.
If they remained in the trees, Turk ruled, they would face fines of $500 per day and "such measures as necessary to remove them."
In an email dated Nov. 16, Noel informed co-workers that Partin had requested the assistance of state police, who in the past have used a mechanical lift, or cherry picker, to reach pipeline protesters who had climbed high onto construction equipment in an effort to impede work.
The sheriff had agreed to provide deputies, support from his tactical team and a jail van. "He would be ready for removal whenever it suits you all," Noel wrote.
But after checking out where the tree-sitters were stationed, state police raised a number of concerns that were outlined in a "risk vs. benefits analysis" that went to Hanley on Nov. 23.
"The area in question involves steep terrain, various tree sizes and three structures in the trees designed to house protesters," the memorandum stated. A variety of obstacles, such as metal barriers on the trees and network of ropes on the ground, would make an extraction difficult.
Police also noticed "buckets and containers of unknown substances" in the tree stand, leading to concerns that anyone who approached from below might have human waste thrown at them, according to the memo.
The best way to remove the tree-sitters, police concluded, was from above by using a crane with a 180-foot boom. Based on a gravel road at the bottom of the slope, the crane would be used to lower a platform with police officers aboard to a spot where they could remove the protesters.
"Approaching from above gives the removers a height advantage as well as better protects all those involved," the memorandum stated.
But the sheriff's office later found that a crane would not extend high enough to reach the tree stands. "The sheriff informed me they are going with the scaffolding option," a state police sergeant told Noel and others.
Under that plan, authorities would hire a private firm to build a structure that would extend to the tree-sits.
But the costs of such an operation soon became a concern for Montgomery County officials. The country administrator, county attorney, sheriff's office and Mountain Valley officials met Dec. 15 to discuss the matter, according to emails.
Another option, which would involve excavation work to make the steep slope safe enough to support a cherry picker, would cost as much as $50,000, the sheriff's office estimated.
Mountain Valley assured county officials that they would be reimbursed, and arrangements were made for Turk to order that a list of costs be submitted to the court. No such entry had been made by Friday.
Sgt. Jerry Smith wrote in an email that a Mountain Valley representative asked if state police would be willing to enter into an overtime agreement with the company to provide assistance.
"I told him the issue had previously been addressed and that the position of my department had not changed," Smith wrote. "We would not enter into such a contract which would give the impression we were acting as agents for the pipeline."
On Jan. 11, Smith wrote in another email that the sheriff had found a crane that was big enough to do the job. The only issue, he wrote, was that tree branches would have to be removed to give the crane room to operate.
That was the last email provided in response to the newspaper's FOIA request, which was made Feb. 5.
State police spokeswoman Corinne Geller declined to comment Friday, saying only that Montgomery County is the lead agency in the case.
"We appreciate and respect the efforts of law enforcement as they work to coordinate the removal of those opponents who remain as trespassers on the property in violation of a Court Order," Mountain Valley spokeswoman Natalie Cox wrote in an email Friday.
Since work on the 303-mile pipeline began in 2018, opponents say it has scarred the mountainous terrain of Southwest Virginia, polluted its streams, and jeopardized endangered species of fish and bats.
State regulators in Virginia and West Virginia have fined the company more than $2 million for repeated violations of erosion and sediment control regulations.
In a post Friday to the Facebook page of Appalachians Against Pipelines, the tree-sitters provided photographs of a snow-covered landscape from their stands in a chestnut oak and white pine.
"Day 899 of the Yellow Finch tree sits," the post stated. Although different people — most of them anonymous — have occupied the stands, they have remained in place since they first went up on Sept. 5, 2018. It is the longest continuous blockade of a natural gas pipeline on the East Coast, Appalachians Against Pipelines has said.
The group released statements Friday from the two tree-sitters, identified only as Acre and Robin.
"There's no shame in being imprisoned or jailed for something you believe in," Acre said. "Being a police officer means enforcing systemic racism. So you know ... doom to jails and pipelines. Stand up for what you believe in!"
Robin's statement indicated that there will be no easy surrender.