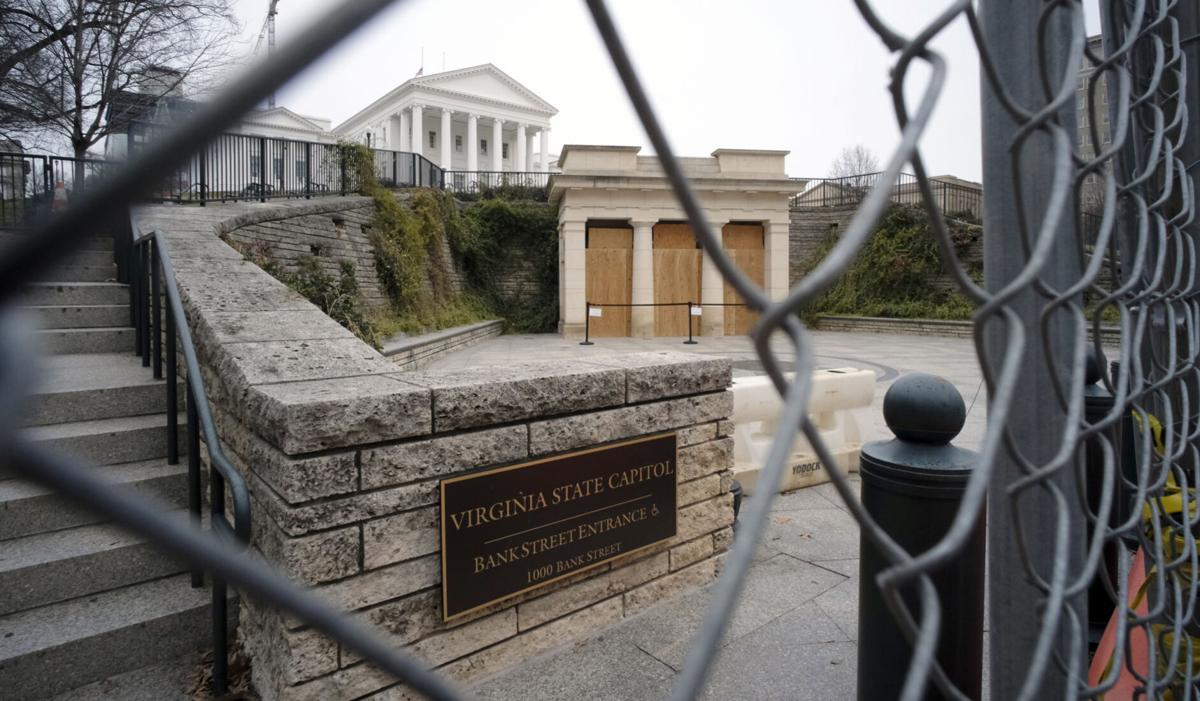 RICHMOND — The guardians of Virginia's seat of government are bracing for potential armed protests at the state Capitol in Richmond beginning on Sunday, as President-elect Joe Biden prepares for inauguration.
Biden's swearing-in will come under the shadow of an insurrection by supporters of President Donald Trump that left five dead and the U.S. Capitol ransacked on Wednesday as Congress prepared to certify his electoral victory.
National news outlets reported on Monday that the FBI had issued an internal memorandum warning of potential armed protests in Washington and all 50 state capitals, as members of Congress call for Trump's removal under the 25th Amendment or by impeachment. The warning was reported three days after Twitter issued a similar precaution on Friday about talk both on and off the social media platform about a "proposed secondary attack on the US Capitol and state capitol buildings on January 17."
Secretary of Public Safety Brian Moran acknowledged the warnings and said, "It does concern us."
News of the FBI warning Monday came hours before Virginia Gov. Ralph Northam issued a joint statement with Washington Mayor Muriel Bowser and Maryland Gov. Larry Hogan that urged Americans not to attend Biden's inauguration because of security and public health threats during the COVID-19 pandemic.
"Due to the unique circumstances surrounding the 59th Presidential Inauguration, including last week's violent insurrection as well as the ongoing and deadly COVID-19 pandemic, we are taking the extraordinary step of encouraging Americans not to come to Washington, D.C. and to instead participate virtually," the leaders said in their joint statement on Monday afternoon.
"In this very trying time, January 6 was a dark moment for our nation. But we know that we will get through this period because American ideals are stronger than one extreme ideology. Together, we will overcome extremism and get back to the work of our residents."
The potential security threats focus on possible armed protests in Richmond on Sunday, as well as the General Assembly's annual Lobby Day on Monday and the presidential inauguration two days later.
A year ago, Northam imposed tight security measures for Lobby Day because of the expected presence of heavily armed gun rights advocates at the Capitol and adjacent legislative office building. The leaders of the new Democratic majorities in the General Assembly banned the presence of firearms in the Capitol and Pocahontas Building, as well as Capitol Square, which was fenced off from people with firearms.
The Lobby Day rally drew about 22,000 people to the Capitol grounds and surrounding vicinity.
"We prepare for the worst," Moran said in an interview on Monday. "Last Lobby Day, we shut everything down, and everybody went home safely."
However, the circumstances are much different — and darker — this year.
The Capitol and Pocahontas Building are closed to the public because of the COVID-19 pandemic, which has caused the death of one state legislator, Sen. Ben Chafin, R-Russell, 60, who died on New Year's Day.
The House of Delegates will meet entirely online when the assembly convenes on Wednesday. The Senate will meet in the Science Museum of Virginia on Broad Street. Legislators in both chambers will be able to meet with constituents in nearby offices secured by the House and Senate clerks as part of a settlement mediated by a federal judge in a lawsuit a state senator filed to challenge the closing of the Pocahontas Building to the public.
Large public gatherings also are prohibited under an executive order that Northam issued last year to limit crowds to no more than 10 people to curb the spread of the highly contagious coronavirus disease.
As a result, several groups of demonstrators are planning upcoming car caravans around the Capitol to get their message across. The Virginia Prison Justice Network will hold its fourth annual rally on Saturday as a car caravan that will circle the Capitol to focus on "the COVID-19 crisis in the state's prisons and jails."
The Virginia Citizens Defense League, which has held its annual Lobby Day since 2002 and organized the massive rally a year ago, plans a gun-rights car caravan Monday, with vehicles heading to the state Capitol from around the state.
The Virginia Capitol also lies under a shadow cast by the insurrection at the U.S. Capitol in Washington last week, when a throng of Trump supporters marched on the building at the president's urging to protest the pending congressional certification of Biden's victory, which he vehemently disputes.
A mob of Trump supporters violently overwhelmed the U.S. Capitol Police and forced their way into the Capitol, vandalizing portions of the historic building as members of Congress, their staffs and news media sought protective shelter. Five people died, including a Capitol Police officer and an intruder shot by police. Three others died of medical emergencies and a second Capitol Police officer later took his own life.
Subsequently, members of Congress have urged Vice President Mike Pence and the president's Cabinet to remove Trump from office by invoking the 25th Amendment of the U.S. Constitution, finding him unfit to continue serving. The House of Representatives introduced an article of impeachment on Monday that charges Trump with inciting insurrection.
Twitter issued its warning about potential protests in state capitals in an announcement on Friday that it had permanently suspended Trump's Twitter account because of his alleged violations of its "Glorification of Violence Policy."
The Virginia Division of Capitol Police, which is overseen by the General Assembly as a legislative agency, declined to comment Monday on the FBI warning or any precautions it may be considering, including sealing off Capitol Square.
However, Moran said, "There is concern for any and all locations that might be targeted by extremists."