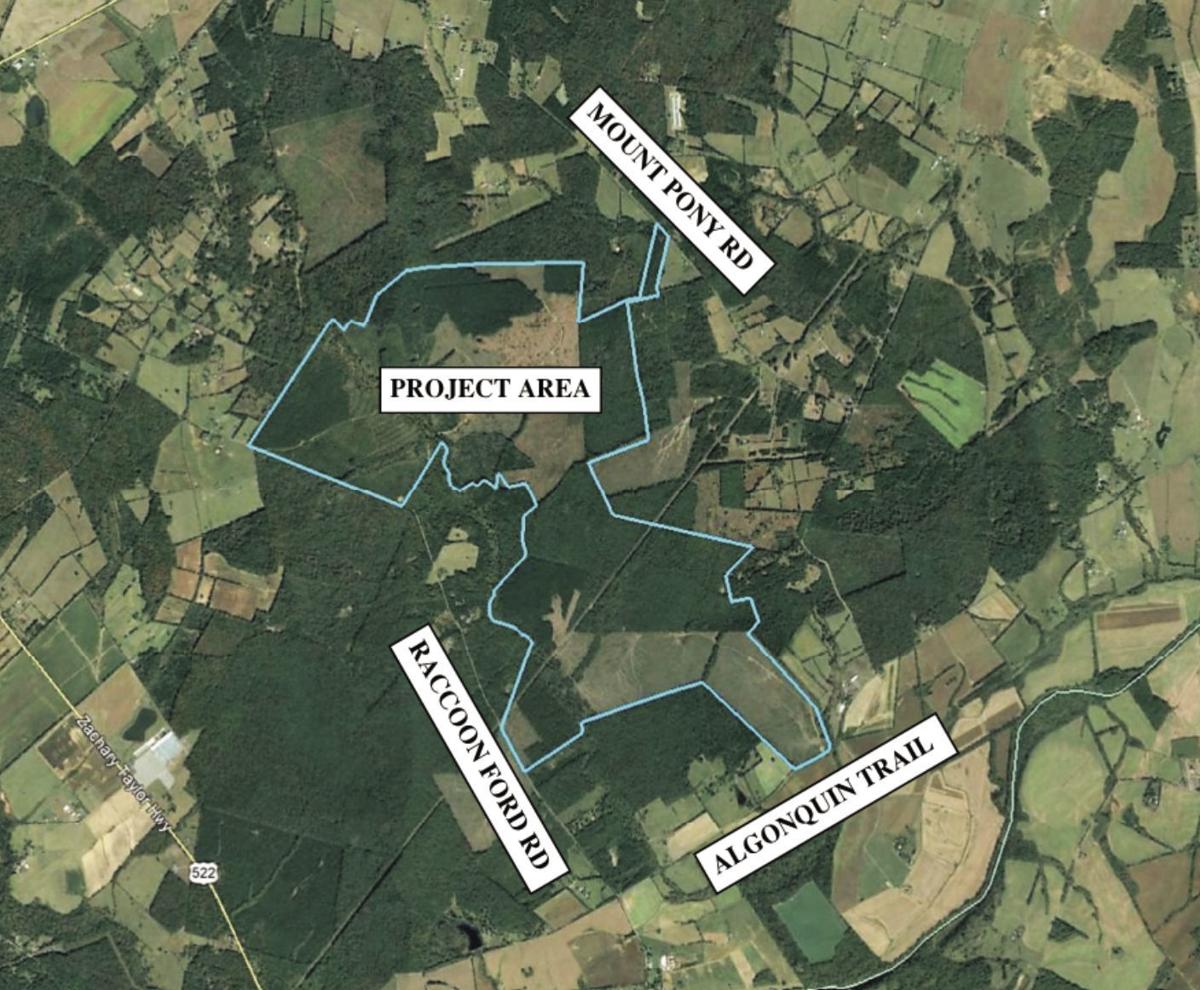 It was almost like a replay of the planning commission solar meeting in November, but shorter and with some modifications to the renewable energy project.
Culpeper County staff expressed its concerns about the size of the proposed 1,700-acre Maroon Solar power plant project on agricultural land near Raccoon Ford.
Then, the project developers from North Carolina-based Strata Solar highlighted economic and environmental advantages of the $200 million, 149 megawatt facility along the Dominion Power transmission line.
Next, more than a dozen members of the public spoke for and against the project seeking conditional use permit for the second time and a positive recommendation from the county planning commission, which met Tuesday night for three hours in the auditorium at Eastern View High School.
Concerns were heard about impact to the environment, property values, traffic, history, cultural resources, as well as water runoff and the disappearance of farmland covered by some 433,000 solar panels on nearly 1,000 acres rotating and reaching to generate power from the sun. Panels will be six feet tall and two to three feet wide, according to latest estimates provided Tuesday.
Many spoke up as well for the rights of property owners stuck with poorly draining blackjack soil on land long used for timber production and their ability to recoup revenue or save the farm by leasing parcels for the solar plant.
The project is planned for location mostly on an inner parcel not viewable from the road, surrounded by woods bounded by Algonquin Trail, Raccoon Ford Road and Mount Pony Road in southern Culpeper, near the Rapidan River.
Finally, like in November, the planning commission eventually unanimously recommended denial of the plan due to sheer size and noncompliance with the county's current solar policy that limits projects to no greater than 300 acres.
The planning commission, appointed by the board of supervisors, is charged with determining if the project agrees with the county comprehensive plan, said County Planning Director Sam McLearen. The future land use chapter shows the Maroon Solar parcel in use as agriculture, conservation or open space, he said.
"Does this use fit?" the planner asked.
Visual impacts to neighbors would be minimal, McLearen said, but impacts during construction—noise and traffic—would be significant. Staff declined to support the application.
Tuesday's Maroon Solar resubmittal notably lengthened the span of the project to three years with portions built annually in approximate 300-acre sections.
Developers had hoped this change would have alleviated concerns about being able to control water runoff from the parcel as well as replant stripped soil prior to moving on to the next section. Strata representative David Stoner told the commission the project avoids wetlands on the site as well as historic resources and prime farmland.
Most of the project is located a quarter-mile from the road and extensive timber buffering would be left in place with more planted, he said. Stoner said no residents were located within 1,000 feet of the project fence line.
Strata representative Cutter Sydnor told the commission Tuesday the most drastic change in the project resubmittal was that the project will be built at a slower and smaller pace.
"It helps alleviates concerns about the number of acres open at one time," he said.
Planning Commission members, per usual, had many comments and questions. Raymond Zeigler commented that five construction trucks per hour delivering gravel, panels or fuel over the course of a 10-hour day, while the project is being built, seemed like a lot.
He asked about what would be done with debris produced on the site once trees are cleared for the project.
According to Strata, the debris will either be mulched on site and reused as part of the re-vegetation process or burned.
The project is expected to generate 400 construction jobs, Stoner said, with about half of those local, and a dozen permanent jobs, including landscaping, when the project becomes operational.
Developers said the demand is for more expansive solar fields, after being asked about smaller projects that were built elsewhere in the past.
"Our customers want these larger projects now," Stoner said. Large-scale projects are more economical and reduce costs, he said.
Planning Commission Vice Chairman Laura Rogers asked how Strata would remotely monitor the Maroon Solar project from North Carolina when there is no high speed internet in Stevensburg. Stoner said the company planned to install telecommunications on site.
Planning Commission member Cindy Thornhill let the Strata developers have it, saying they were in the sales business and trying to satisfy its customer, Dominion, in assisting it in meeting renewable energy goals to receive federal tax credits.
"There are too many what-ifs and too many assumptions. We want protection up front," she said. "This is our community— it makes us very cautious."
Thornhill said the three-year construction approach would only drag out the project and that the resubmittal was not any better than original.
Public comments were about half-and-half for and against.
Jeffrey Allen represented the out-of-state timber company that owns most of the land.
"I am here in support of Maroon Solar," he said. "Strata is an excellent developer and I feel the country benefits from renewable energy."
Laura Lanum said her dad is a property owner as well, since 1963.
"He cares about this property and wanted to use it for something he feels is beneficial," she said. "The landowners and families are in support of this."
Dwayne Forrest agreed, saying it was important "to be able to do what you can with your land." He added the Strata project in his neighborhood seemed to be well-managed and the solar plant would be "much better than the feral hogs they had running around for years."
John Young said his family had land in the area and that land values would be negatively impacted by the solar project, in addition to voicing concerns about water running off the property.
"Black jack soil doesn't absorb water," he said, adding, "Nobody wants to have a house next to 2,000 acres of solar even if it is screened."
Neighbor Fred Read expressed concern about the blasting of bedrock at the site, the bulldozing of trees and loss of natural habitat as a result.
Local pastor Willie Crenshaw expressed support for the project on behalf of his father, a Mount Pony Road landowner. He said the solar project would be good for Culpeper and generate jobs.
Piedmont Environmental Council spoke against the application and so did Stevensburg residents Desy Campbell and Donald Haight. Neighbor Matthew Judy said they've have to build a parking lot for the 400 construction employees coming to the site daily.
Michael Baudhuin, owner of Sumerduck Farm on Algonquin Trail, spoke against the project as well, saying the whole area is a watershed of the Rapidan River that is part of the Chesapeake Bay watershed.
"The county has no authority to permit the intrusions into the wetlands contemplated here," he said.
Algonquin Trail resident Troy Ralston said a solar plant on the historic Civil War-era Rapidan Front was not responsible solar. An ongoing federally funded study of the area could lead to federal protection of it from development, he added. That study needs to be completed, Ralston told the planning commission on Tuesday.
He further accused developers of "bribing the county" for project approval and said the project is the same one that was submitted in November, just over a longer timeline.
Finally, Susan Ralston, founder of Citizens for Responsible Solar, said they are trying to protect rural and agricultural land from unwanted solar development. Such projects are more suitable on industrial or marginal land and on commercial rooftops, she said.
"It flies in the face of common sense there would be no adverse impacts," Ralston said.
Planning Commission Chairman Sanford Reaves Jr., in closing comments, said Maroon Solar does not comply with the county's current solar policy. He added he felt the project was located in the right area and said property owners have the right to make money off of their land.
Reaves mentioned many developers were allowed to come and build homes in Culpeper on land formerly zoned for agricultural use.
He spoke out in support of renewable energy development and said the board of supervisors is in the process of developing an ordinance to regulate such projects.
"Let us think about the infrastructure we are setting up for the generations to come," Reaves said. "That will be a major player in the decision we will make."
In recent meetings, supervisors indicated a consensus for not including the 300-acre limit in any future energy generation zone ordinance. As part of the proposal, Strata has offered the county $1 million as part of a siting agreement for an approved project.
The Maroon Solar conditional use permit application now heads to the Board of Supervisors.